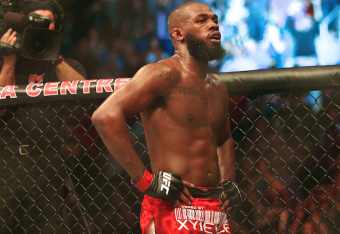 Tom Szczerbowski/USA Today
Being an MMA fan isn't always easy. Nice things are few and far between. For every truly compelling fight such as like light heavyweight champion Jon Jones vs. Olympian Daniel Cormier, we get our share of random and pointless dreck, a culture informed by the grossest misogyny imaginable and a dark cloud of steroid abuse that continues to linger over the entire sport.
The fights keep us coming back for more, making the rest of it manageable. At its best MMA is about the triumph of the human will—about science and tactics combining with strength and courage in the most beautiful ways.
Top-level MMA contests between the most gifted and stubborn fighters on the planet represent competition in its purest form. It's primal, ugly and magnificently regal, often in the span of just seconds. Nothing else comes close.
That's why the announcement that an injured Jones has pulled out of his bout with Cormier hurt so much. There are a lot of MMA fights on television. Most of them are random displays of violence between anonymous competitors that either end spectacularly or drone on for a seemingly endless 15 minutes.