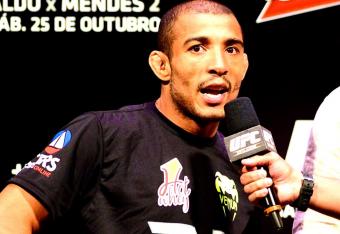 USa Today
In trying to determine who is the UFC's most outspoken featherweight, it might take a while to consider Jose Aldo.
Conor McGregor's Gaelic gift of gab garners most of the headlines at 145 pounds. These days, you might even think of Frankie Edgar first after the former lightweight champion jumped on the lip of the Octagon to challenge McGregor at UFC 189 two weeks ago and then took to Twitter to compare the new interim champion to a cow the UFC must milk before Edgar leads him to slaughter.
But Aldo also talks—and when he does, there's no need to ask him how he really feels.
In fact, it's starting to seem like the one true king of the featherweight division is having a hard time not keeping it 100. Take Aldo's press conference last week in Brazil and the resulting video posted by MMA Fighting's Guilherme Cruz, which is pretty much 16 uninterrupted minutes of Aldo spitting hot fire on the major issues of the day (NSFW language in video and below):