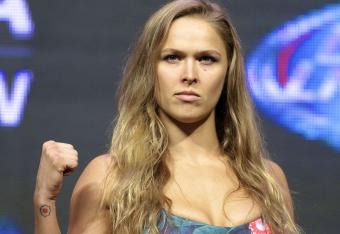 AP Images
Ronda Rousey is the biggest star in the known universe.
This may not be the most truthful statement ever written. But it feels that way, here in one of the many rooms that make up the Mandalay Bay Events Center. Rousey, clad in a gray Marilyn Monroe shirt, black leather jacket, designer Chuck Taylors and a gold Octagon necklace, is holding court on a small stage constructed specifically for her.
To Rousey's left is UFC middleweight champion Chris Weidman. He is discussing his title defense against Lyoto Machida in the main event of UFC 175 on Saturday night. He has twice beaten the best fighter in the history of MMA. He is young, athletic and good-looking. He is a fight promoter's dream.
There are five reporters standing in front of Weidman's stage; Rousey is surrounded by so many journalists and cameras that it's difficult to see her.