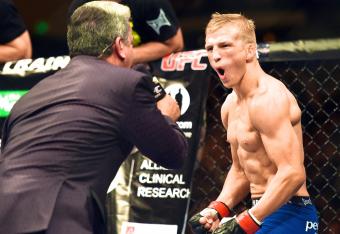 USA Today
From inside the eye of the hurricane swirling around UFC 177, TJ Dillashaw put on a command performance.
Dillashaw had been UFC bantamweight champion for all of 98 days on Saturday, when he was forced into the no-win situation of defending his title against little-known replacement opponent Joe Soto. As anyone reading this story likely already knows, his scheduled rematch with former champ Renan Barao was scrapped a day earlier, when Barao failed to make weight.
In essence, what was already a bad situation for Dillashaw became much worse. Even before Barao's ouster, UFC 177 was not considered a strong card—what with its relative lack of star power and the fact that the two main eventers had just fought at UFC 173.
Without the 27-year-old Brazilian, many wondered aloud how even diehard fans could be expected to buy it. Still, the fight company trudged forward, with no option but to doggedly insist the show must go on. Dana White railed against "disgusting, despicable" media coverage, even as the UFC itself trotted out Barao for an on-air interview that felt more like punishment than an honest quest for the truth.