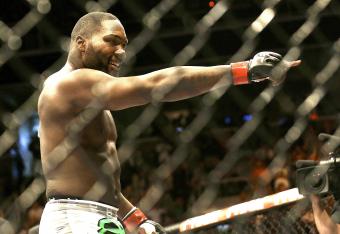 Jeff Chiu/AP Images
A new force has emerged in the UFC's light heavyweight division. The funny thing about Anthony Johnson, who brutally destroyed Antonio Rodrigo Nogueira to cement himself as one of the top contenders to the 205-pound champion, is that he got here in such a roundabout way.
Back in the old days, before he became a punchline for his inability to make 170 pounds, Johnson displayed brief glimpses of fearsome power and finishing ability. Who can forget the untimely ends met by Yoshiyuki Yoshida and Kevin Burns when they faced Johnson?
He was a gigantic welterweight, though the truth was that he was never really a welterweight at all. Right? He was a light heavyweight, though we wouldn't discover it for a few years.
Those years have come and gone now, and Johnson is back in the UFC. He is 35 pounds heavier, though to look at him Saturday, you would not be all that far off if you assumed he was a rock-solid heavyweight. Johnson stepped in the cage an imposing figure, dusted off his gloves, absolutely destroyed Nogueira at UFC on Fox 12 and then spoke true words to Fox commentator Joe Rogan after the fight.