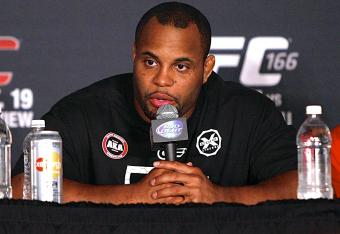 Andrew Richardson/USA Today
The team of analysts for the UFC on Fox Sports 1 and Fox broadcasts has been providing the most in-depth coverage that mixed martial arts has seen in its 20 years of existence.
With a collection of seasoned fight veterans and a handful of well-versed hosts at the helm, the people working the pre- and post-fight shows for the UFC have consistently raised the bar.
For the next installment of the series, former heavyweight-turned-light-heavyweight title contender Daniel Cormier dropped in to share his thoughts on Saturday's card for UFC on Fox 10 in Chicago. The former Olympian has proved to be one of the UFC's brightest new stars, as he's made a seamless transition from the Strikeforce cage to the Octagon.
The Louisiana native defeated former two-time champion Frank Mir and one-punch knockout artist Roy Nelson, respectively, before making the decision to drop down into 205-pound waters to chase his first UFC title.