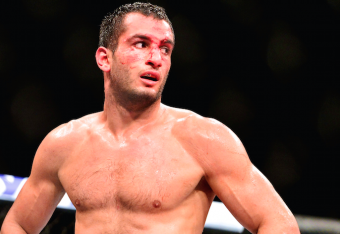 Jason Silva/USA Today
I wrote earlier this week that Friday night's dueling UFC and Bellator cards were a throwback to the old Monday Night Wars in professional wrestling.
Some of you were angry with that assessment, because professional wrestling and mixed martial arts are two different things, and any mixture of the two is unthinkable.
But then Bellator 123 happened, and Stephan Bonnar and Tito Ortiz appeared in the cage with a masked man who ended up being Justin McCully. At that point, I'm positive many of you either loudly cheered or threw up on your coffee table.
It elicted strong reactions, either way. For some, it was the worst thing that ever happened. Me? I feel like it was actually pretty awesome but in the most terrible of ways. It was different. It wasn't good. And it sets up a fight between Bonnar and Ortiz that nobody wants to see.