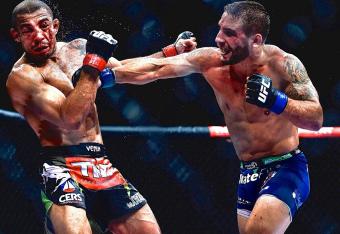 Getty Images
To borrow a phrase from former UFC heavyweight champion Brock Lesnar, UFC 189 has been in "chicken salad" mode for more than a week now.
From the moment reports surfaced that featherweight champion Jose Aldo had broken a rib during the final stages of his training camp, our hopes for an epic clash with Conor McGregor on July 11 began to dim. On Tuesday, we learned for sure that Aldo was out and Chad Mendes was in against McGregor, with an interim title on the line.
Considering the regrettable circumstances, this was about as good as matchmakers were going to do. And hey, it's still pretty good.
Better, in fact, than seeing McGregor take on some lesser, hobbled version of Aldo.