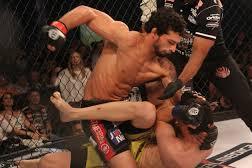 Photo courtesy of MMA Fighting
CHICAGO—Fight week is a unique scenario for the competitors involved on a UFC card.
As the clocks ticks down closer to show time, the anticipation for the work to be done builds. Fighters deal with the final few pounds they need to shed in order to hit their required weight limits and the card's biggest names tackle a steady stream of media obligations. Balancing those various elements can be tricky business, and every fighter has their own way of handling the process.
Much the same way as time inside the cage provides crucial and valuable experience, the more a fighter goes through the pre-fight wringer, the better equipped they will be when the situation arises again. That said, there are some who seem to operate with a natural ease, and of this variety, Adriano Martins is certainly a member.
The 31-year-old Brazilian was on hand at "Ultimate Media Day" to field questions from the media in the build up to his bout against Donald Cerrone at UFC on Fox 10. The bout with "Cowboy" is undoubtedly the most high profile affair of his career and has the potential to launch Martins into an entirely different realm of recognition with a victory.