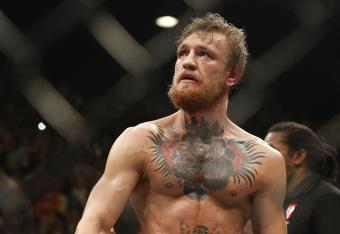 John Locher/Associated Press
It's way too early to start dreaming about how Conor McGregor might fare in the UFC lightweight division.
Not that anyone needs a reminder, but McGregor still has unfinished business in his natural weight class. His featherweight title unification bout against Jose Aldo remains on the books for UFC 194. After that, Frankie Edgar wants a piece, and Chad Mendes intends to show what he can do with a full training camp under his belt.
But a curious thing happened last Friday, as McGregor single-handedly seized control of the UFC's gala "Go Big" press conference. (NSFW Language in video)
OK, fine, two curious things.
For starters—and for the first time since he showed up in the Octagon more than two years ago—the Conor McGregor Show started to feel a little played out.