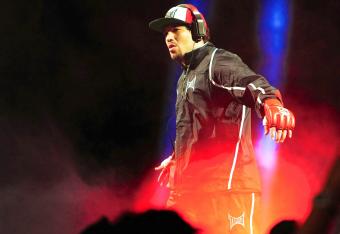 USA Today
When the final scorecards were revealed on Sunday in Gilbert Melendez's arduous contract negotiation with the UFC, the results were a clear-cut unanimous-decision victory for the former Strikeforce lightweight champion.
It was a monumental upset that will arguably go down as the biggest win of Melendez's MMA career.
It's not every day that a lowly fighter takes up his slingshot against the world's largest and most litigious MMA company and comes out on top. Perhaps we must now begin to regard Melendez not only as one of the 155-pound division's best scrappers but one of its most accomplished negotiators as well.
When the smokescreen of his threat to decamp for Bellator finally cleared, Melendez appeared to get everything he wanted from the UFC, including what we can only assume were a boatload of concessions.