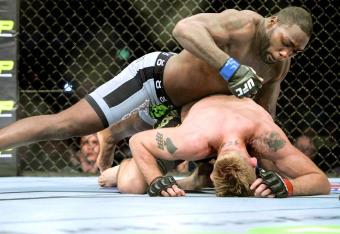 AP Images
It took Anthony Johnson all of two minutes, 15 seconds on Saturday to change the trajectory of the UFC light heavyweight division.
Johnson's unexpected first-round TKO victory over Alexander Gustafsson at UFC on Fox 14 effectively took a sledgehammer to the 205-pound status quo. It scuttled best-laid plans and sent the fight company's marquee weight class streaking off in an exciting new direction.
Scariest part is, the former welterweight and one-time UFC washout might just be getting started.
Provided champion Jon Jones can free himself from his current drug-related scandal, Johnson should get the chance to alter everything we think we know about this sport when the two meet in a suddenly hotly anticipated title bout later this year. Jones commented on the bout via Twitter: