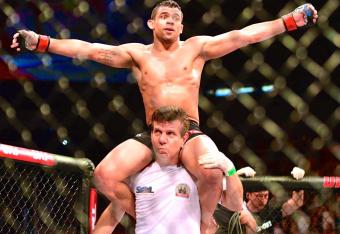 USA Today
T.J. Dillashaw and Renan Barao will finally rematch on Saturday at UFC on Fox 16.
It's a repeat pairing the fight company has been trying to put together for more than a year, ever since Dillashaw shocked the world by taking the men's bantamweight title from Barao last May at UFC 173.
In the aftermath, their second meeting has been put off by a weight-cutting snafu (by Barao) and an injury (to Dillashaw). The former resulted in what stands as Dillashaw's only successful title defense to date, a win over newcomer and short-notice replacement Joe Soto at UFC 177.
Suffice to say, there's still a lot we stand to learn by watching Dillashaw and Barao go at it again. This fight should conclusively prove if what we witnessed last year was a true changing of the guard, or if it was just a dominant champion having one bad night.