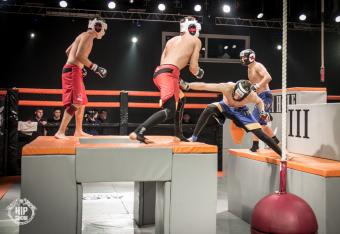 Credit: AXS TV
Eldarhan Machukaev, nicknamed "Sniper 95," attempted to build speed as he scrambled across a series of obstacles, with his flight-or-fight instinct on overload. The young Russian mixed martial arts fighter, sporting three wins to a single loss so far in his professional career, hasn't likely taken too many backward steps in his life.
But this was no ordinary fight. This was the Hip Show, a wacky combination of extreme game-show hijinks in the American Gladiators mold and reality combat a la The Ultimate Fighter.
With his partner eliminated, Machukaev had to survive for one minute against the tag team known as Sparta. Rinat Fakhretdinov (aka Gladiator) and Shamsudin Kurbanov (aka Agul) are two skilled fighters who had one goal at that moment—to finish Sniper 95.
Within 10 seconds, they had him on the ground. Then it happened. As Gladiator secured an ankle lock, Agul locked up an armbar. Sniper 95, helpless and alone, had to survive two submission attempts at once.