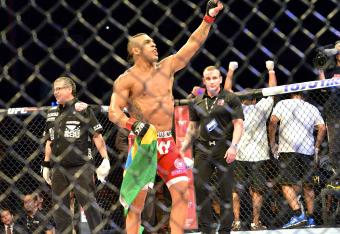 Jason da Silva/USA Today
Vitor Belfort may be down to his last strike, but the Nevada State Athletic Commission is still giving him good pitches to hit.
There were very few curveballs thrown Belfort's way Wednesday, as Fox Sports' Marc Raimondi reported that the NSAC granted Belfort a conditional license to fight Chris Weidman for the UFC middleweight title in Las Vegas on Dec. 6. As a result, Belfort will serve a de facto nine-month suspension for failing a surprise drug test back in February and will face increased commission testing for the rest of his career.
Otherwise, he's good to go and will suffer fairly minimal consequences.
For anyone who'd been reading between the lines leading up to this meeting, none of this was particularly shocking. The UFC had remained oddly confident that Belfort would clear the NSAC's hurdles and be allowed back on active duty by the time Weidman is ready to meet him in the cage.