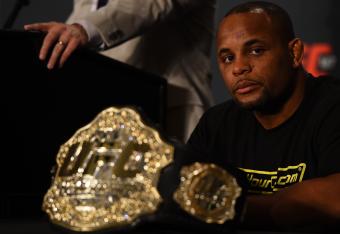 Brandon Magnus/Zuffa LLC/Getty Images
The timing of Jon Jones' plea bargain couldn't have been any worse for Daniel Cormier and Alexander Gustafsson.
People were already looking down their noses at Saturday's UFC 192 main event, when Cormier will face Gustafsson in the first defense of his newly won and fiercely disputed light heavyweight title.
They were already saying this bout and that belt were a sham—and that was before Jones' seemingly precarious legal snarl stemming from an April hit-and-run accident wrapped itself up in a neat little bow.
Jones skated out of the Albuquerque, New Mexico, district court on Tuesday with no jail time, no fine and no felony conviction after a judge accepted his compromise with prosecutors.