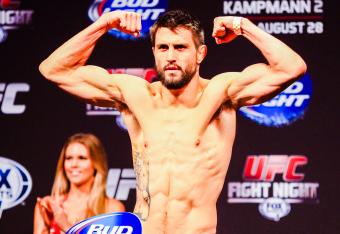 USA Today
It feels as though Carlos Condit has been gone for years.
In truth, it's only been 14 months, but so much wholesale change has occurred in his absence that, when Condit returns Saturday to take on Thiago Alves at UFC Fight Night 67, it'll be to a welterweight division where anything seems possible.
Last we saw The Natural Born Killer, he blew out his knee in the second round of a bout against Tyron Woodley at UFC 171. That was March 15 of last year, on the same fight card where Johny Hendricks edged Robbie Lawler to seize control of the 170-pound title recently vacated by Georges St-Pierre.
Remember that? Barely? Sounds like ancient history, right?