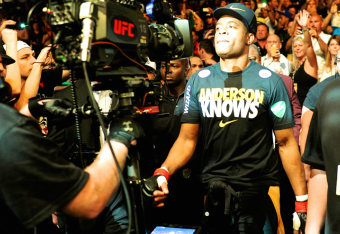 USA Today
Business as usual.
That is the theme for Brazilian middleweight fighter Anderson Silva, though the truth is that life is anything but business as usual. Silva, who suffered a horrendous leg break last December in a fight against current middleweight champion Chris Weidman, is now in the early throes of preparing for return to the cage he dominated for so many years.
Silva's much-anticipated fight against Nick Diaz won't happen until late January. But given the way he went out against Weidman—on his back, clutching his leg and screaming—questions regarding his health are of paramount importance. Silva addressed the questions during a Friday conference call with myself and reporters and said he's not back to full strength just yet but will be once he steps in the cage.
"My leg is at 95 percent," Silva said. "It will be 100 percent by the time I fight Nick Diaz."