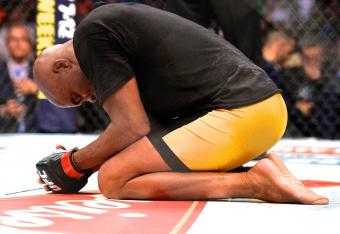 USA Today
LAS VEGAS — I arrived fashionably late for UFC 183, just in time for the first preliminary-card bout. But I was also just in time for Bruce Buffer's special announcement over the MGM Grand Garden Arena's loudspeakers: The bout between Jimy Hettes and Diego Brandao had been canceled at the last minute due to medical issues.
Minutes later, we'd find out that Hettes was displaying concerning signs, while getting his hands wrapped for the fight. And just like that, one of the most anticipated fights on the preliminary card went up in smoke. Sure, Brandao vs. Hettes was not Silva vs. Diaz. But it was an intriguing fight, and "circumstances" kept us from seeing it.
But mostly it was a continuation of the UFC's incredible run of bad luck. Dana White and Lorenzo Fertitta would probably like to pretend the past seven days never happened. In addition to Hettes, UFC 183 also had weighty issues with both Kelvin Gastelum and John Lineker.
And in the midst of those troubles, Chris Weidman hurt his ribs and pulled out of UFC 184, and then Vitor Belfort began making all sorts of crazy demands about fighting for the "full" middleweight title (despite Weidman holding the belt and fighting last summer).