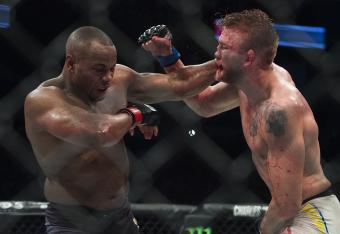 Cooper Neill/Zuffa LLC/Getty Images
Daniel Cormier and Alexander Gustafsson did everything they could on Saturday to make us forget about Jon Jones.
Cormier and Gustafsson had a whale of a scrap at UFC 192—a five-round epic so close the outcome was in doubt until the moment the third cageside judge confirmed Cormier had retained his light heavyweight championship by split decision (48-47, 47-48, 49-46).
They scraped, clawed, bled and sweated through a back-and-forth battle that will wind up on numerous Fight of the Year ballots. Without exaggeration, we can safely say this was one of the best 205-pound title fights in company history.
"These are the ones that you dream about when you start doing this," Cormier said at the post-fight press conference. "You don't dream about them as you [just] want to be involved—you want to be involved and you want to win."