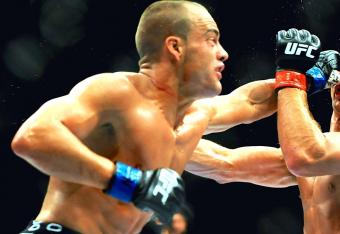 USA Today
In the end, there was just too much working against Eddie Alvarez and Gilbert Melendez for them to really do their yearslong rivalry justice.
It might have been foolish for us to ever expect they could.
Alvarez and Melendez had many battles to fight on Saturday at UFC 188. They had to overcome not only the weight of a beef dating back to their days as rival champions of smaller organizations, but the stamina-sucking altitude of Mexico City and—for Alvarez, at least—a badly swollen left eye, which plagued him through nearly the entire bout.
If their long-awaited grudge match gave us anything, however, it was a close-up lens on the former Bellator MMA 155-pound champ's toughness.