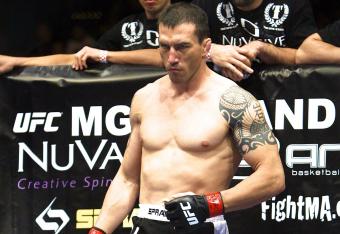 AP Images
Add Nate Quarry to the growing chorus of former UFC fighters who are taking aim at the company on a number of fronts.
Quarry has been out in force with criticisms of his former employer recently, authoring a post on the UG and giving wide-ranging interviews to Bloody Elbow and MMA Junkie on the topics of UFC fighter pay, contracts and the potential of the organization adopting "uniforms" for its athletes.
As former welterweight champion Georges St-Pierre continues to speak openly about drug testing in MMA, Quarry's most recent comments give some added momentum to a few of the sport's most vexing issues.
It's always interesting to hear from former fighters, once they feel they have nothing to fear by speaking out about their careers. Too often in professional sports, the active participants fall back on platitudes and clichés to avoid saying anything of substance in public. Once they've made a clean break from the industry, they often find they can express themselves more clearly.