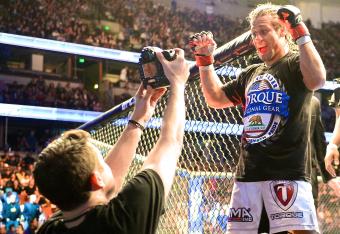 USA Today
Perhaps, the most telling statement that Urijah Faber ever made about his own position in life came at WEC 26, as he prepared to fight a little known 21-year-old named Dominick Cruz.
"I'm not the type of person who's ever been beat up or picked on or—you know—the underdog," Faber said during pre-fight interviews. "I've been the man since I was a little kid, and I'm still going to be the man."
That confidence was well-earned. At the time, Faber was the undisputed king of MMA's lightest weight classes. He was the WEC's featherweight champion who was undefeated for more than two years and was consistently capable of making the rest of the best fighters in his division appear decidedly less than.
For lack of better terminology, he was indeed the man.