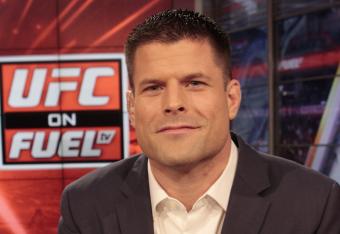 Photo courtesy of Fox Sports 1
The team of analysts for the UFC on Fox Sports 1 and Fox broadcasts has been providing the most in-depth coverage that mixed martial arts has seen in its 20 years of existence.
With a collection of seasoned fight veterans and a handful of well-versed hosts at the helm, the people working the pre- and post-fight shows for the UFC have consistently raised the bar.
For the next installment of "Dropping Knowledge," the current front-runner for MVP in the analyst game in 2013, Brian Stann, paid another visit to our column. The "All-American" has stopped by on several occasions in the past and with each visit has brought us closer to renaming his installments "Dropping Science" for the alchemy-like wizardry he brings to the table.
Since Stann's recent retirement from settling the opposition inside the Octagon, he has been busy working with the Fox broadcast teams in both MMA and college football. The former Navy linebacker did a knockout job covering ACC football during the regular season and has hit the phone booth just in time to get his cape back on to hit the action for this weekend's card at UFC on Fox 9 in Sacramento, Calif.