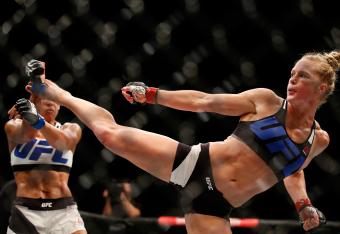 Zuffa LLC/Getty Images
Holly Holm certainly has the ability to beat Ronda Rousey on Saturday at UFC 193.
If you're out hunting around for reasons to believe Holm can unseat the fight company's most dominant champion, that's the good news. If Holm manages to keep this fight off the ground, to control the distance and prevent Rousey from utilizing her ferocious submission game, she's got a chance. Maybe even a good one.
The bad news is she'll have to fight a perfect fight to make that strategy work.
For Holm, the margin for error in this bout will be damn-near nonexistent.