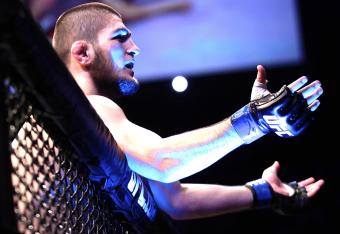 Andre Penner/AP Images
It wouldn't be the UFC lightweight division without a little bit of intrigue, now would it?
Long regarded as the fight company's deepest, most competitive weight class, the 155-pound ranks are never at a loss for title contenders. While allegedly top-of-the-food-chain divisions like heavyweight and light heavyweight eternally scrounge for worthwhile talent, lightweight is an embarrassment of riches.
Such is the case right now, as we approach the home stretch of 2014 with no fewer than three top challengers patiently awaiting the champion's return. As it stands, the biggest test facing UFC matchmakers might be getting Khabib Nurmagomedov, Donald Cerrone and Rafael dos Anjos to form an orderly line.
This has not been an easy year for the 155-pound title. Anthony Pettis spent the last 13 months on the shelf due to a significant knee injury. The UFC has resorted to its usual methods to keep the champ in the spotlight, using him as a television analyst and booking him to serve as a coach on the latest season of The Ultimate Fighter. It'll still be two more months before Pettis returns to defend the title against Gilbert Melendez at UFC 181 and at least a few months after that before anybody else gets his chance.