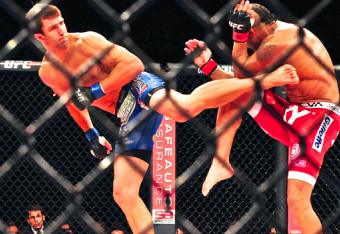 USA Today
This isn't about Vitor Belfort.
This is a story about Luke Rockhold, who on Wednesday night returns to the cage for the first time since May of last year, when Belfort spoiled his UFC debut via the sort of stunning first-round knockout that will haunt highlight reels as long as they both shall live.
Because this is Rockhold's story, not Belfort's, we needn't spend too much time rehashing the obvious. The KO of Rockhold was the one that really turned people's heads during 2013, the one that cemented Belfort's career resurgence and the one that spiked talk about his testosterone replacement therapy.
Nearly eight months later, we're still not sure how much of that performance to credit to Belfort and how much to credit the doctors who rebuilt him in the image of an action figure.