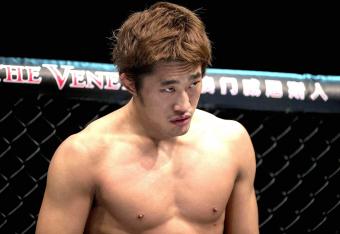 Victor Fraile/Getty Images
The end was beautiful, a startling bit of violence that made even the most hardened fight fan wake up, shake off the ennui and feel. In one fell swoop, Dong Hyun Kim, the Korean grappler once best known for his stifling top control, spun right to avoid a John Hathaway elbow and clocked his opponent with an elbow of his own.
It was arguably the most deadly pirouette in fight history, a moment worthy of Anderson Silva, as elegant as it was brutal.
But the means?
They were ugly, a succession of spinning drivel, missed haymakers and footwork so bad it left him stumbling.
Kim is no born striker. A striker, however, he's become. In a business that sees even the icons opening up juice stands and worrying about making ends meet after a career, Kim had little choice. The clock on his career is ticking, and the 32-year-old fighter has a very short window of time to make any money.