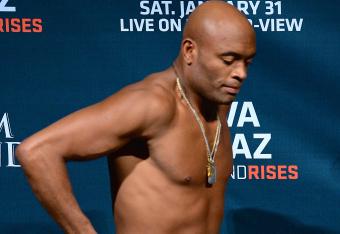 Jayne Kamin-Oncea/USA Today
The UFC's announcement of Anderson Silva's failed test for performance-enhancing drugs once again brought the topic of PEDs in mixed martial arts to the forefront of discussion. It's a sore subject.
But in reality, performance-enhancing drugs have been an albatross around the neck of the sport since the beginning, and nothing has changed.
Today, intrepid MMA lead writers Jonathan Snowden and Jeremy Botter re-form their version of the Megapowers to tackle the latest installment of The Question: Does the UFC have a drug problem?
Read on for the answer.
Jeremy: Hey, Jonathan, do you remember the good old days? And by the good old days, I mean like two months ago, back before the UFC's current best fighter and the man many consider to be the best fighter of all time each popped for very different drugs?