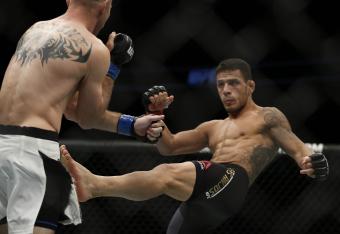 Reinhold Matay-USA TODAY Sports
Maybe Rafael dos Anjos never really had a chance to land a fight with Conor McGregor, but it's a good bet Saturday night's performance didn't help his cause.
Dos Anjos' first-round knockout of Donald Cerrone in the main event of UFC on Fox 17 was certainly eye-opening. It may turn out to be the defining victory of his lightweight title reign and firmly establish him as a worthy kingpin for MMA's most competitive division.
But it also made Dos Anjos (25-7 overall, 14-5 UFC) look like perhaps the toughest fight on the board for McGregor. As the man who also offers the lowest possible return, the math probably won't add up for him.
With McGregor's superstar status now well entrenched, the new featherweight champion will be on the prowl for big names and big money when he selects his next fight.