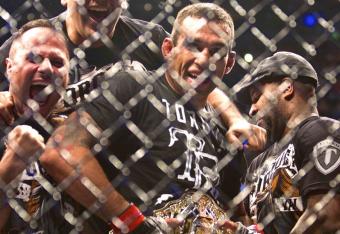 Christian Palma/AP Images
Much of the lead-up to UFC 180 focused on Mark Hunt's chance to complete his Cinderella run to the interim heavyweight title.
After Saturday night's final plot twist, however, it turned out Fabricio Werdum was the hero of this story all along.
Despite some dicey early moments, Werdum was always the more complete MMA fighter here. He weathered Hunt's best stuff in the first round and then caught him with a perfectly timed knee in the second, forcing the referee to halt an onslaught of punches and hammerfists on the ground just a few ticks shy of seven-and-a-half minutes into the fight.
Hunt dominated the pre-fight narratives, but it was really Werdum who saved UFC 180 after Cain Velasquez dropped out with an injury. He spent the last two months living in Mexico City to get acclimated to the altitude and along the way was adopted as the favorite of local fans. He showed off his Spanish skills on the mic, danced and laughed during pre-fight festivities and kept the party going right up to the moment UFC President Dana White wrapped the title belt around his waist.