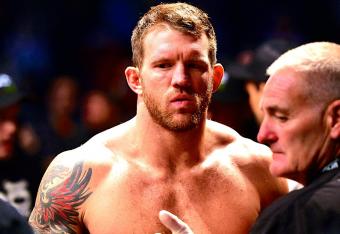 USA Today
It's easy to feel sorry for a guy like Ryan Bader.
OK—scratch that—more accurately, I suspect it's easy for fight fans to feel absolutely nothing for a guy like Bader.
As he approaches his Saturday showdown with Ovince Saint Preux at UFC Fight Night 47, the former The Ultimate Fighter winner is likely viewed by most as an athlete whose best days have come and gone without him ever reaching his full potential.
We've already seen Bader tested against the best in his division and come up wanting. At 31 years old and 15 fights into his UFC career, he's a fully known commodity—eternally kicking around the outskirts of the 205-pound top 10, with a fleet of A-listers like Alexander Gustafsson, Daniel Cormier and Anthony Johnson between him and anything resembling top contender status.