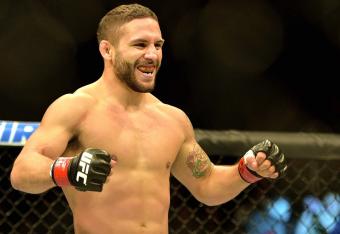 USA Today
It's always awkward when you know a fight promoter has a rooting interest.
In the case of Saturday's UFC 189 main event between Conor McGregor and Chad Mendes, it doesn't take a lick of guesswork to figure out what ownership wants to happen. We know it for a stone-cold fact, because the UFC's first preference had already been on the books for months: to have McGregor fight Jose Aldo in a high-profile grudge match for the featherweight title.
The fight company had booked that fight, put it on billboards, produced a documentary series about it and bankrolled at least one stunning and pricey television commercial to advertise it.
In all, UFC President Dana White said the company spent $10 million promoting the fight. The more conspiracy-minded might even tell you the UFC had orchestrated it from the beginning, feeding McGregor a series of overmatched, stand-up-oriented opponents for the express purpose of quickly and publicly building him into the division's top contender.