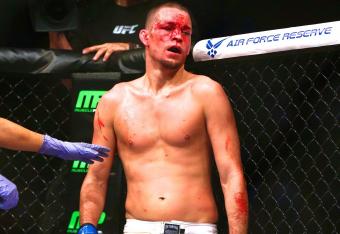 Mark J. Rebilas/USA Today
Rafael dos Anjos saw to it that Nate Diaz's week of bluster ended with a whimper.
From Wednesday to Friday, Diaz had largely set the pace for UFC on Fox 13, grabbing the lion's share of the headlines when he slept through his open workout, cut a professional wrestling style promo on new UFC signee CM Punk and then missed weight by more than four pounds.
On Saturday, it was dos Anjos' turn to offer a rebuttal.
The 30-year-old Brazilian pounded Diaz for 15 full minutes in their co-main event bout—punishing his legs with hard kicks from the outset and opening a large cut over his right eye during the second round. Diaz took it all in a style befitting his impetuous reputation, but by the time it was over, the judges called it a lopsided sweep for dos Anjos (30-26 x 2, 30-27).