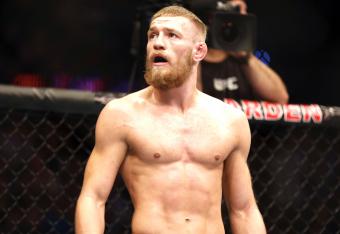 AP Images
The UFC's new golden child is returning, and he's not returning for the gold.
According to a Thursday report from Steven Marrocco of MMAjunkie.com, Conor McGregor—the fast-rising featherweight who has quickly captured the attention of mixed martial arts fans and UFC brass—will return to the Octagon in January for a bout against Dennis Siver.
UPDATE: Friday, Oct. 24 at 11:00 a.m. EST:
It's official. The UFC announced today that McGregor will fight Siver in the main event at a special Sunday edition of UFC Fight Night at Boston's TD Garden arena on Jan. 18.