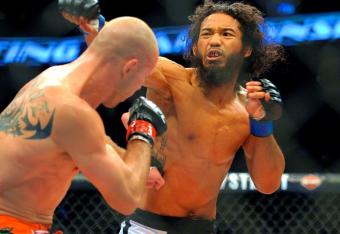 USA Today
No matter what happens when Benson Henderson takes on Brandon Thatch in the main event of UFC Fight Night 60 on Saturday, we're probably going to need an asterisk or two.
Henderson vs. Thatch isn't a fight that figures into anyone's long-term plans, nor one we even could've anticipated as recently as a month ago. Make no mistake, there are clear stakes here for each guy, as Bendo moves up from lightweight to make a short-notice appearance at 170 pounds.
It's just that putting it all in perspective will likely take some footnotes.
Obviously, this wasn't the original blueprint. When UFC brass first marked it up on the whiteboard at Zuffa LLC headquarters, a stunningly relevant 170-pound contender bout between Matt Brown and Tarec Saffiedine* was meant to headline the Valentine's Day spectacular in Broomfield, Colorado.