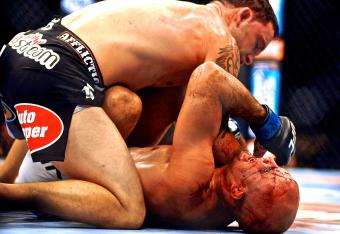 Stephen R. Sylvanie/USA Today
A third fight between Frankie Edgar and BJ Penn never made much sense.
Less and less so every second they actually spent together in the cage.
Edgar was declared the winner on Sunday after three miserable rounds of lopsided action, but even he didn't feel much like celebrating. He'd battered and humiliated fan favorite Penn en route to a TKO in the main event of The Ultimate Fighter 19 live finale, and he understood it brought a melancholy end to a weekend of UFC events on back-to-back nights.
"It's a bittersweet victory," Edgar told play-by-play announcer Jon Anik after it was finally over. "I said I wanted to finish him because he's never been finished and (because of) how tough he was, but I almost feel bad about it."