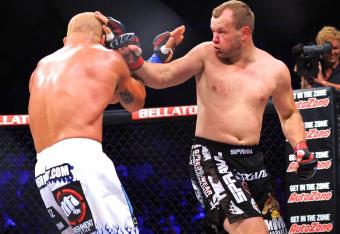 USA Today
At 38, Melvin Manhoef (29-13-1) is a finished product. You know exactly what to expect when he fights. There will be violence. It will be furious. And someone will end up looking at the ceiling.
Fifty-four times, in a career spanning almost 20 years, it's been his opponent who has been unable to finish the fight—the victim of powerful winging punches that are truly frightening to behold.
"I'm a junkie for the knockout," he said on the Bellator 133 broadcast, moments before walking to the cage. That's not subtle—but it's self-evidently true.
In recent years, as he's slowed and grapplers have improved their games, he's been the victim of his own success, chasing glory too often for his own good. When Manhoef smells blood, all science fades. There is only violence.