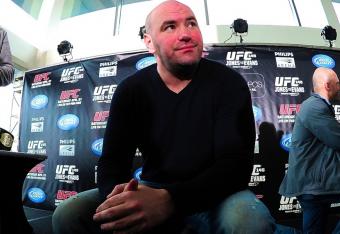 Getty Images
Over the past 24 hours, many words have been written about the UFC's new "athlete outfitting policy." Many words will be written in the future, as athletes, managers and the UFC figure out how to tread this rocky new ground.
I don't know what the UFC's move to a standard uniform means for the athletes who compete under its banner. When I first began reporting on the uniform story in February, I was conflicted. I remain so today.
On one hand, it makes the sport look more professional, and that is a good thing. I have every confidence that Reebok will design clean, inspired clothes for UFC fighters to wear in and out of the Octagon. The design nerd in me thinks that is a much better option than what we have currently, which is a mishmash of logos and brands splayed across the cage and television screen.
Instead of looking like NASCAR, the UFC will look more like the NFL, NBA or English Premier League.