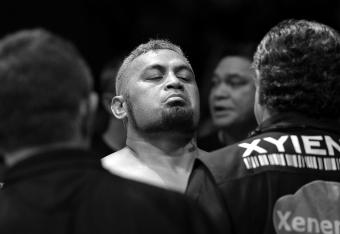 Bradley Kanaris/Getty Images
Mark Hunt couldn't wait to get out of there.
That's the impression you got on Wednesday if you sat through all of Hunt's long, uncomfortable interview with MMAFighting.com's Ariel Helwani. Just a few days prior to taking on 4-1 favorite—via Odds Shark—Fabricio Werdum for the interim heavyweight championship at UFC 180, Hunt appeared distracted, displeased with his situation and deeply ambivalent about this weekend's outcome.
In other words, he didn't sound like he was about to pull off the upset.
Hunt began the interview by stoically stating he had "other things" on his mind, and after 21 minutes of questioning admitted he "doesn't care" what happens when he meets Werdum in the cage. In between, he confessed he had to lose more weight than he anticipated for this bout, didn't know that Mexico City's altitude would affect him so much and dropped hints that there might be trouble at home.