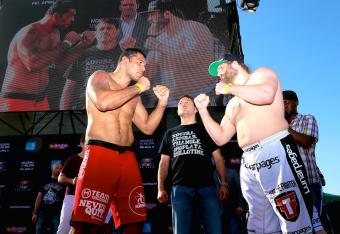 Getty Images
Perhaps the story of Roy Nelson vs. Antonio Rodrigo Nogueira is one of lowered expectations—about the fighters and the kind of fight we think of as a UFC main event.
Nelson and Nogueira both come into UFC Fight Night 39 on the heels of losses, bonded by nothing aside from their middling promotional records (6-5 for Nelson, 5-4 for Nogueira) and similarly precarious positions in the heavyweight landscape.
Their matchup smacks of randomness. We expect few surprises. To the extent there are any assessable stakes, this fight shapes up as one that would be disastrous for either to lose while not being overly meaningful to win. It'll be held on a Friday afternoon in a temporary stadium in the United Arab Emirates at a time when most Americans will be at work.
In other words, it's strange to think of a fight like "Big Country" vs. "Big Nog" as the marquee attraction on a show booked by the world's largest MMA promotion.