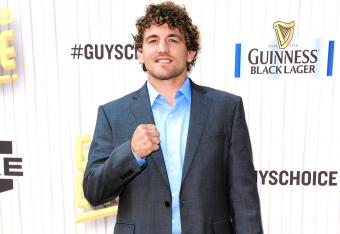 AP Images
LAS VEGAS—Ben Askren, once and perhaps future free-agent welterweight, sits near a waterfall in the massive Venetian casino.
He is here, in the sin capital of the world, for the World Mixed Martial Arts Awards, a sort of Academy Awards for the face-punching set that takes place Friday night at the Venetian Theater. For now, he is making the most of his time in Nevada by making the media rounds to promote his debut for the Singapore-based promotion One FC. He has done several radio appearances this morning already, and he will do several more this afternoon.
But for now, he is talking to me, and he is talking about being a heel.
A heel, in professional wrestling parlance, is a bad guy. He irks you. If he is good at his job, you will pay money to see someone else beat the stuffing out of him, repeatedly, as he dances all the way to the bank.