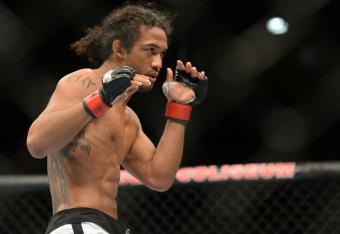 USA TODAY Sports
Rustam Khabilov was a good start.
Last we saw Benson Henderson, the former lightweight champion snapped his streak of eight consecutive decision victories at June's UFC Fight Night 42, earning—wait for it—the first stoppage win of his UFC career via fourth-round submission over Khabilov.
This particular rear-naked choke—beautiful in its efficiency after Henderson stunned the Russian fighter with punches against the fence—mattered more than most.
Not only did it continue to distance him from a potentially career-defining second loss to Anthony Pettis at UFC 164, but it proved he can still be devastating. He can still be that guy who amassed an 83 percent finishing rate during the first dozen wins of his career. He can still dismantle, excite and win a bout without asking the judges to sift through 25 minutes of neck-and-neck action.