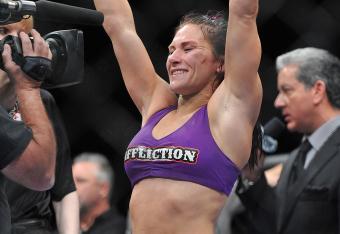 Gary A. Vasquez-USA TODAY Sports
Cat Zingano tuned in to watch the debut episode of The Ultimate Fighter season 18 with a heavy heart but with pride in her eyes.
She witnessed Ronda Rousey enter The Ultimate Fighter gym, followed by Miesha Tate. After some initial confusion, UFC president Dana White explained to Rousey that Zingano—who was supposed to coach the show—had blown out her knee. The injury forced the UFC to tab Tate as a replacement coach.
For Zingano, watching the show was like reliving a bad dream. She had to talk about this situation three months ago when it first happened, and then last night on television, it all unfolded again.
She had earned the right to coach opposite Rousey and then face her for the UFC women's bantamweight title later this year. As disappointed as she was about missing out on the title shot, watching the first-ever women's cast of the long-running reality show debut without her ended up being the hardest part of it all.