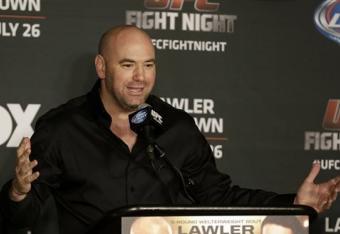 Jeff Chiu/Associated Press
UFC President Dana White likes to win. His goal, publicly stated, isn't just to be a successful mixed martial arts promoter. It's becoming a global force in the sports. "World f*cking domination," as he puts it. Nothing more, nothing less.
That drive has helped White to demolish the competition over the years. He, famously, used to keep a faux tombstone in his office. Every time a rival promotion died, a name was added to the dearly departed. Those who didn't go out of business because of their own stupidity, the UFC gleefully purchased, adding toys to a toy box already brimming with great martial artists.
No rival has withstood the rigors of MMA promotion for long. Successful boxing promoters, comic book entrepreneurs and online gambling provocateurs have all attempted to run a Pepsi to UFC's Coke. All have failed dramatically.
All but Bellator.