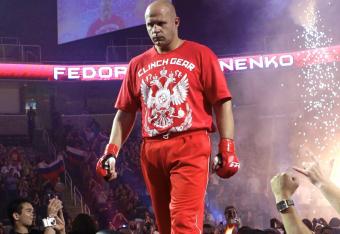 Jeff Chiu/AP Images
On a map, it looks like the Dave & Buster's in Manchester, Connecticut, sits along a quintessentially American stretch of blacktop.
Buckland Hills Drive cuts a gentle curve from east to west, just a stone's throw north of I-84 and a little south of a thin blue pencil line called Plum Gulley Brook. It's hemmed in on all sides by shopping centers. There's a Home Depot right there, an Olive Garden, a Sam's Club.
The restaurant itself sits across the street from a sprawling mall, where a Sears, a Barnes & Noble and a Dick's Sporting Goods are among the anchor stores.
It seems fine, it seems like suburbia, but it seems impossible that Fedor Emelianenko could ever feel at home there.