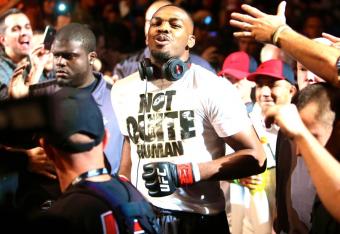 USA Today
Controversy, as always, is swirling around Jon Jones (20-1). On Thursday, it was a hallway war of words. What it will be tomorrow, no one can say.
The UFC light heavyweight champion has managed to stuff a career's worth of drama into just a few short months in the lead up to his fight Saturday with two-time Olympian Daniel Cormier, a fight that will, finally, bring one of MMA's greatest feuds to a close.
The bad blood started years ago with Jones' offhand claim he could take Cormier to the mat. Cormier, a proud wrestling legend, was not amused. That was the beginning. But the two were separated, at the time, by a weight class and by promotional boundaries. Nothing came of it except simmering anger.
It began in earnest last August with a scuffle at a pre-fight media appearance, a dustup that included a tumble off the hastily constructed stage, a terrified UFC PR flack and even a thrown shoe.