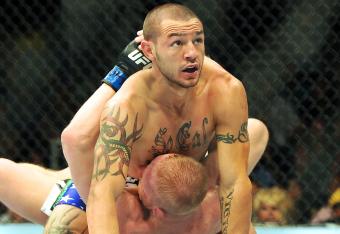 USA Today
The past two years have been crazy for Cub Swanson.
Where the 30-year-old was once seemingly fixed on the roller-coaster ride of unfulfilled potential, those days have long since been in the rearview mirror. Once the Palm Springs, Calif., native found the confidence to go with his diverse, explosive skill set, the results came quickly—and oftentimes in painful, brutal fashion for the person sharing the cage with him.
After spending five years trading leather in the WEC, the Jackson's MMA fighter finally made his UFC debut against Ricardo Lamas at UFC on Fox 1 in November of 2011. Despite getting out to a great start, the scrappy veteran made a tactical mistake in the second frame and was submitted via arm triangle.
The loss stung as Swanson believed he was on the verge of finally putting everything together. And while that final gear may not have clicked on that particular night, it certainly did in his next showing—and hasn't slowed in the slightest.