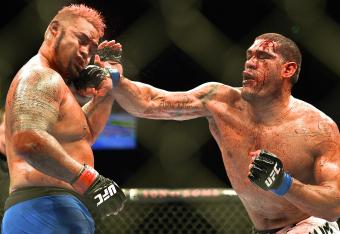 Getty Images
Mixed martial arts is a thriving passion for the fighting faithful in Australia.
The fanbase has grown to become one of the most lively collectives across the globe, and on Friday night (Saturday for them), the UFC returned for UFC Fight Night 33. It was the promotion's first visit to Brisbane and the first time the Octagon had rolled through Australia in a year.
With a market hungry for action-packed combat, what better way to mark a return than with two of the game's heaviest hitters in Antonio "Bigfoot" Silva and Mark Hunt? Despite both fighters coming off recent losses, the matchup featured two men who were eager to get back into the title hunt in the heavyweight division.
Silva came into the bout one fight removed from a title opportunity, where he was drubbed by champion Cain Velasquez at UFC 160 in May. Silva was looking to get things back on track against the former K-1 champion.