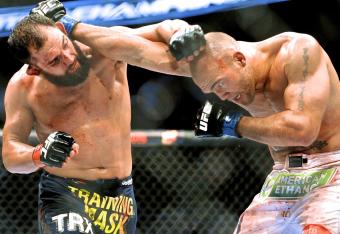 Matt Strasen/AP Images
The champions are finally healthy, and the challengers each ready to take their second shots at UFC gold.
Parallel storylines, you guys!
As Saturday night's UFC 181 kicks off perhaps the most important (and potentially awesome) stretch of live events in UFC history, welterweight champ Johny Hendricks and lightweight titlist Anthony Pettis both ease back into active duty after significant injury layoffs. Good timing, right?
Across the cage from them will be two legitimate top contenders (Robbie Lawler and Gilbert Melendez, respectively) each preparing to make maybe his final try at capturing a world title. Lawler gets a do-over after losing a tight one to Hendricks at UFC 171 in March, while Melendez gets his after suffering a razor-close defeat to Benson Henderson in his initial title shot at UFC in April 2013.
So this ought to be interesting. With a few other compelling attractions on the main card, including—wait, what's this?—a couple at heavyweight, UFC 181 demands that bold predictions be made.