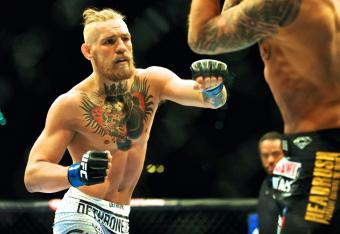 USA Today
On Sunday, the Ultimate Fighting Championship presents a novelty Sunday card, following an extensive day of playoff football, in an effort designed to do one thing and one thing only: to make Conor McGregor a household name.
McGregor is already one of the more notable fighters on the UFC roster, which is remarkable considering he has just four fights in the promotion. He has vaulted far past tenured fighters in terms of both salary and screen time. The advertising campaign for UFC Fight Night 59 in Boston centered solely around McGregor, with opponent Dennis Siver relegated to a tiny speck in the background, barely even mentioned.
But it was all for a purpose. With a win, McGregor will move on to face Jose Aldo for the featherweight championship. It will be the UFC's first big-time fight below 145 pounds, and so the McGregor-centric programming will have been worth it.
But in our second edition of The Question, fellow pundit Jonathan Snowden and I try to figure out if this Sunday is indeed the moment when McGregor takes over the Ultimate Fighting Championship.