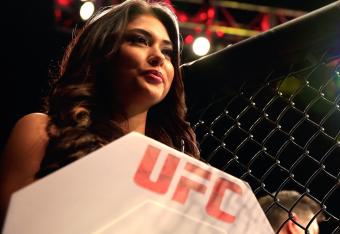 Getty Images
Heading into UFC 184, Ronda Rousey is facing two opponents.
First, there's Cat Zingano, Rousey's opponent on Saturday night. Zingano (9-0) is a vicious striker with plenty of power and a bit of a crazy streak, as evidenced by her bloodcurdling scream in the UFC 184 promo commercial. And if Rousey has the best mean mug in the sport (she does), Zingano has to be near the top of the rankings.
Point being, Rousey might have a challenge on her plate. Or maybe not. Odds Shark lists her as a nearly 10-1 favorite, and it is hard to imagine Zingano pulling off what would be considered an all-time upset. As my colleague Jonathan Snowden and I noted, Rousey is the most dominant fighter in UFC history and is on a completely different level in terms of athleticism.
I suppose it is no surprise, then, that the major pre-fight storyline for Rousey has centered not on Zingano, but on one of the bikini-clad women who will carry a numbered placard around the Octagon on Saturday night, informing the public which round is coming up.