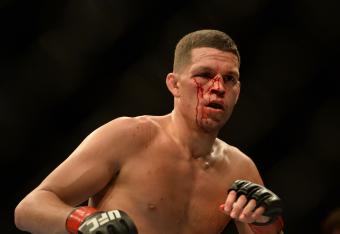 Kyle Terada-USA TODAY Sports
LAS VEGAS — The old version of Nate Diaz returned Saturday night at the Mandalay Bay Events Center, while the old version of Gray Maynard may be gone for good.
Diaz put an emphatic stamp on a largely listless The Ultimate Fighter finale event, finishing Maynard with multiple strikes in the main event. It was a severe beating, one that referee Yves Lavigne botched badly by allowing Maynard to take far too much punishment. Maynard was essentially out on his feet, only remaining standing by the force of Diaz's punches pushing him back against the cage.
After the fight, Diaz proclaimed himself and Gilbert Melendez the best lightweights in the world, despite indications that Diaz will move back to welterweight for his next fight.
He also called out both Josh Thomson—who beat Diaz earlier this year—and Benson Henderson, who beat Diaz almost a year ago. And then Diaz proclaimed that he had things to do and was hungry, though he chose more colorful language than I'll use here.