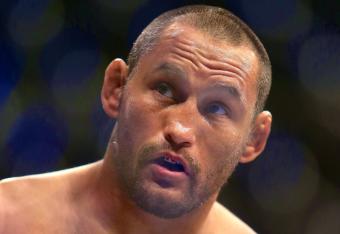 USA Today
After two rounds on Sunday at UFC Fight Night 38, we were all struggling to write eulogies for Dan Henderson's legendary MMA career.
Then, a minute into the third, Hendo penned one for Mauricio "Shogun" Rua using just one punch.
It was a right hook, and Henderson landed it flush on Rua's nose as the 32-year-old crowd favorite dropped his hands to defend a takedown. Rua somersaulted backward, and Hendo charged in to land another right, followed by a series of hammerfists that prompted referee Herb Dean to stop the action.
Just like that, Hendo changed the balance of the discussion. Suddenly, it was the 43-year-old who was back in the mix of the light heavyweight division and Rua whose storied tenure in the sport seemed on its last legs.