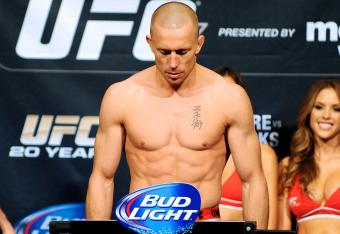 USA Today
Longtime welterweight champion Georges St-Pierre has elected to take what he described as an indefinite absence from mixed martial arts. St-Pierre, who has served as one of the most dominant and popular champions in the history of the company, has also vacated his championship.
The French-Canadian fighter made the announcement on a Friday afternoon conference call with UFC President Dana White. The call was simulcasted live across Canada by nationwide cable sports network SportsNet.
"I've been in this sport for a long time," St-Pierre said. "I know the UFC is a business. But right now, I need to take a break. One day, when I feel like it, I might come back."
White announced that St-Pierre's now-vacant championship would be up for grabs on March 15 when Johny Hendricks takes on Robbie Lawler at UFC 171, and later confirmed via Twitter that the bout would serve as the card's main event.