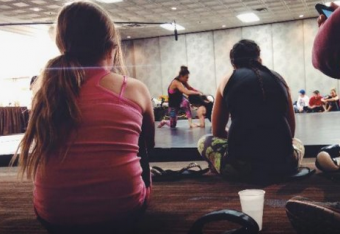 Jeremy Botter
LAS VEGAS — "When we call your name, come out to the center of the mat. If you catch a submission, let go. You know you got it, they know you got it, we know you got it. So just let it go and move on."
Dana White, president of the Ultimate Fighting Championship, stands in front of a group of tiny women. He is clad in a black T-shirt, a baseball cap adorned with the UFC logo and a few days' worth of gray and black stubble on his chin. They are unanimously dressed in spandex of all types: short and black, long and colorful.
White is laying down the ground rules. He wants to see aggression. He does not want to see stupidity.
"Please do not try to hurt anybody. We just want to see you roll. Don't go crazy. You women are so f*****g aggressive all the time," White says. "Just relax. Relax. It's all good. We know your record. We know who you are. Just get in here and roll.