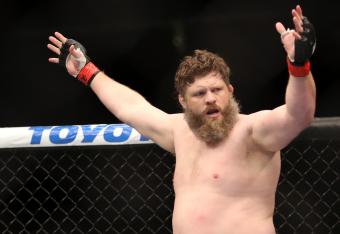 Gregory Payan
One hopes Roy Nelson's second trip to Abu Dhabi is better than the first.
The last time Nelson visited the city that hosts tomorrow's UFC Fight Night card, he spent most of his time inside conference rooms, news studios and hotels. He was on a UFC-mandated public relations tour. He didn't get to see the Burj Dubai or the ridiculous mall with the indoor skiing slopes. He did not see Ferrari World, where a stadium has been built for the UFC's use on Friday, and where a stadium will vanish into thin air after they leave Saturday.
Nelson saw carpet and walls and cameras, and then he went back to America.
Twenty-five hours later, back in the United States, Nelson discovered the airline lost his luggage. It is easy to believe Nelson when he says he prefers fighting back home in Las Vegas.