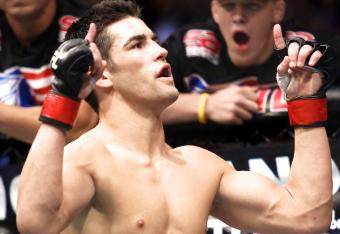 The Dominick Cruz saga hasn't benefited anyone.
Not Cruz, certainly. The bantamweight champion has been out of action for over two years. Two years and seven days, to be precise, and you can be sure Cruz is painfully aware of the number. He's 28 now, which means he's missed a decent portion of his prime just sitting on the shelf, watching the division he rules swirl around beneath him. He can't do anything about it, though, not with repeated knee injuries preventing him from competing.
Not Renan Barao, the former interim champion who is pretty much considered the real champion by everyone except for Cruz at this point. Barao is still in the midst of the same stunning winning streak he was in when Cruz went on the shelf, except now he's also the owner of a dubious record he'd rather avoid: most interim title defenses in UFC history. He's got two of those, and I'm sure he'd trade both of them for one shot at the real thing.
Not the bantamweight division. Fighters usually compete for one contending spot. They know who the champion is and know they'll be rewarded with a title opportunity if they work their way to the top. Except in the bantamweight division, that is, because there are two champions who must eventually face each other when Cruz returns from injury. That's understandable, but it probably doesn't make things much easier for Raphael Assuncao, who might just find himself waiting on the sidelines for Cruz and Barao to settle things, should he get past T.J. Dillashaw at UFC Fight Night 29 on Wednesday night.