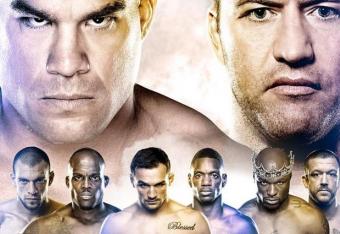 Credit: Bellator MMA
It used to be when Bellator rolled out a "new season" of television, what it really meant was it was about to roll out another series of tournaments filled with fighters you'd never heard of.
The tournaments were a nifty concept back when they started. But, they were always more of a hindrance than a help. They pushed logical matchmaking to the side because Bjorn Rebney had crowed about tournaments being the only legitimate way to crown a champion, and he couldn't really go back on that. And then, of course, he did go back on that. By the end of Rebney's tenure as czar of Bellator, he was avoiding the tournament results when convenient in order to make the fights people really wanted to see in the first place.
You know, like he should've done from the very beginning.
But a new season of Bellator is once again upon us—only this one feels more like a new season, in the way that actual seasons turn the scenery from a sea of snow into a bright and shining summer landscape. Rebney is gone, and in his place is brilliant promoter Scott Coker, matchmaker Rich Chou and many of their old friends from the now-defunct Strikeforce.