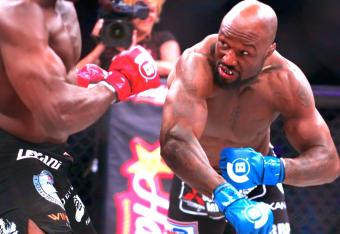 Gregory Payan/AP Images
A minute or two into last week's Bellator 134, a guy strolled out from behind a retractable 20-foot video monitor and began noodling a version of "The Star-Spangled Banner" on electric guitar.
On stage behind him stood a lineup of the night's fighters, some of them taking his performance very seriously, some of them absolutely not. The monitors streamed pure Americana—shots of the Statue of Liberty, Mount Rushmore, a clip of wheat stalks swaying gently in a breeze.
Just as the guitarist wailed past the line about the perilous fight, cameras cut to a statuesque blonde woman in the front row wearing a black evening gown, one hand tucked somberly over her heart. At her right elbow, a guy with a full sleeve of tattoos slurped a cocktail out of a plastic cup and gleefully nodded along to the music.
Ninety seconds later, a bunch of fireworks went off indoors.