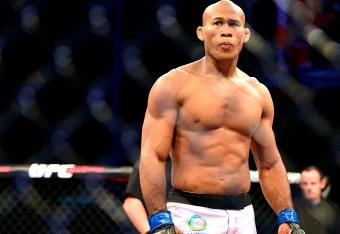 USA Today
The sudden withdrawal of Yoel Romero from UFC on Fox 15 leaves a hole that just can't be filled.
Anybody who has seen the hulking Olympic wrestler compete, or even just walk into a room, can tell you that. His stocky, heavily muscled frame, newsboy fashion sense and quirky fighting style all cut Romero a unique profile in MMA.
With the possible exception of Chris Camozzi, nobody is better off without him—not fans, not the UFC itself and especially not his erstwhile opponent, Ronaldo "Jacare" Souza.
Their co-main event on Saturday was to be one of the month's most anticipated bouts. It was a big part of why this weekend's free network television fight card was regarded as superior to April 25's UFC 186 pay-per-view, even before the injuries and the court orders hamstrung the latter.