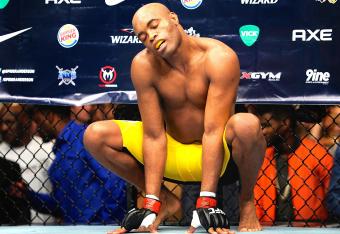 David Becker/AP Images
I'll be the first person to tell you I hoped Anderson Silva would never fight again.
I didn't think he would return to the Octagon. Not after that horrific night last December, when Silva went in the cage to challenge Chris Weidman for the middleweight championship and ended up carted out of the arena and taken straight to the hospital while clutching his leg and screaming in pain.
I'll never forget that night. I wrote about it in some detail immediately afterward, and the sound of Silva's leg breaking and his vocalized anguish have stuck with me ever since. It is, and will remain, one of the worst things I've seen while covering this sport in a professional capacity.
I never wanted Silva to experience a downward spiral in his career. I wanted him and his magical middleweight title run to live on in our collective hearts, like if Michael Jordan had gone straight from playing for the Chicago Bulls to being the dude who wears dad jeans and owns an NBA franchise instead of playing for the Washington Wizards.