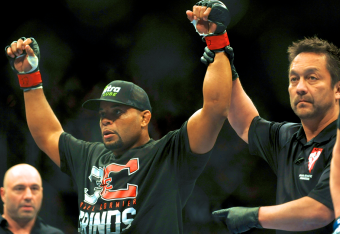 USA Today
This is the one we've all been waiting for.
After one change in opponent and a bevy of knee surgeries, light heavyweight champion Jon Jones will finally defend his title against Daniel Cormier on Saturday at UFC 182.
Are we stoked? Dude, we're more than stoked. What comes after stoked?
If Jones-Cormier even halfway-kinda lives up to the hype, we might see Fight of the Year honors wrapped up during the very first event of 2015. The rest of the card ain't too shabby, either.