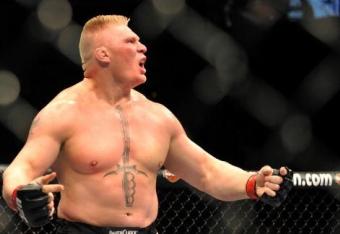 Getty Images
After years of speculation, Brock Lesnar finally put MMA fans hoping for his return out of their misery. There will be no second act for Lesnar, at least not in the cage.
Instead, the WWE champion told ESPN's Jonathan Coachman he was pulling the plug on his MMA career.
"It was a very hard decision at this stage of my career," Lesnar said. "The fighter inside me wants to compete. The father and husband—I'm an older caveman now. I make wiser caveman decisions. So, I'm here to say my legacy in the Octagon is over."
With his career officially over, it's time to turn our attention to his legacy. Bleacher Report lead writers Jonathan Snowden and Jeremy Botter, MMA's version of Starsky and Hutch, tackle the only question that matters in the wake of this stunning announcement—how will MMA fans remember Brock Lesnar?