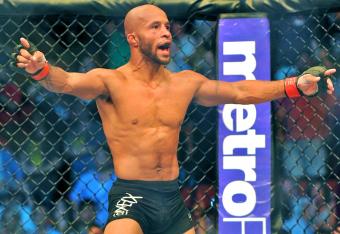 USA Today
It's hard for UFC flyweight champion Demetrious Johnson to stand out in a crowd. Challenger Joseph Benavidez, who will look to take Johnson's title belt Saturday on Fox, has the same problem. Standing just a shade over 5 feet tall and weighing a mere 125 pounds, both are smaller than not just the average American man but the average woman, too.
Getting lost in the shuffle isn't just a possibility. It's a fact. The box office tells us so, and money, some say, never lies.
But why? Benavidez took a shot at answering what, for a pro fighter, can literally be a million-dollar question. Why haven't UFC fans embraced smaller fighters, rewarding technique and style over brawn and brawling?
"The only issue is the names, the recognition and the popularity," Benavidez said. "Because the division's so new. There's no lack of skill in the division at all. Our guys are just as good as any other division, they just aren't as known. They haven't been on TV as much. But there's amazing talent at flyweight. It's just time with these things, man."