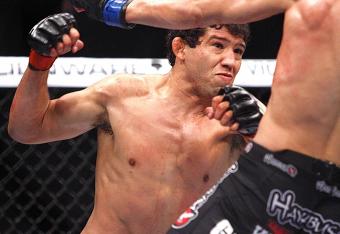 USA Today
It has been a long time since Gilbert Melendez competed in a mixed martial arts fight.
This is not to say he has not been busy. Melendez hasn't spent his time playing video games or getting fat or hitting nightclubs during frequent trips to Las Vegas. He spends his days overseeing the evolution of his San Francisco gym, mostly. That, and attempting to find enough time to play with his four-year-old daughter. And help his prodigy kickboxing wife prepare for her 115-pound mixed martial arts debut. And train with all of the teammates who need him. And perform duties as an analyst for ESPN and Fox Sports.
You get the point.
He spent a chunk of 2014 in Las Vegas, of course, but it was in the service of The Ultimate Fighter. Melendez coached opposite Anthony Pettis, overseeing a team of 115-pound strawweights who are all vying to become the first UFC strawweight champion. And between finding the time to spend with his family—who came to Las Vegas during roughly half of the filming days—and balancing his own training needs with the needs of the TUF production staff, well, Melendez says the experience was a whirlwind.
Family is important to Melendez. He and his wife have put off the inevitable second baby because his wife wants to make a run at the UFC. But it will happen, eventually.