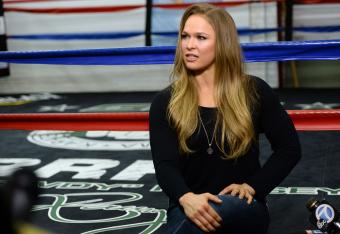 USA TODAY Sports
The soundtrack to Ronda Rousey's UFC career has always been a ticking clock.
Rousey is so special, her talent so glaringly cant-miss, that we've always known we couldn't keep her forever. Someday, somebody's going to come along and offer her a boatload of money for a job that doesn't involve getting punched in the face, and then she'll be gone.
Each time we've watched Rousey defend her UFC women's bantamweight title—as she will against Cat Zingano on Saturday at UFC 184—we've been haunted by fears that it could be the last time. When she spent a substantial stretch away from the cage during 2013 to appear in a couple of movies, we thought it was the beginning of the end.
But perhaps there's suddenly good news on that front. Leading up to her clash with the undefeated Zingano, there is actually less trepidation about a potential Rousey retirement than ever before.