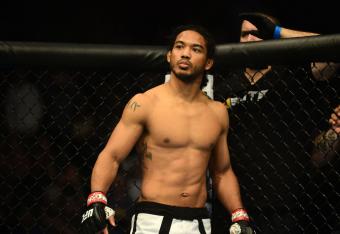 USA TODAY Sports
At UFC Fight Night 60, welterweight Brandon Thatch discovered something the world's best lightweights have known for years.
Benson Henderson will suck the life out of you.
Thatch was supposed to have his launch party Saturday in his home state of Colorado, beginning his ascension to contender status with a short-notice bout over the former 155-pound champion. Instead, Henderson gave him a crash course in what it takes to be one of the UFC's best.
Obviously outsized and surely outgunned, Henderson weathered an early push from Thatch in their main event fight, eventually taking control and scoring a come-from-behind submission victory with just over a minute left in the fourth round.