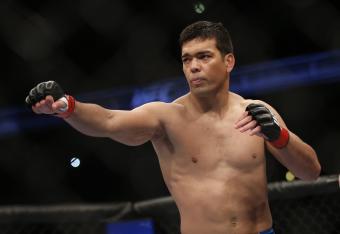 Jae C. Hong/Associated Press
At this point, both Lyoto Machida and CB Dollaway must be like human Rubik's Cubes for UFC matchmakers.
Twist them, turn them, spend all day fiddling, and it's still hard to figure out exactly where either guy fits into the middleweight pecking order. When Machida and Dollaway fight on Saturday in the main event of UFC Fight Night 58, it will no doubt only further muddle an already puzzling picture.
Contenders for Chris Weidman's championship have been lining up three and four deep for a few months now. Luke Rockhold may lead the pack by a nose after he stopped Michael Bisping in the second round last month, but a February bout between Yoel Romero and Jacare Souza will also yield a deserving candidate.
Given that Weidman is scheduled to finally settle his business with Vitor Belfort at UFC 184 (on the same card as Romero-Souza), it won't be long before we'll need some clarity. And here come Dollaway and Machida, just trying to make things even more complicated.