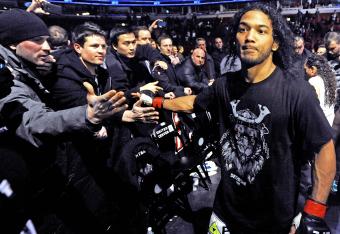 Paul Beaty/AP Images
A funny thing happened to Benson Henderson during the 19 minutes he spent in the cage Saturday with Brandon Thatch.
People started rooting for him.
Somewhere en route to his submission victory in the main event of UFC Fight Night 60, the 5,800 fans on hand in Broomfield, Colorado—who'd ostensibly turned out to see the local boy, Thatch—began to cheer Henderson instead.
Support built on social media, too, and by the time Henderson cemented his improbable comeback with a rear-naked choke down the stretch in the fourth round, it elicited in an uncharacteristic outpouring of love for the 31-year-old former lightweight champion.
Coupled with victory itself, this palpable shift in public opinion made Henderson's 170-pound debut all the more magical. It was as though he'd been instantly transformed from malcontent to lovable underdog, from a guy nearly out of options to a man with a lot of moves still left on the board.