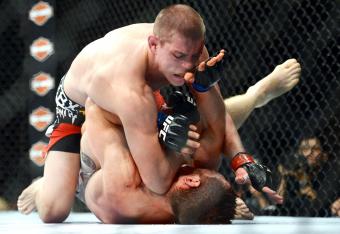 USA Today
The card was officially billed as UFC on Fox 9, but it very well could have passed as "Team Alpha Male vs. Everybody." The Sacramento-based contingent had four representatives on Saturday night's card when the UFC returned to their hometown, with each being slated in a high-profile tilt.
While his teammates had important fights on Saturday night, there is no doubt the biggest bout for the team came on the shoulders of No. 1 flyweight contender Joseph Benavidez.
"Jobe" stepped in for his second attempt at the 125-pound strap when he met champion Demetrious Johnson in their highly anticipated rematch. "Mighty Mouse" edged out the New Mexico native in their first tilt at UFC 152 in September 2012, and Benavidez was looking to make good on his second attempt in front of lively Sacramento crowd at UFC on Fox 9.
Unfortunately for the New Mexico native, Johnson would have none of it. The reigning champion kept his flyweight title intact by pulling off a devastating knockout victory in the first round of the tilt.