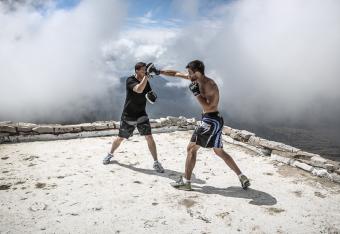 Carlos Condit working mitts with Jackson's MMA striking coach Brandon Gibson.
Will Fox/TheFoxIdentity Instagram
"The Road" is a concept that has fascinated American writers for more than a century.
Where western expansion—and later the railways—captivated great minds long before asphalt came into existence, the idea of following the winding ribbon to unknown destinations is a theme which has created some of the most remarkable work in American literature. While the motivations have varied from scribe to scribe, the tie that binds them all is the quest for some greater understanding of themselves and the world that moves swiftly around them.
Cormac McCarthy used such a theme to craft a Pulitzer Prize winning work of the same name in 2007 as he used the road to address the complexities of the relationship between a father and son as they attempted to survive in a post-apocalyptic world.
Robert Pirsig tapped the muse of the road in his philosophical gem Zen and the Art of Motorcycle Maintenance where he addressed the ability to increase the quality of life by adapting to the circumstances which are presented. The road is an ever-changing environment and the vehicle that carries us along the path has to be catered to. The intricacies of this process provides a constant education as we become better equipped to understand and deal with the world around us. There are numerous other themes in this particular work, but the journey ties them all together.