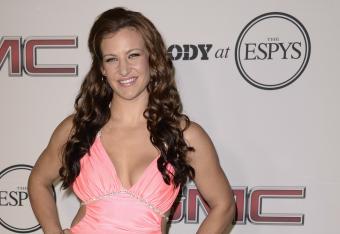 Dan Steinberg/Associated Press
LAS VEGAS — If you ask Miesha Tate the question—the one question everybody wants to ask—she'll give you an honest answer.
"Do you want to fight Ronda Rousey again?"
Of course she does. The answer is yes and will always be yes, because Tate and Rousey are linked, bound together for as long as they both shall fight.
It was Rousey who used Tate to springboard her way to stardom by first verbally assaulting her and then physically repeating the process by submitting her to win the Strikeforce Women's Bantamweight Championship.