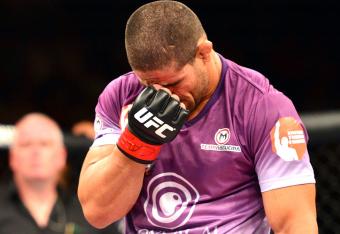 For Rousimar Palhares, the decision to hold a heel hook against Mike Pierce at UFC Fight Night 29 was a costly one.
Palhares, who scored the night's only submission, was denied a $50,000 bonus on Wednesday for "unsportsmanlike conduct." The Brazilian proclaimed his innocence, with his manager telling MMAFighting.com that he did not intend to hurt Pierce.
But his protests fell on deaf ears, as UFC president Dana White told ESPN.com's Jeremy Schaap on Thursday that Palhares is now "done" in the organization:
White compared Palhares to Paul Daley, who was banned from the organization after sucker-punching Josh Koscheck at UFC 113 in May 2010. Renato "Babalu" Sobral was also fired from the promotion in August 2007 after failing to release a rear-naked choke on David Heath at UFC 74.