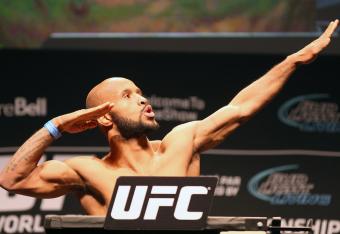 Jean-Yves Ahern-USA TODAY Sports
How odd it must feel for Demetrious Johnson to be a master of something so many people actively want to ignore.
Johnson presented a clinic on the art of being Demetrious Johnson on Saturday at UFC 186. He efficiently sucked the life out of game challenger Kyoji Horiguchi during five grueling rounds before retaining his flyweight title via armbar with one second left on the clock.
It was another signature performance from the best 125-pound fighter on the planet. Great, because once again, Johnson looked a generation ahead of his next-best competition, winning just about every exchange, every moment of another high-profile bout.
Forgettable, because it felt like a tedious rerun of something we'd all seen before, and fans inside Montreal's Bell Center reportedly began heading for the exits long before the end: