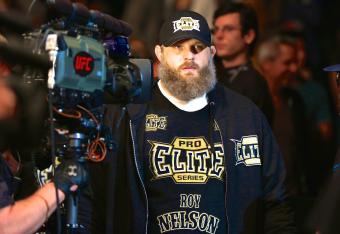 USA Today
Roy Nelson may never be regarded among the UFC's heavyweight elite, but at 37 years old he's still the perfect man to guard the door.
With his long hair braided primly at the base of his skull and the ever-present (but shrinking?) padding around his midsection, he certainly looked the part of gatekeeper on Friday against Antonio Rodrigo Nogueira.
Nelson's approach is one-dimensional and ponderous, but he remains a tough out for anyone in the division. The best fighters can outmaneuver him, foiling his head-down power punches with better technique and superior strategy, but even for them it can be a painstaking and difficult process.
If you're not one of the UFC's top 265-pounders? Yeah, he's probably going to knock you out.