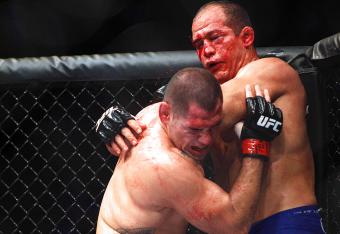 Over the past year, former UFC heavyweight champion Junior dos Santos has twice stepped in the cage with current champ Cain Velasquez for championship fights. Ten rounds.
And I don't think I'm alone in this, but those rounds were among the most one-sided I can remember between any fighters who have competed against each other more than once. The fights were virtually identical, and dos Santos took horrendous amounts of extended punishment in both.
I was in attendance at both fights. I try to remain detached while watching events, because that's my job—to be a keen observer and to call things as I see them without silly things like emotions getting in the way.
But in each of these two fights, I couldn't help myself. I found myself hoping for a referee stoppage. I didn't want dos Santos, who is one of the nicer people in this entire industry, to take any more punishment. But the referee stoppage came far later than I wanted, and so, Velasquez went about the business of pummeling Dos Santos in and around his head.