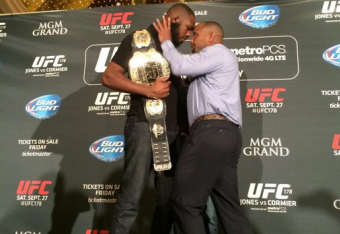 Heidi Fang, MMA Fight Corner
Poor Dave Sholler. What started as a prime gig for the UFC's director of publicity, running the UFC 178 media day at the MGM Grand while president Dana White enjoyed a rare vacation, ended in chaos with the set in ruins, Daniel Cormier and Jon Jones scrambling on the ground and even a single shoe flying through the air.
There's a lot to digest here. It was a moment that was bad for the sport yet good for business, one likely to enrage critics and galvanize interest in equal measure.
But first, before Cormier walked away with a single shoe, before Jones cut an Instagram video (since removed) proclaiming his challenger was "weak" and before the UFC prepared its Las Vegas offices for what will certainly be a fleet of Brink's trucks filled with cash, there was Sholler's moment of heroism.
On one side was Cormier. Olympian. Citizen. Gifted in the fistic arts. Fast approaching on the other side was Jones, the world light heavyweight champion, hate in his eyes and violence in his heart.