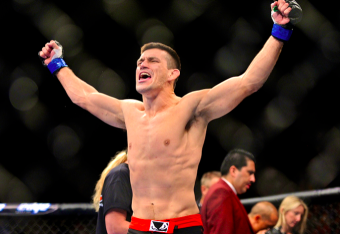 AP Images
Just six years separate Demian Maia and Ryan LaFlare chronologically, but in their chosen profession, that might as well be a lifetime. The gap between them, stylistically and in the cage, is nearly unfathomable.
Maia is the last of a dying breed in mixed martial arts—the specialist. While most modern fighters come up in the sport perfecting, to various degrees, a number of disciplines and techniques, Maia is the master of just one. Brazilian jiu jitsu has, and always will be, his calling card.
It's an art that led him to much early success in the UFC. Before LaFlare had even begun his own professional career, Maia was in the midst of five consecutive submission finishes. Almost five years ago, he made it to the top of the hill, only to have the king, Anderson Silva, send him plummeting right back down.
Since that loss, Maia has pieced together a 7-4 UFC record. Not bad, but hardly the calling card of excellence. Is there a place in the sport for a 37-year-old man on a one-trick pony? Former UFC bantamweight champion and current Fox Sports 1 analyst Dominick Cruz joins me to discuss both Maia's fight against LaFlare Saturday on Fox Sports 1 and his long-term prospects in the volatile world of MMA .