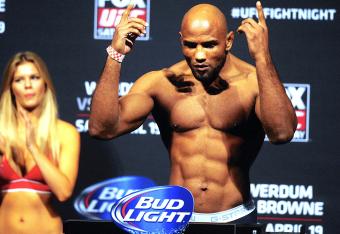 USA Today
Yoel Romero spent much of the last 18 months establishing himself as the UFC middleweight division's most wonderfully weird newcomer.
Romero is the hulking Olympic wrestling silver medalist who prefers flying knees and standing elbows to double-leg takedowns (though he's got those, too). At 37 years old, his physique looks carved out of granite, and even though he comes to press conferences dressed like a lost cast member from Newsies, his mild mannerisms don't quite convince us he's the benevolent kind of monster.
His unconventional southpaw striking style is nonchalant—borderline lackadaisical, really—until suddenly it turns murderous. He's jetted to 4-0 in the Octagon since an April 2013 debut, including three knockouts, all while occasionally looking like he has no idea what he's doing out there.
Saturday at UFC 178, Romero takes the biggest leap of his short career, meeting Tim Kennedy in a bout that likely leaves the winner a stone's throw from a title shot. As of this writing, the Cuba native and American Top Team product is going off as a slight favorite, but it's also not unreasonable to wonder if Romero's oddball style is just waiting for someone like Kennedy to come along and undress it.