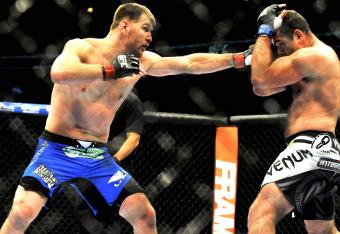 AP Images
Here's Stipe Miocic's Australia experience in a nutshell.
Miocic whipped Mark Hunt about as badly as anybody ever has for 23 minutes on Saturday night, forcing a fifth-round TKO stoppage in the main event of UFC Fight Night 65. Along with the victory, he'll likely capture something close to No. 1 contender status in the perennially unstable UFC heavyweight division.
Then Miocic woke up at 5 a.m. to watch his beloved Cleveland Cavaliers in the NBA playoffs and reveled in Lebron James' game-winning shot. Oh, he also spent some time searching social media for the phrase "Stipe sucks" (and at least one NSFW variation thereof), just to keep tabs on the haters:
All in all, it was a pretty full weekend for a guy who is rapidly emerging not only as one of the UFC heavyweight division's best fighters, but one of its most solid dudes.