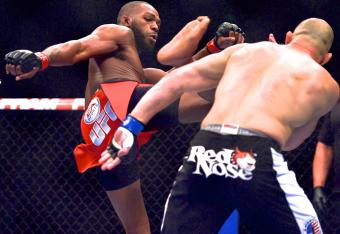 Tommy Gilligan/USA Today
The look on Glover Teixeira's face toward the end of his five-round fight with UFC light heavyweight champion Jon Jones told the story of the fight. There was exhaustion. Amazement too. And, in the glint of the bright hanging lights, there was something worse—resignation.
Teixeira fought hard until the very end, but he never stood a chance against Jones. In his heart, after four rounds of fighting, he knew it.
The fight, remarkably, had played out exactly as it must have in Teixeira's dreams. Jones, perhaps foolishly, continuously put himself right in the power-puncher's sweet spot. Jones stood in a phone booth, both men against the cage, and he dared Glover to hit him with his best, testing his will against the challenger's.
And he won. Not just the fight, but all 25 minutes of it.