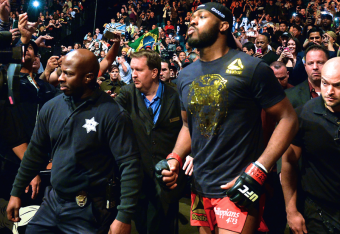 USA Today
UFC light heavyweight champion Jon Jones (21-1) is the best fighter in the world. If that was a controversial statement before he dispatched undefeated Olympian Daniel Cormier (15-1) by unanimous decision at UFC 182 on Saturday night at the MGM Grand Arena in Las Vegas, it's surely a given afterward.
It wasn't just that Jones, 27, beat Cormier, 35, a top heavyweight who dropped down a weight class to avoid a collision with his teammate Cain Velasquez, the heavyweight kingpin. It was the way he beat Cormier, half athletic god and half message-board troll, his two sides working together to create a truly memorable night.
"I don't like Daniel Cormier," Jones, who won 49-46, 49-46, 49-46, said after the fight on Fox Sports 1. "I don't respect Daniel Cormier. I hope he's somewhere crying right now. I'm sure he is."
To understand the level of animus in UFC 182's main event, you have to understand how the two men ended up in the cage in the first place. It's the story of giant egos, wounded pride and transcendent talents.