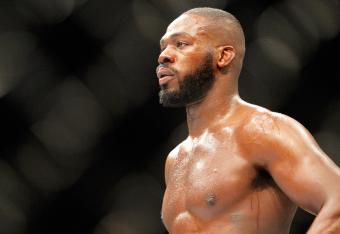 Steve Marcus/Getty Images
Unless you've been living under a rock the past two days, you know all about the current situation surrounding UFC light heavyweight champion Jon Jones. Here's a quick recap: Jones was allegedly involved in a hit-and-run on Sunday morning, fleeing the scene of a car accident after running a red light and striking a vehicle with a pregnant woman inside.
As if running away weren't bad enough, the pregnant woman in the other vehicle suffered a broken arm. Just like that, Jones' misdemeanor became a felony. Police issued a warrant for his arrest, and Jones turned himself in on Monday night, according to Deadspin. He quickly posted $2,500 bail and left jail, as the Bernalillo County Metro Detention Center posted on its website (h/t MMA Junkie).
Now, all eyes turn toward the UFC. It issued a complete non-statement statement on Sunday, saying, essentially, that it is aware of the situation. All this proves is that UFC officials have Twitter, just like the rest of the world. We know that they are aware of the situation. The question is, what will they do?
Will they support him? Will we, as Dana White said in January after Jones tested positive for cocaine, understand when "the truth comes out"? What's next for the best fighter in the history of mixed martial arts?