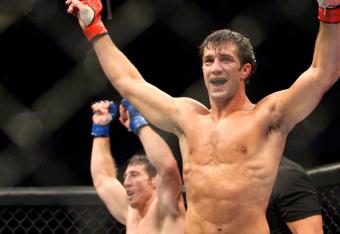 Scott Olmos-USA TODAY Sports
When Luke Rockhold stepped in the cage for his UFC debut against Vitor Belfort, he carried the virtual weight of Strikeforce on his shoulders.
One month earlier, former Strikeforce lightweight kingpin Gilbert Melendez had already competed, and lost, in his own UFC debut. Rockhold was the last of the Strikeforce champions trying to prove they belonged with their counterparts in the UFC.
One highlight-reel head kick, and Rockhold was sent crashing back to the drawing board. Knocked down a few pegs, he'd have to earn his way back to championship gold the same way everyone else does.
He's still a ways off, but after his one-hitter-quitter knockout body shot to the gut of Costas Philippou in the main event of UFC Fight Night 35, he's well on his way. Rockhold is back to square one. Where he goes from here is totally up to him and the whims of UFC matchmakers.