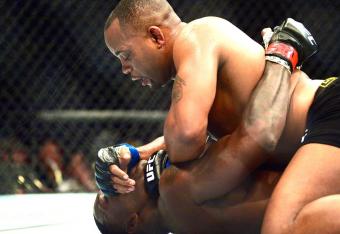 USA Today
UFC 187, on paper, was one of the very best combat sports cards of the year. With two title fights on top and exciting fighters sprinkled throughout, I had every hope this event would deliver a solid night's entertainment.
Best card of the year, it turns out, was faint praise.
By the time Anthony Johnson tapped the mat and Daniel Cormier sent a succinct message to deposed UFC champion Jon Jones, we were no longer looking at one of the best cards of 2015—we were looking at one of the most entertaining UFC events of the decade.
Most UFC cards, even the best ones, end up having at least one match that ends up being a dull slog. This show, starting with the exciting flyweight bout between Joseph Benavidez and John Moraga and culminating with Cormier's coronation, was a roller coaster ride throughout. There was hardly a slow moment during the entire pay-per-view, something so rare it's hard to think of a comparable card in recent memory.