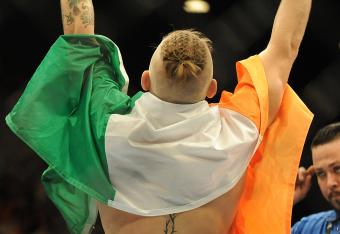 USA TODAY Sports
They came from Ireland, and they took over the MGM Grand.
They began arriving in droves on Thursday. That was the moment the MGM slowly, methodically morphed from a ghost town into Dublin, America. This is a normal fight-week process in Las Vegas. Prior to Thursday, you have a few autograph seekers waiting outside the Grand Garden Arena, biding their time in the hopes they'll convince a fighter (any fighter will do) to sign 18 different objects while taking pictures to verify authenticity.
But on Thursday, the real crowd begin arriving. And last week, the real crowd consisted of thousands of Irishmen who, having flown a very long way to a land filled with sunshine and lots of beer, proceeded to go about drinking as much of that beer as humanly possible. Large groups of fans walked through the massive MGM casino, carrying ungodly sized plastic things filled with beer, and sang songs about the hero they'd traveled all this way to see.
One Conor McGregor. There's only one Conor McGregor. Walking along. Singing his song. Walking in McGregor wonderland.