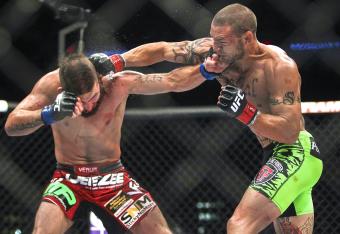 Troy Taormina/USA Today
For Cub Swanson, perhaps the sixth time will be the charm.
Swanson ran his impressive Octagon win streak to an even half-dozen on Saturday at UFC Fight Night 44, outdueling the headhunting Jeremy Stephens en route to a unanimous-decision victory (49-46 x 2, 48-47).
The win—over an up-jumped lightweight who himself came in on a three-fight roll—might leave him at the very top of a suddenly robust featherweight division.
Then again, maybe not. There is more than just one 145-pound horse in this race.