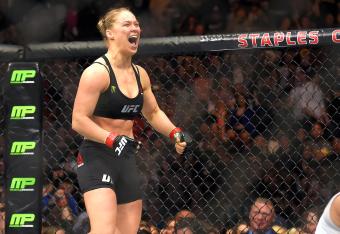 Mark J. Terrill/AP Images
If recent reports from Brazilian outlet Tatame (h/t MMAJunkie) are true, we'll see UFC women's bantamweight champion Ronda Rousey head to Brazil to defend her title on August 1 against Bethe Correia in the main event of UFC 190.
Rousey is almost certainly the UFC's biggest star. Thus far, the quick nature of her fights has not discouraged fans from buying what she's selling. The UFC never publicly discusses its pay-per-view numbers, but rough external estimates seem to indicate her solo drawing power has surpassed Jon Jones and other male stars.
Even when pitted against unheralded fighters with very little name value, Rousey seems to pull in a large number of casual fans.
That means that Rousey might have achieved a level of stardom that will allow her to draw a very good number of pay-per-view buys, no matter who she's pitted against. And if Tatame's report is correct, we'll soon have our chance to see if that theory is correct.