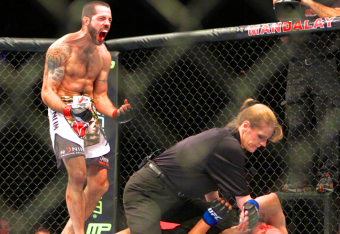 AP Images
Considering the ever-increasing demands of being an MMA fan, it can sometimes be difficult to savor the moment.
It's never been more expensive or more difficult to simply follow our sport. These days, we hurtle along at a breakneck pace—stuck in an eternal state of Fiiiiight Weeek!!!—seldom finding the opportunity to just stop and take a breath. We rarely appreciate the beauty of our surroundings because we're already rocketing on toward the next big thing.
So before we forget, before the experience fades into the next, this needs to be said:
July 2014 has been an awesome month to be a UFC fan.