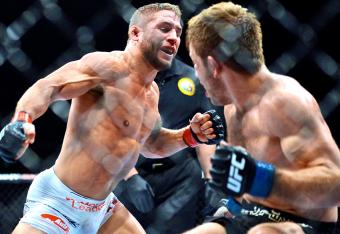 USA Today
Chad Mendes has to travel to Brazil this week, once more, to face Jose Aldo for the featherweight championship.
You remember the last time Mendes made the journey? It ended with Mendes attempting to get his bearings in the cage while Aldo celebrated in the stands with his fans. And while nobody likes to face an opponent on their home soil—especially in Brazil, where hometown fighters seem to have a mythical edge—Mendes will do it one more time on Saturday night at UFC 179.
It wasn't supposed to be this way. The rematch between Aldo and Mendes was originally scheduled for UFC 176 in Los Angeles, which is a whole heck of a lot closer to home for Mendes than Rio. But then Aldo was injured and UFC 176 was thrown on the scrap heap. And when the dust cleared, Mendes once again found himself preparing to go into enemy territory.
This time, Mendes has a unique opportunity. Yes, Aldo's championship belt is at stake, and I suppose that's an important thing to remember. Having failed once to wrest control of the title away from Aldo, it is hard to imagine Mendes getting a third opportunity should Saturday night not go his way.