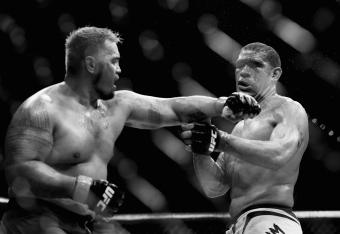 Chris Hyde/Getty Images
Our string of never-ending fight weeks continues this week with UFC on FOX 9. I'm sure it'll be a memorable event, but can it live up to the strong memories created by heavyweights Mark Hunt and Antonio Silva last Friday night in Australia? My gut tells me it cannot, but my gut has been very wrong before. My gut was very wrong about Hunt vs. Silva, and look how that one turned out.
The heavyweight slugfest is the talk of the town (and many other towns), but there are a few other topics of discussion I'd like to broach today. Without any further ado, let's get started with this week's edition of The Buzz List.