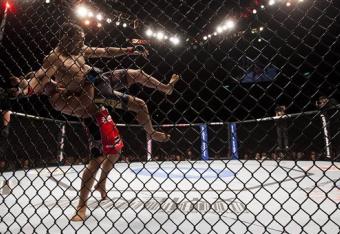 Felipe Dana/Associated Press
As a recently disgraced UFC broadcaster might say, here we go.
After months of injury delays and one canceled pay-per-view—RIP UFC 176!—Jose Aldo and Chad Mendes will finally rematch on Saturday at UFC 179.
Much has transpired since their first semi-controversial meeting back in January of 2012. Mendes has embarked on a crazy K/TKO rampage while Aldo (seemingly always ailing from some injury) has fallen off the radar a bit.
Around them, the 145-pound division has suddenly grown more interesting than ever with the arrival of Conor McGregor and the emergence of guys like Cub Swanson and Dennis Bermudez. Whoever wins this one will be set for some big fights and maybe some big paydays, too.