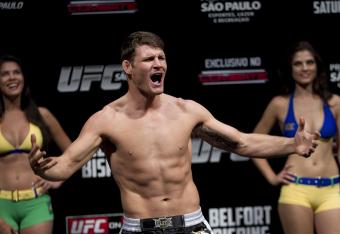 Andre Penner
It's been a minute since MMA fans have had the pleasure of Michael Bisping's company.
The UFC's original bad guy has been out of action nearly a year recovering from a career-threatening eye injury. During his convalescence he kept an uncharacteristically low profile, making sporadic media appearances wearing a pirate's eye patch, while spending the rest of his downtime taunting orphans and pulling the wings off butterflies.
OK, that last part was just a guess, but as one of the sport's longest standing (and perhaps most unfairly maligned) villains, would you really be surprised?
When Bisping returns on Wednesday at the TUF Nations live finale it will be to answer yet another challenge from his peers—this one from American hero Tim Kennedy—in a fight that seems like it could've been dreamed up in a professional wrestling writers room circa 1983.