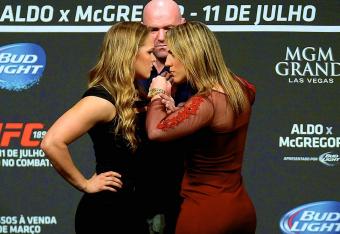 Getty Images
Nobody thinks Bethe Correia is going to beat Ronda Rousey on Saturday at UFC 190.
That includes oddsmakers, who've made her an underdog of historic proportions; the UFC, which has already gone as far as to book Rousey's next fight; and even Brazilian MMA fans, who are shown here vocally supporting Rousey on Wednesday during open workouts in what ought to be Correia's home turf.
In short, nobody is buying this matchup. It's expected to be a complete wash. A cakewalk. A gimme.
Weirdly, therein lies much of the intrigue for this event. Without much else to write home about on its super-sized main card, the job of convincing UFC fans to part with the $60 pay-per-view cost largely falls to Rousey and Correia.