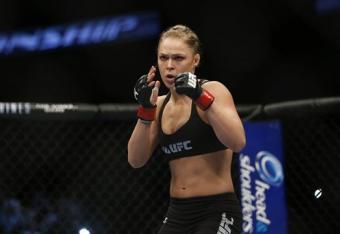 Jae C. Hong/Associated Press
UFC 184 may be limping and exhausted, but at least the finish line is in sight.
At this point, Ronda Rousey's women's bantamweight title defense against Cat Zingano will do nicely as Saturday night's main event. The much-ballyhooed debut of Holly Holm in the co-main won't be anything to sneeze at, either.
It'll all be fine, it'll all be fun, even if it's not exactly what we expected.
This event was once slated to be a middleweight showcase—featuring the long-awaited title clash between Chris Weidman and Vitor Belfort as well as a potential No. 1 contender bout between Ronaldo Souza and Yoel Romero—before injury and unforeseen circumstance had their way.