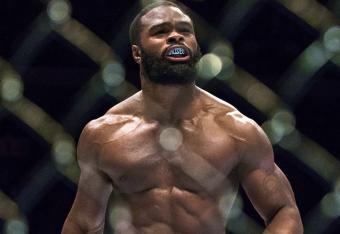 Getty Images
Tyron Woodley does not care if his ideal next opponent is coming off a loss. He does not care if they are ranked two spots lower than him in the UFC's official rankings.
What Woodley cares about is obtaining the kind of fight that can push him closer to a title shot. As Woodley told Bleacher Report in an exclusive interview, he has the perfect opponent in mind: Matt Brown, who squandered a seven-fight winning streak when he fell to Robbie Lawler in July.
Woodley believes Brown is the perfect opponent for several reasons.
"It's a hard fight. His tenacity, his conditioning. He's like a walking zombie," Woodley said. "He's a top-five welterweight. He was just one fight away from being in the title picture.