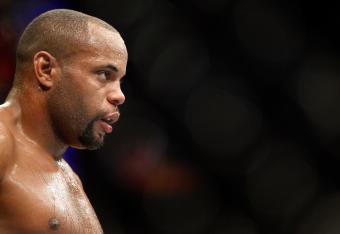 Steve Marcus/Getty Images
Daniel Cormier's has been a career of "almosts." Starting in college, where he went 0-6 against his nemesis Cael Sanderson, he's spent years climbing the mountain top—only to fall short again and again when the summit was in view.
Fourth at the Olympic Games. Third at the World Championships. And, perhaps most germane to this discussion, a unanimous decision loss to Jon Jones for the UFC light heavyweight title in January.
Circumstances, however, have conspired in Cormier's favor. Thanks to Jones' legal problems and out-of-control lifestyle, Cormier got a second chance to write his name in the history books, beating Anthony Johnson with conviction to claim the vacated championships. Finally, though not in ideal circumstances, Cormier has achieved a life's dream.
Of course, as UFC Hall of Famer Matt Hughes famously declared, you aren't really the champion until you keep somebody from taking what's yours. For Cormier, that means a successful title defense is required before he can officially settle in as the top dog. And it's here where the problems start.