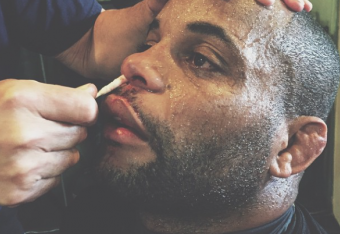 Credit: Jeremy Botter
SAN JOSE, Calif. — Daniel Cormier had been training hard for 23 minutes when the accident happened.
It was a sparring day, and Cormier was planning on 25 hard minutes in preparation for his January title fight against light heavyweight champion Jon Jones. He'd gone three rounds, and then four. He was tired. But by the middle of his fifth and final sparring round, Cormier was still fired up.
Sensing a lack of effort on the part of his training partner, Cormier urged him to come forward, softly at first and then by screaming at him. And so his training partner, Dwight, came forward, throwing a right hook. At the same time, Cormier leaned his head in. Dwight's elbow struck Cormier on the nose. Blood began to leak all over the American Kickboxing Academy mats.
Sparring was complete, albeit a little earlier than Cormier would've liked. He sat in a chair in the AKA lobby, his head tiled back. His cornerman stopped the bleeding with Q-tips. The nose swelled but was not broken. IPhones emerged, and photos were snapped.