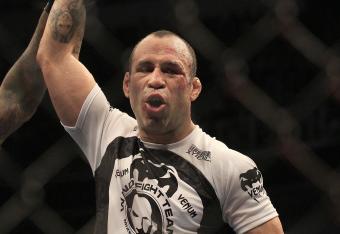 Jeff Chiu/Associated Press
Thursday's postponement of Wanderlei Silva's disciplinary hearing in front of the Nevada Athletic Commission added another layer of intrigue to one of the most controversial subjects in mixed martial arts.
The strange stuff began back in June, when it was reported on UFC Tonight that Silva avoided a random drug test issued by the NAC by escaping through a back door in his gym. He was scheduled to face Chael Sonnen in a long-awaited grudge match at UFC 175, but the fight went up in smoke when Silva ran from his test. Sonnen ended up failing his own test for multiple performance-enhancing drugs, and then failed another a few weeks later for good measure.
Silva appeared before the commission in June. He admitted to avoiding the test and revealed that he'd taken a diuretic that would allegedly help heal a broken wrist. He didn't want to take the test because he was afraid it would show up in the results; instead, Silva avoided the test altogether, which is probably worse than a diuretic in the eyes of the commission.
Silva was scheduled for his disciplinary hearing on Thursday in a NAC meeting at the Grant Sawyer building near downtown Las Vegas. Bleacher Report was in attendance. The UFC Fight Pass team was there to stream the event to subscribers at home. Streaming an event is costly.