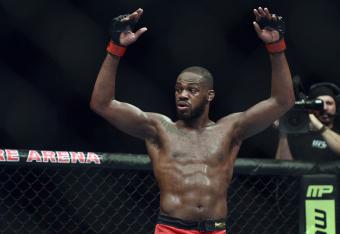 Tommy Gilligan-USA TODAY Sports
A couple of strange things happened as I watched Jon Jones' latest Instagram video.
This was Sunday morning after UFC 192, when I woke up to discover Jones right back to his old tricks again. The 10-second video the former UFC light heavyweight champion posted (and deleted) late Saturday appeared to show him hinting at a comeback to fighting, but only in the vaguest possible terms.
It was timed perfectly to steal the thunder from Daniel Cormier, as the current 205-pound champion had just completed a hard-fought victory over Alexander Gustafsson in the UFC 192 main event. In this way—not to mention the video's bizarre vapidity and apparent lack of self-awareness—it was classic Jones.
"I think I miss it," the seemingly glassy-eyed fighter says while pulling a variety of goofy faces. "I don't know."