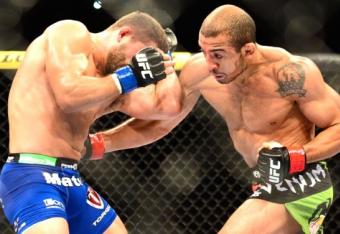 Jason Silva/USA Today
With apologies to Conor McGregor, the finely-tailored Irishman who has taken the Ultimate Fighting Championship by storm, Saturday night's UFC 179 event proved that the two best featherweights in the world reside Brazil and the United States.
McGregor will have his day in the sun. And I suspect it will come sooner rather than later; I've already stockpiled column ideas for the eventual day when we find out Dennis Siver has suffered a mysterious injury and has been forced out of his January bout with McGregor. Let's not pretend any of us will act surprised by that news.
The UFC finally has a hot 145-pound ticket on their hands, and much of it is due to Aldo's gutty performance against Mendes in the main event of UFC 179.
It was not Aldo's most dominant performance, but it might have been his best. For much of five rounds, Mendes took everything Aldo could dish out. Where others have wilted under Aldo's enormous power, Mendes smiled and wagged a finger and fired right back. The only real knockdown scored by Aldo over five full rounds came after the bell in the first, when Aldo drilled Mendes with an absolutely blatant cheating punch.