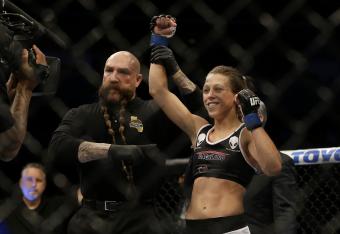 Jeff Chiu/Associated Press
There's an interesting little subplot brewing around UFC 195.
The primary plot point of the UFC's first event of 2016, of course, is one of betrayal.
We were originally told the fight card scheduled for Jan. 2 would host Ronda Rousey's third meeting with Miesha Tate. Last week, however, the fight company decided to go back on that decision and book Rousey against undefeated former boxing champion Holly Holm instead.
It was the right move, but that didn't soften the blow for Team Tate, which reportedly found out she'd been dropped at the same moment the rest of us did—when Rousey announced it to the world during an appearance on Good Morning America.