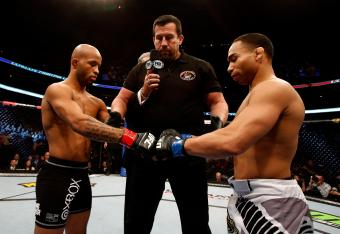 Josh Hedges/Zuffa LLC/Getty Images
This one is for you, MMA hardcores.
In contrast to a few of its more ballyhooed recent efforts—UFC 189 and UFC 190, for example—Saturday night's UFC 191 isn't going to land anybody on Good Morning America. This will be a more intimate affair, featuring two small men fighting for an audience made up of the sport's most strident supporters.
Depending on how you look at it, you can call that glorious or you can call it the primary problem with Demetrious Johnson's near-three-year reign as flyweight champion. Johnson is great at fighting—maybe the pound-for-pound best in the world—but so far, much of MMA's fanbase has responded with a resounding yawn.
Challenger John Dodson has said he'll change all that. During the run-up to this fight—a rematch—he's promised he'll take the title from Johnson and put the 125-pound weight class on the map as destination viewing for everyone.