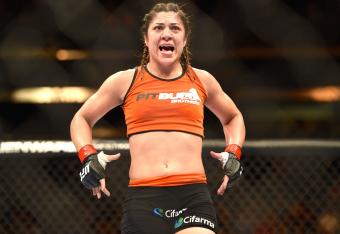 Kyle Terada/USA Today
Some very big doors may be about to open for Bethe Correia.
If they do, it will happen because—and only because—she had the foresight and fortitude to kick them down on her own. Within the relative quiet of the UFC's women's bantamweight division, that's an achievement in and of itself.
Champion Ronda Rousey was still talking about Correia this past weekend while Rousey was in Brazil for UFC Fight Night 51. Rousey mentioned the undefeated Brazilian among the short list of contenders who might find their way into a shot at her title during 2015.
Naturally, that's been Correia's whole point since the beginning.