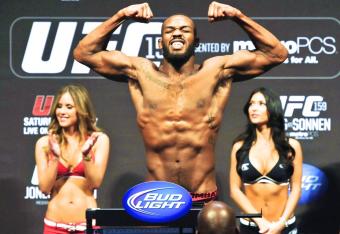 USA Today
Give credit to Daniel Cormier for saying what we all were thinking.
Cormier wasted little time winning the light heavyweight title on Saturday at UFC 187, snapping Anthony Johnson's spirit like dry kindling en route to a third-round submission victory. Cormier had survived an early onslaught of punches from Johnson before his Olympic wrestling won the day, so it made for a nice moment when Johnson insisted on wrapping the UFC belt around his waist.
A few moments later, however, the new champ revealed he had someone else on his mind.
"Jon Jones!" Cormier hollered as soon as color commentator Joe Rogan let him get near the microphone. "Get your s--t together! I'm waiting for you!"