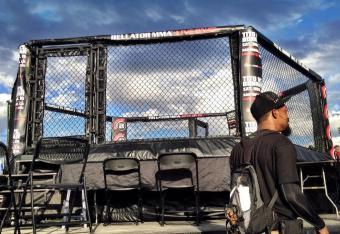 Credit: Jeremy Botter
LAS VEGAS — Around 4 p.m. on October 18, tens of thousands gather around Sam Boyd Stadium on the outskirts of this very famous city, closer to the mountains and the Hoover Dam than the casinos and broken dreams of the Vegas strip.
The official attendee uniform color, apparently, is black. Many bear the signature logo of the energy-drink company Monster, either on their sideways-tilting hats or socks. A fence sections off an area taking up most of the parking lot. It is called The Pit.
Inside of The Pit, hundreds wait in line for alcohol at a makeshift tent. Half as many stand in a line for rank portable toilets. In the distance, human beings fly into the air on motorcycles to the delight of a roaring crowd.
The event is the Monster Energy Cup, a supercross featuring dozens of the world's greatest dirt-bike riders competing for a one-million-dollar grand prize. Outside the stadium, out in The Pit, there are demonstrations of insane motorcycle jumps. And on a grassy hill sidling up to the edge of the dilapidated stadium, there is a six-sided cage adorned with the Bellator MMA logo.