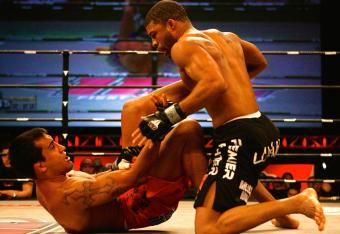 Jeff Zelevansky/Getty Images
On October 24, 2013, Ryan Cobbins left his home and headed toward the barbershop he'd been going to for well over two years, on 39th Street and Prospect Avenue in Kansas City. He had an 11 a.m. appointment scheduled at the shop. It was a regular thing for Cobbins; he got his hair braided there at least once or twice a month.
On this day, though, something went wrong. Cobbins disappeared, somehow vanishing into broad daylight. His Camaro was discovered days later in an apartment complex parking lot, but Cobbins was nowhere to be found.
On November 4, Kansas City police officially began looking into Cobbins as a missing persons case. They implored locals to call the KCPD Missing Persons hotline if they knew any information that could lead them to Cobbins.
Cobbins and his brother, the Bellator bantamweight L.C. Davis, grew up together. They did not have the most stable of childhoods, living in "pretty much every suburb" Kansas City had to offer. Their single mother moved them around constantly in her search for work. They eventually moved to live with their grandmother. When Davis was in high school, he left his little brother and his mom behind, moving in with his dad, feeling that his father could offer a more stable living environment. But he still came back on holidays and each summer. Even when Davis moved to Iowa, they stayed in touch, and Cobbins would visit when he could.