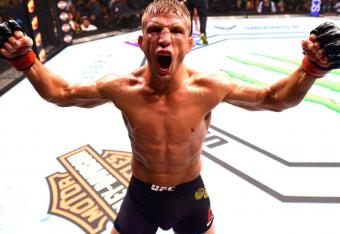 Getty Images
After 14 months as champion, TJ Dillashaw conclusively proved his case as the best men's bantamweight fighter in the world on Saturday at UFC on Fox 16.
His fourth-round TKO of former champ Renan Barao made his argument airtight, reaffirming the dominant performance he used to take the title last May. It took more than a year and two previous false starts to put together this rematch, but Dillashaw used the opportunity to emphatically close the door on Barao for good.
This was one of those fights we simply needed to see again. Barao had just been too dominant and Dillashaw too unproven prior to their initial meeting at UFC 173. Despite the fact that he took the gold from Barao last spring with an equally dominant performance, this weekend's victory was essential for Dillashaw to truly cement the changing of the guard.
Now the really hard part begins.
The bantamweight landscape Dillashaw inherits isn't exactly brimming with exciting, big-money opportunities. One of the likely reasons matchmakers were so adamant about rematching him with Barao was that there simply weren't many other immediate options.