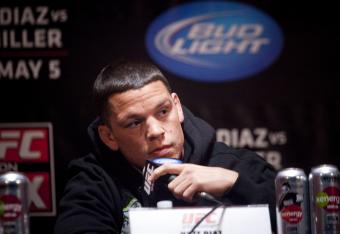 Michael Nagle/Getty Images
It started as the typical dumb fighter story.
Pat Healy, it turns out, smoked marijuana prior to his career-defining win over Jim Miller at UFC 159 last month. Dana White and the UFC, quick to show how tough they are on drugs other than testosterone, immediately jumped in and confiscated Healy's stockpile of post-fight bonuses.
Bryan Caraway, the runner-up for submission of the night, suddenly found himself the lucky recipient of a windfall as the retroactive bonus winner for his guillotine choke on Johnny Bedford.
In other words, your typical boneheaded mistake and your typical blowback. That's the cycle of life for those of us who follow the perpetual soap opera that is mixed martial arts.