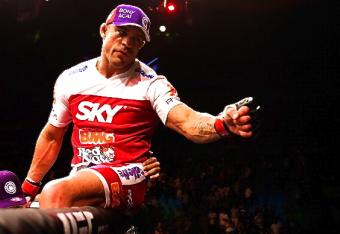 For the second fight in a row, Vitor Belfort finished an opponent with a devastating head kick, this time around putting away former Strikeforce middleweight champion Luke Rockhold Saturday night in the latest UFC on FX main event.
With just over two minutes gone in the fight, Belfort launched a quick, spinning heel kick that landed flush on Rockhold's jaw sending him crashing to the mat.
The spinning kick was similar to the ones landed by UFC lightweight Edson Barboza (finishing Terry Etim) and former Ultimate Fighter finalist Uriah Hall (putting away Adam Cella). Rockhold deserves some credit because he's the only one of the three who had the kick land and didn't get completely knocked out from the impact, but Belfort didn't need much more besides a few punches to put Rockhold's lights out and pick up another win at 185 pounds.
Belfort is actually undefeated at the weight outside of one loss, and that's where his win creates a big problem in the UFC's middleweight division.