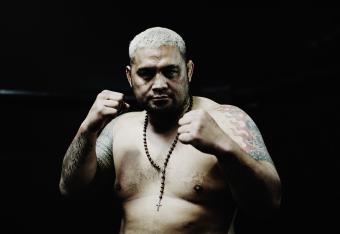 Hannah Peters/Getty Images
There's something so cool about UFC heavyweight Mark Hunt (10-8-1)—entrancing even. He's a human paradox, a man whose very existence defies the carefully crafted rules that govern the world of combat sports.
A gargantuan with neck tattoos and fists of granite, he should be one of the scariest men alive. A man who beats people up for a living definitely shouldn't exude such zen and peace, even in the midst of carnage.
And yet...
In the cage there are no secrets, not when Hunt, 40, is fighting. His game is simple as games go. He wants you to make a mistake, to duck your head just a little too low, leave your chin unprotected just a little too long. And then he pounces. A man that size, old and fat to be frank, shouldn't be able to move like that.
And yet...
A fighter who once lost six in a row, who has been hit in the head over and over again, by everyone from Jerome Le Banner to Antonio Silva, doesn't belong among the top 10 fighters in his weight class. He's at the point of his career when most are little more than punching bags. He lost to Sean McCorkle, for God's sake; he shouldn't be in contention for a UFC title.