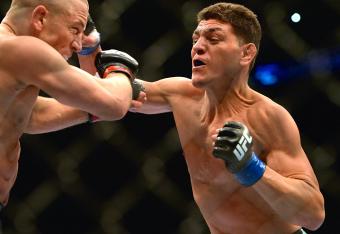 Eric Bolte/USA Today
I love Nick Diaz.
In the spirit of full disclosure I think it's important to tell you that up front. It's a manly platonic love. Purely unprofessional? Sure. And deeply held.
Everything about Diaz resonates with me. His intransigence and "me against the world" outlook, his willingness to endure tremendous punishment to make his point to an opponent and his obnoxious petulance in the face of any and all obstacles—I feel that, man.
There's tragic glory waiting to reveal itself every time Diaz fights. Even his moment of greatest triumph was eventually ruined by his own fondness for marijuana. Diaz can't get out of his own way.