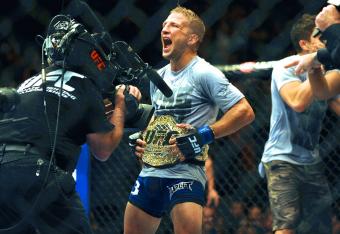 USA Today
In May, I spent four days with T. J. Dillashaw during the lead-up to his UFC bantamweight title fight with Renan Barao.
Barao was the UFC's latest pet project at the time. Dana White had spent the previous weeks telling everyone with a camera or a recorder that Barao was, in his mind, the best pound-for-pound fighter in the world. What had once been a sure thing and a title of honor when held by Anderson Silva was being used to hype up a largely unknown fighter for the UFC's pay-per-view audience.
It was nebulous. This time, it was Barao; the next time, it would be Demetrious Johnson, the flyweight champion. The audience didn't buy it, and neither did Dillashaw.
I have spent significant portions of time around Dillashaw over the past few years. I talked to him weekly during his run on The Ultimate Fighter for a blog project. I saw him with the rest of the Team Alpha Male roster.