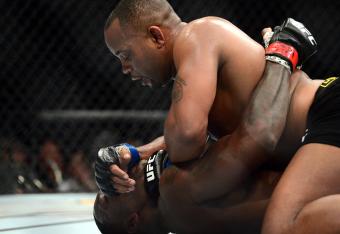 Joe Camporeale-USA TODAY Sports
UFC 187, on paper, was one of the very best combat sports cards of the year. With two title fights on top and exciting fighters sprinkled throughout, I had every hope this event would deliver a solid night's entertainment.
Best card of the year, it turns out, was faint praise.
By the time Anthony Johnson tapped the mat and Daniel Cormier sent a succinct message to deposed UFC champion Jon Jones, we were no longer looking at one of the best cards of 2015—we were looking at one of the most entertaining UFC events of the decade.
While no card is ever perfect, this one was pretty close, at least during the pay-per-view portion of the evening. In a new post-fight series, we'll look at the card as a whole and choose the five best and worst moments—the handful of things worth talking about in the event's aftermath.