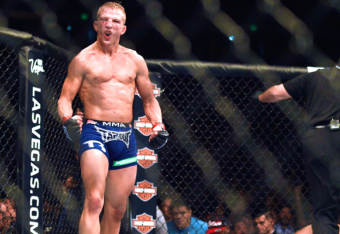 USA Today
In the end, if you were looking for the UFC's brightest-shining stars, you were never going to find them at UFC 177. Not after The Curse waylaid Jon Jones and Alexander Gustafsson and Renan Barao and the rest.
It just wasn't in the cards. The UFC didn't set out to turn this into one of the least desirable cards in the history of the promotion, but it ended up that way because the company was spreading things thinly. This practice appears to be over, at least when it comes to pay-per-view events; next month's UFC 178 card is lovingly filled with highly anticipated fights, including the UFC debut of Eddie Alvarez.
So, yeah. If star power is your thing, you weren't going to tune in to this pay-per-view. But if you like watching fights and do not care if you really know anything at all about the people you're watching in the fights, then you're probably glad you sat down on the couch and plopped down some money for this one.
For starters, the whole thing kicked off with Yancy Medeiros choking out Octagon debutant Damon Jackson with one of the more brutal guillotine/bulldog-choke hybrids that you've ever seen. And by this, I mean it's the only guillotine/bulldog hybrid you've ever seen.