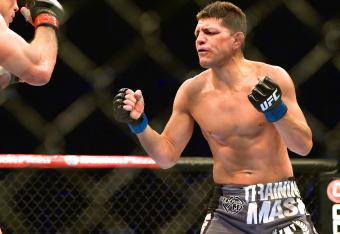 USA Today
If there was ever any question that holding out can be good for the career of a mixed martial artist, look no further than the story of Nick Diaz for the answer.
Diaz, 30, signed a three-fight contract extension with the Ultimate Fighting Championship on Thursday. The signing was announced by UFC President Dana White on Twitter, and it was followed swiftly by a full-frontal media assault from the UFC headquarters:
Here is a photo of Nick with White and Lorenzo Fertitta! Here is a photo of Nick signing his new contract! Here is an interview with Nick in text form! Here is an interview with Nick in video form!
The UFC began pushing the news on social media and then trumpeted its own skill at using social media. When #nickdiaz began trending on Twitter, the UFC couldn't announce it quickly enough. It never stopped to mention that trending on Twitter is not actually a popularity gauge. Diaz, for example, was not being talked about by the entirety of the world's population. Trending happens when nobody is talking about a particular subject, and then the subject is suddenly the center of discussion for large swaths of people.