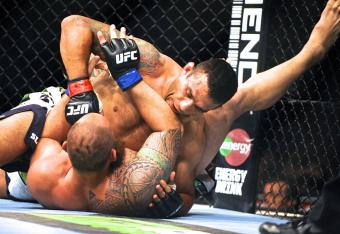 David Manning/USA Today
There was a time, and it was not all that long ago, that Fabricio Werdum was a one-dimensional fighter. Long considered one of the world's best jiu-jitsu players, Werdum was as dangerous on the ground as anyone in the world. But he was a subpar striker. He rarely threatened on the feet. He was so one-dimensional that the UFC elected to cut him after a 2008 knockout loss to Junior dos Santos.
The times, they have changed.
The 2014 version of Werdum is a completely different fighter, and nowhere was this more evident than in his dominating win over Travis Browne at UFC on Fox 11.
Browne was considered the better striker going into the fight. For Werdum to win, he needed to get the fight to the ground and work his submission game. If Browne kept the fight on the feet, the chances were great that he'd knock Werdum out cold.
Except none of this happened. The opposite happened, in fact. From the opening bell until the closing bell 25 minutes later, Werdum absolutely owned Browne in every facet of the fight. He outstruck him handily, often mixing repeated jabs followed by straight right hands. In one exchange, Werdum landed a leg kick, left punch, right punch and then a head kick. He landed 100 more significant strikes than Browne. He left him bloody and battered and exhausted.