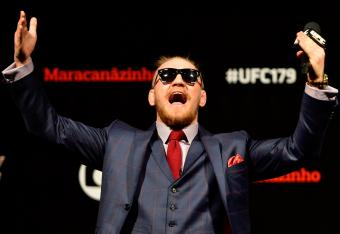 Buda Mendes/Getty Images
Breaking the UFC 189 World Tour down by the numbers yields some fairly interesting results. 13,142 nautical miles. Two fighters. Eight cities. One sentient toilet. And a seemingly endless supply of both staredowns and luxury hotel rooms.
UFC featherweight champion Jose Aldo (25-1) and challenger Conor McGregor (17-2) fight for the first time in four months on July 11 in Las Vegas. But when they do, UFC fans worldwide will be primed and ready for the clash.
The promotional effort here has been unprecedented, especially for smaller fighters who have traditionally struggled at the box office in MMA. But did quantity equal quality? Is this among the best promoted fights in the sport's history?
Bleacher Report lead writers Jeremy Botter and Jonathan Snowden, a modern-day Turner and Hooch, tackle that question below. Have an opinion of your own? Sound off in the comments.