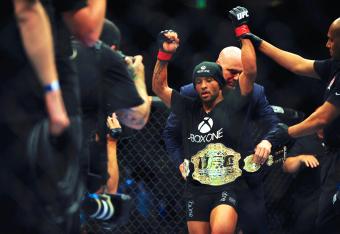 USA Today
If you follow me on Twitter—and let's be honest with each other, you have no reason not to—you've no doubt seen me trumpeting my excitement for Saturday's UFC 178 card.
For months.
Ever since this card started taking shape, it was clear it would be the answer to any of our ongoing concerns about pay-per-view events not measuring up to the expectations we build up within ourselves. Back then, of course, the main event was going to be Jon Jones defending the light heavyweight title against Daniel Cormier, and it was going to be grand.
That went up in smoke, however—or at least in a cloud of Albuquerque dust—when Alistair Overeem injured the champ's knee while training.
Even without that promised and anticipated main event, UFC 178 is one of the best cards I can remember. It is filled with fights I can't wait to see. Folks, this is the fight card where Eddie Alvarez makes his UFC debut, and he's doing it against Donald Cerrone! It's like Joe Silva was sitting in his home office, thinking of me and me alone, when he decided to make this fight happen.