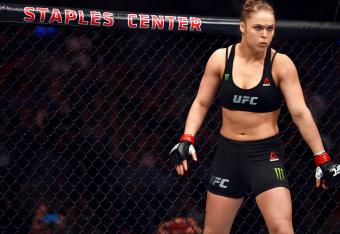 Getty Images
Ronda Rousey is mad at Bethe Correia.
You might not have noticed right away, since Rousey seems to be mad at everyone all the time, but the women's bantamweight champion has said UFC 190 is personal for her. She insists she'll teach Correia a lesson when the two fighters meet Saturday in the main event of an otherwise lackluster pay-per-view card.
"I'm not going to be nice to this chick," Rousey said earlier this month, per MailOnline's Justin Feck. "She is going to have a very long painful lesson that night. I've never looked forward to beating up someone more in my entire life. This is the only time I will say I will purposely drag a fight out to punish someone."
So, yeah, that's disquieting.