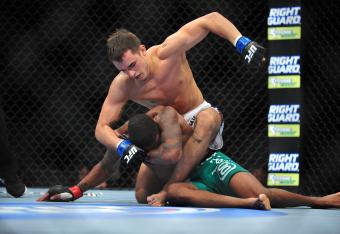 USA TODAY Sports
LAS VEGAS — In the basement of the Ultimate Fighting Championship office on Sahara Avenue is a gym. It is filled to overflowing with weights and mirrors, but there is also a boxing ring, speed bags and other various fight gear.
The gym is ostensibly designed for employee use, but what you'll often find in the gym are fighters who come to town for media engagements and need a place to work out. A select few—the Conor McGregors of the world, for example—are allowed to work out in Lorenzo Fertitta's private gym at the Red Rock casino. The rest are consigned to the basement.
The basement is where I find Myles Jury, a UFC lightweight tasked with the biggest opportunity of his career when he faces the popular Donald Cerrone in the co-main event of UFC 182 this weekend. Jury has just finished an intensive workout. He is bright red, and he is sweating everywhere. He asks if he can have a few minutes to take a shower before our scheduled appointment, and I tell him yes, this is a good idea.
Thirty minutes later, Jury joins me upstairs in a UFC conference room. I tell him that I won't spend very much time asking him about the fight with Cerrone, and he laughs. In the years since I began covering mixed martial arts, I have discovered that it is mostly a terrible idea to ask fighters how their camp is going, or how they plan on beating their upcoming opponent, or how their weight cut is going. They've repeated the answers to these questions so many times that they are automatic. They are not answers. They are reactions. They are instinct.