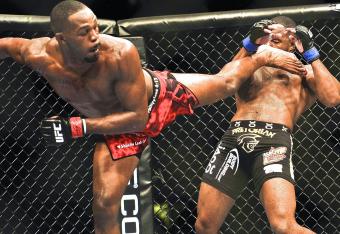 USA Today
For many of the UFC's formative years, light heavyweight was the company's undisputed glamor division.
The 205-pound class became comfortably ensconced as the UFC's marquee attraction from roughly 2000-07, when stars like Chuck Liddell, Randy Couture and Tito Ortiz carried the torch. In more recent years, light heavyweight lost a step; first as a series of lesser champions passed the belt around like a hot potato, then after Jon Jones turned the title picture into a one-man show.
The 26-year-old champion's ascendance has itself been a thing of unmistakable beauty, but to the extent there was much drama in it, Jones snuffed it out with one lopsided victory after another.
In the wake last weekend's UFC London event, however, it appears 205 pounds might be poised for a return to greatness, with a robust crop of contenders suddenly hot on Bones' heels.