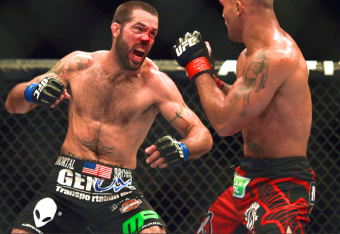 USA Today
There were times last week when it felt like MMA's love affair with Matt Brown was on the ropes.
It's no secret that Brown did some pretty dumb stuff leading up to his UFC on Fox 12 main event against Robbie Lawler. First, he put his foot in his mouth—again. Then, he committed professional fighting's cardinal sin, missing weight for the biggest bout of his life.
At Thursday's open workouts, a careless quip Brown made about his own underdog status—telling a reporter he'd probably never be a betting favorite until the UFC booked him against "some retard"—caused copious eye-rolling and facepalming on social media.
A day later he weighed in at 172.5-pounds, a full 1.5 over the limit for this fight. Afterward, Brown tried to shrug it off, telling Fox's Ariel Helwani his "scale was wrong (or) whatever" and deadpanning that the key to beating Lawler would still be to "punch him before he punches me."