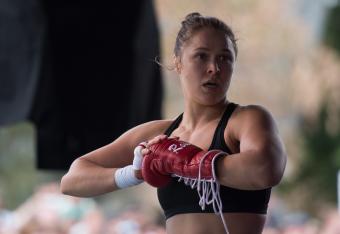 Brandon Magnus/Zuffa LLC/Getty Images
If you are looking for one final clue about who most people—including the promoters—think will win Saturday's UFC 193 main event, look no further than the fight card's official tagline: The Rousey Revolution Continues.
Yeah. So. Uh...that bit of marketing doesn't appear to even consider the possibility that Holly Holm might pull an upset over Ronda Rousey in Australia this weekend, does it?
With good reason, obviously. We have yet to see another woman bantamweight who looks like she even belongs in the same cage as Rousey. Holm comes in undefeated and possessing fearsome striking skills, but isn't expected to be able to hang around long if the champion can get this fight to the mat.
So the questions we ask ourselves about Rousey no longer concern whether it's possible she'll lose her 135-pound title this week, but if she'll lose her title, like, ever. Luckily for you, Bleacher Report MMA Lead Writer Chad Dundas and Senior Columnist Mike Chiappetta are here to separate the Rousey Facts from the Rousey Fictions.