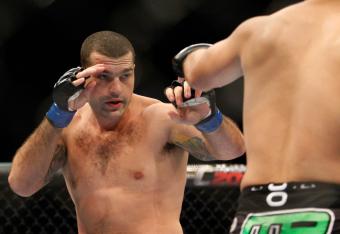 Richard Wolowicz/Getty Images
Even before Mauricio "Shogun" Rua took the cage on Friday night, the elegies for his storied career were already being written.
During the run-up to Rua's fight against James Te Huna, we'd heard all about his knees (shot), his cardio (suspect) and the intimidating aura he'd cultivated during his youth (now a distant memory).
The former light heavyweight champion was considered a slight underdog to the relatively unproven Te Huna. Dana White said they'd "probably" have the retirement talk if he didn't perform well, via Fox Sports Live.
As it turned out, the only post-fight conversation Rua needed to have with the UFC president concerned the bonus check for knockout of the night. As in, it's Mauricio—with two I's.