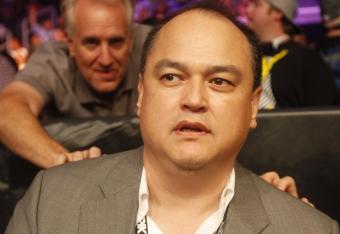 Jeff Chiu/Associated Press
The June appointment of Scott Coker as president of Bellator MMA left many wondering what was in store for the Viacom-owned mixed martial arts company. There was plenty of optimism.
Coker brought years of experience behind the wheel of a mixed martial arts company. He came to Bellator saying the right things: He wasn't enthused about the tournament format. He believed the company was probably running too many events. He wanted to spend more time building up fighters and fights and creating stars.
Coker immediately went about repairing the damage created by his predecessor, Bjorn Rebney, the man who created Bellator. Rebney's abrasive style rubbed many, including his own fighters, the wrong way. Muhammed "King Mo" Lawal, one of Rebney's biggest stars, famously launched into an expletive-ridden tirade against Rebney on Bellator's first pay-per-view.
Lawal was not alone in his problems with Rebney. Eddie Alvarez, who reigned as Bellator's best fighter and has perhaps been the best fighter not signed to the Ultimate Fighting Championship roster, became embroiled in a bitter dispute with Rebney that began in the court of public opinion and eventually spilled into a real courtroom.