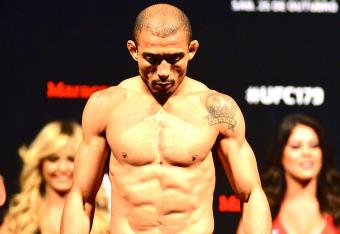 USA Today
UFC 189's promotional "world tour" wrapped up in Dublin on Tuesday, with Jose Aldo, Conor McGregor and the excitement for their featherweight title fight all still alive and well.
But there were some touchy moments there, right?
During the 11-day promotional swing through 10 cities and across three continents, McGregor's pursuit of the 145-pound title straddled a fine line. As he's apt to do, the 26-year-old Irishman needled Aldo at every stop, infuriating and provoking the longtime champion but stopping just short of inciting any kind of actual physical violence.
The climax came in McGregor's hometown, where an estimated 3,000 Dubliners came out to cheer the challenger and jeer his Brazilian opponent.