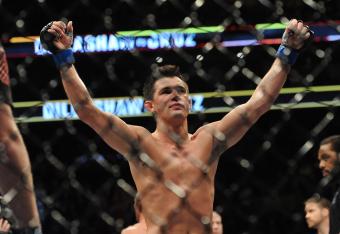 Bob DeChiara-USA TODAY Sports
These bantamweight dynasties—they don't last forever.
Just ask T.J. Dillashaw.
On Sunday, it was Dominick Cruz bringing Dillashaw's reign to a crashing halt after 20 months on top of the men's 135-pound division. Like Renan Barao and Cruz before him, the previously dominant Dillashaw is suddenly cast into rebuilding mode.
The good news is that the champion's loss could mean new life for nearly everyone else in the weight class. Cruz's resurgence not only put an exclamation point on one of the greatest comebacks in MMA history, but it might open some doors for a few guys previously locked out of the title picture.