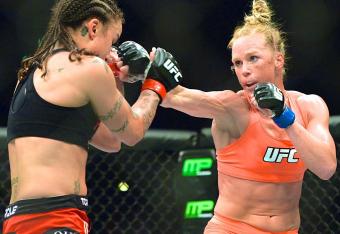 USA Today
Things didn't totally go Holly Holm's way at UFC 184.
Maybe that will turn out to be the best thing for her.
Holm made her Octagon debut amid a boatload of hype on Saturday, after establishing herself as one of women's MMA's hottest free agents with three undefeated years on the independent circuit. Before her arrival—once delayed in 2014 by injury—there were even whispers she might be the one to finally give Ronda Rousey a real run for her money.
After Holm eked out a split-decision win over the outsized Raquel Pennington and Rousey doused Cat Zingano in just 14 seconds, however, those murmurs no longer apply. It's clear now that Holm will need more seasoning at the sport's highest level if she ever means to challenge the UFC women's bantamweight champion.