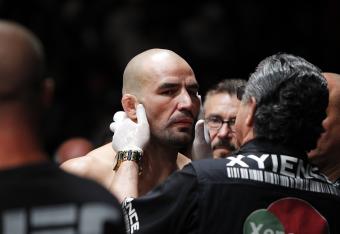 USA TODAY Sports
We've come to expect a certain amount of puffery in the fight game.
With pay-per-views to be sold and arenas to fill up, you can't blame an enterprising MMA promoter for wanting to tell a good story—even if it isn't totally grounded in reality.
Such has been the case during the lead up to Saturday's UFC 172, when the industry's best spin doctors have been out in force to prop up Glover Teixeira as light heavyweight champion Jon Jones' most dangerous opponent yet.
Certainly, Teixeira is a capable, heavy-handed competitor who has rightfully earned his spot as No. 1 contender. He could absolutely defeat Jones if he can load up and catch the champion slipping with a big shot. Through five Octagon appearances against mostly middling talent though, Teixeira just hasn't shown the skills to justify the hyperbole currently being heaped at his feet.