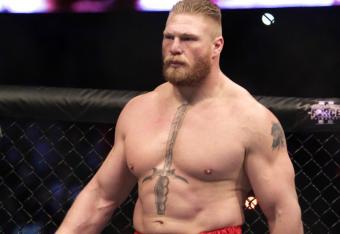 AP Images
There is a short list of athletes who can step away from the fight game and instantly become the hottest topic of discussion when there's a mere mention of them possibly, maybe, perhaps making a return.
Fedor Emelianenko, the great Russian heavyweight. Gina Carano, the first female mixed martial arts star. Those of us involved in the publishing business thank our lucky stars when Scott Coker said on the Sherdog Radio Network's Beatdown show he's going to Japan to meet with Emelianenko, or when Carano is suddenly rumored to be the next opponent for Ronda Rousey.
Never mind the fact that they've been out of action for years. Forget about the notion that the sport may have passed them by. People still love to talk about them, and any publication that likes money is in the business of giving readers the things they like to talk about.
And then there's Brock Lesnar. You know the guy. He was the pro wrestler who enraged hardcore MMA fans by having the gumption to jump into mixed martial arts with very little experience (this sounds familiar, does it not?) and then proceeded to anger them even further by winning the UFC heavyweight championship.