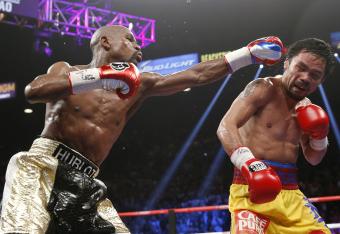 John Locher/Associated Press
When all is said and done, Saturday night's boxing mega-fight between Floyd Mayeather Jr. and Manny Pacquiao will go down as not just the richest combat sports event in history, but one of the most lucrative sporting events to ever take place.
The numbers are mind-boggling. The $100 million check Mayweather showed to ESPN and others after the conclusion of the fight was just the start of the seemingly endless amounts of cash he'll eventually rake in from the fight. Pay per view numbers are not currently available, but the fact that cable systems were so overwhelmed by people attempting to order the event that the main event was briefly delayed likely indicates an off-the-chart number that will smash the previous record held by Mayweather's fight against Oscar de la Hoya.
My personal prediction was that the fight would pull in more than 4 million buys, and I feel comfortable with that number. I'd be surprised if it does any less.
When the fight was over, social media exploded with angry fans who have apparently never seen a Mayweather fight. The fight was boring, they said. They paid $100 for Mayweather to defend himself, to clinch and to run away from Pacquiao. He fooled them again, taking their hard earned money and failing to deliver an actual fight.