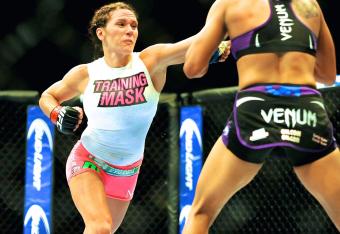 USA Today
Three days removed from UFC 178, it feels as though Cat Zingano's come-from-behind win over Amanda Nunes has been overshadowed by arguably bigger news.
Maybe that's to be expected. Very few MMA stories these days can stand up to the media hurricane that is Conor McGregor. Not many more have been able to hold a candle to Yoel Romero, Tim Kennedy and their unfortunately named "Stool Gate" controversy. To the extent any breathing room at all was left on the fringes, it was gobbled up by the disappointing Octagon debut of Eddie Alvarez.
But the truth is, Saturday night's stellar pay-per-view broadcast never topped Zingano's comeback victory for sheer, raw emotion. The fact later in the night Dana White confirmed her—not Gina Carano—as the next fighter to vie for Ronda Rousey's 135-pound title at UFC 182 should go down as one of the best feel-good moments of the year.
During the last 18 months, Zingano's story has been so searing that it's hard to even talk about it without feeling some way exploitative. The 32-year-old Colorado native blew out her knee last May and conceded a potentially star-making coaching gig opposite Rousey on Season 18 of The Ultimate Fighter to Miesha Tate.