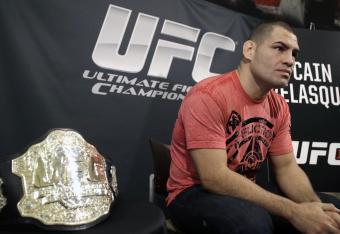 Pat Sullivan/Associated Press
I've been thinking about championships lately.
More specifically, I've been thinking about championships and how, given the multiple injuries suffered by UFC title-holders in recent years, we are nearing a time when the Ultimate Fighting Championship should create set-in-stone rules on how to deal with champions who are on the shelf for an extended period of time.
Call it the Dominick Cruz Rule.
It is no fun, the idea of stripping a champion of the belt he fairly won. And I don't make this suggestion lightly. But Cruz, Cain Velasquez and other injury-prone champions of the past five years have left the UFC scrambling to create main events with either no championship belt at stake or with a meaningless interim title on the line.
I used to think championship fights added an extra bit of pizazz to a fight card. And perhaps a few thousand viewers, too. But the flyweight division and champion Demetrious Johnson, well, they've proven that theory to be a false one. Johnson hasn't been able to connect with a pay per view audience yet, even though he is one of the world's best fighters and a pure joy to watch in the Octagon. His championship fights don't have the kind of allure the rest of the champions do.