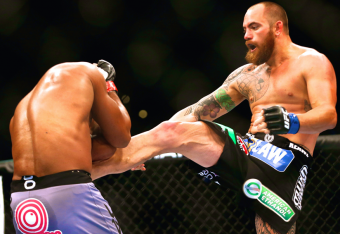 Getty Images
It's a sobering commentary on the UFC heavyweight division that Travis Browne is arguably its most intriguing young contender.
This is by no means a critique of Browne. As he readies for a nationally televised title eliminator against Fabricio Werdum on Saturday, Browne's status as a top challenger should be self-evident.
The Hawaii native and Greg Jackson product has duly earned his spot across the cage from Werdum, transforming himself from toolsy prospect to bona fide championship threat during a four-year tenure in the UFC. He sports an impressive 7-1-1 record in the promotion, and in his last three fights, he laid waste to Gabriel Gonzaga, Alistair Overeem and Josh Barnett with varying degrees of extreme prejudice.
At 6'8", he's tall and rangy even for an MMA heavyweight and possesses the sort of athleticism that leads us to halfway believe him when he proclaims himself part of the new breed of UFC big men.