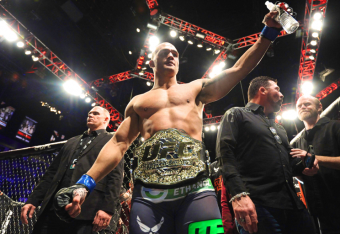 Joe Camporeale/USA Today
2014 was a rocky year for high-level mixed martial arts. While there were spots of excitement and transcendent glory, for the most part, it was a year marked by loss.
First came the disappearance of the UFC's two biggest stars, Anderson Silva and Georges St-Pierre, victims of injury and ennui, respectively. Then its two remaining brightest lights, Jon Jones and Cain Velasquez, were also lost for months to injury.
What remained were a collection of fights, some great and some forgettable, spread thin over dozens of cards. It was an environment, frankly, that made it hard for individual fighters to stand out. By the time their fight was over, all too often, there was barely time to move on to the next fight, let alone to reflect on what we'd just seen.
Despite this, the three candidates for Fighter of the Year were able to overcome their surroundings, making their mark, not just on the year, but on the sport. Lead writers Jeremy Botter and Chad Dundas join me to run down the contenders and, ultimately, pick a winner.