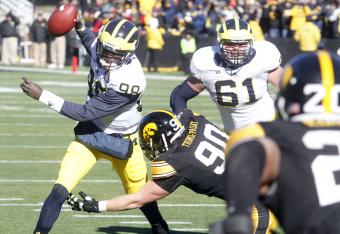 Matthew Holst/Getty Images
Anything goes when Michigan and Ohio State clash, but after the Wolverines' performance in a 24-21 loss to Iowa on Saturday afternoon it's going to take a lot to win this year's edition of "The Game."
When you throw and run for fewer than 100 yards, record all of 10 first downs and fail to score any points in an entire half, its hard to make a case you have a chance of winning against Ohio State.
It's even less likely when you blow a 21-7 halftime lead and watch the Hawkeyes score 17 unanswered points on the way to victory.
Talk about grasping defeat from the jaws of victory, huh?