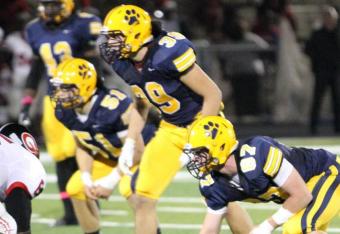 Via 247Sports

Outside linebacker and 4-star recruit Kyle Berger has committed to Ohio State, representing Urban Meyer's seventh commitment for the 2014 recruiting class.
Berger is a talented linebacker recruit, so he's a big commitment for Meyer and the Buckeyes to land. He's 6'3'', 205 pounds, and he's ranked as the No. 14 outside linebacker in the 2014 class according to the 247Sports Composite Rankings. He's also the No. 6 ranked player from the state of Ohio (247Sports Composite), so he's a big in-state commitment for the Buckeyes.
Brad Bournival of ESPN.com reports on the commitment:
In-state recruiting is oftentimes seen as one of the most important aspects of building a great program, so it's very much so worth noting that Berger is one of five state-of-Ohio recruits committed to Ohio State so far. Considering that the total number of recruits committed is seven, that's a great sign for the Buckeyes.