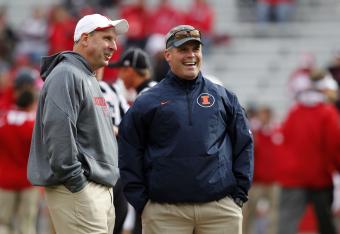 Bruce Thorson-USA TODAY Sports
To say the Big Ten season hasn't played out the way many pundits and prognosticators thought it was going to would be an understatement.
Ohio State and Wisconsin have lived up to expectations, but outside of that there have been many surprises in the Big Ten in 2013—some of them good and some of them bad. With a strange season on the brink of ending, it also means some coaches are sitting squarely on the hot seat.
With one week left, who is on the hot seat in the Big Ten? Let's explore the names that should be nervous come Saturday night and Sunday morning.
Tim Beckman, Illinois