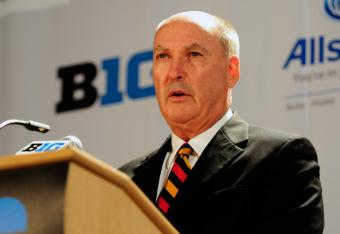 Reid Compton-USA TODAY Sports
Every week (or so) on The Big Ten Blog, we will feature questions from the B/R inbox, Twitter and email. Do you have questions for next week's Q&A? Send them to Big Ten lead blogger Adam Jacobi via the B/R inbox, on Twitter @Adam_Jacobi or at ajacobi@bleacherreport.com.
Hello again, friends. Let's talk Big Ten football, shall we?
I like questions like these, so I'm glad you asked. The Big Ten probably should realign, and as we discussed earlier this week, further expansion gives the Big Ten the perfect opportunity to do so. Better yet, it gives the Big Ten the opportunity to just go straight east-west, and honestly the divisions look more balanced that way than they do right now.
That said, "balanced" divisional layouts are almost always done looking backward while trying to predict the future, and they almost never do the job as well as you'd think. Miami and Florida State never met for an ACC Championship (hell, Miami never won its division). Nebraska and Oklahoma, which were by far the two biggest powers of the Big 12 upon its inception, only played for the title twice. And if Michigan finds itself in a different division than Ohio State, odds are they'll play that rematch much less than you'd expect.