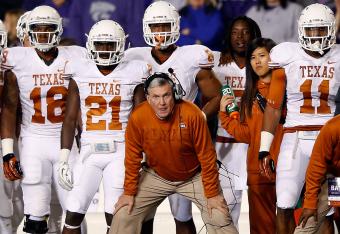 Jamie Squire/Getty Images
What, exactly, is the head coaching forecast in Austin?
Fair for the next four months, with a cold front forming if Texas has another ho-hum season.
Head coach Mack Brown's contract with the University of Texas runs through 2020. Brown's salary is currently $5.3 million, with $100,000 incremental raises every year.
That means in 2020, Brown will be 69 years old and earning $6 million. With those kind of numbers, the school would appear to be on the hook for Brown—his buyout has to be huge, right?