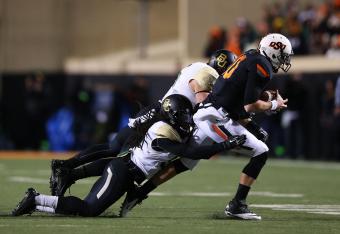 Ronald Martinez/Getty Images
When you're out of the national title hunt like Baylor and Oklahoma State, all you're left with are "what ifs."
But, hypothetically, how would either of those teams—the top two in the Big 12—stack up against Florida State, the No. 1 team in the country?
The Seminoles haven't played close to the toughest schedule in the country (66th in the Sagarin ratings), but no team has been as dominant from Week 1 to Week 14 as FSU. The 'Noles have outscored opponents by a total of 644 points to 132, a difference of around 43 points per game on average.
At this pace, Florida State will be just shy of 700 points on the season after Saturday's ACC championship against Duke.