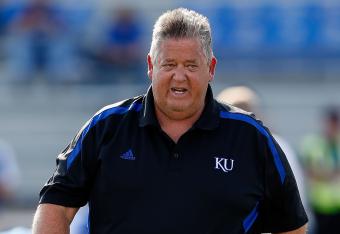 Kansas head coach Charlie Weis
Jamie Squire/Getty Images
Junior college transfers are becoming the most wanted men in college football.
The reason is simple—they are playing at a higher level.
Quarterback Cam Newton transferred to Auburn in 2010 from Blinn (Junior) College in Texas and won the Heisman Trophy. Defensive end Morgan Breslin transferred to USC in 2012 from Diablo Junior College in California and was a Hendricks Award finalist who was named to the All-Pac-12 team.
Coaches are fighting over JUCOs because they're a proven commodity. No one really knows how a teenager will adjust to college life. The JUCO transfer already has two years of college academics under his belt. He's a man, not an 18-year-old freshman.