CvC: Why Stone Cold vs. Triple H (No Way out 2001) Is the Best Match of All Time
December 27, 2011
Rise above hate.
This article has nothing whatsoever to do with John Cena, but these three words, a proverb to which Cena has adhered for the past six years of his career, are important.
Once upon a time, in Las Vegas, Nevada, a reported 15,223 attendees watched in enraptured anticipation as two wrestlers stared each other down, much as all wrestlers do.
The difference between them and all others was the hatred on display; colossal, overwhelming hatred. In 2001, this wasn't unusual; for indeed the Attitude Era, a period of professional wrestling revered perhaps more than any other, was defined by hatred as much as anything.
Wrestling was much less about the black and white of good and evil; no longer was the heroism of Hulk Hogan idolised and the villainy of "Rowdy" Roddy Piper condemned.
Black and white became shades of grey; the flag bearer of this period, Stone Cold Steve Austin, was closer in his nature to the volatile Piper than the benevolent Hogan, yet he was venerated for his flaws just as much as "the Hulkster" ever was for his perfection.
Who, then, was Austin looking at with such venomous, turbulent loathing?
None other than the Game, Triple H. And he looked at Austin with equal abhorrence.
Rarely has one's personal life ever affected the perception of their career so much as it has for Triple H. In many ways, his legacy will always be tarnished by rumours and conjecture. It can never veil his ability to play a heel character with such brilliance, though.
For at the turn of the millennium, Triple H was unrivalled when it came to portraying the villain.
His on-screen stranglehold over the WWE, attained through marriage to Stephanie McMahon, led to him foiling the fan favourites at every turn, particularly Mick Foley and the Rock, with whom he had other contenders for greatest match ever.
Why then is this match the greatest ever?
Background
What solidified Triple H as one of the most reviled heels ever was when he was revealed as perpetrator of the most heinous crime in wrestling: the hit-and-run incident that put Stone Cold out of action for ten months. And for that reason, Austin wanted revenge.
It is storytelling at its simplistic best, beautiful in its minimalism and perfect in its execution. This angle, basically, was about a man who had been wronged. And that man was seeking revenge against the offender.
After both men cost each other WWE Championship matches, Chairman of the Board Vince McMahon, historically an enemy of both men, particularly Austin, decreed that they could not touch each other in the build-up to this match. If they did, they would be suspended for six months.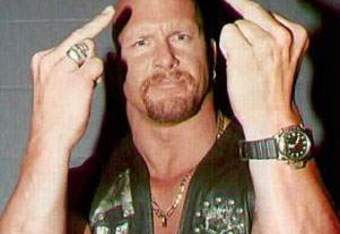 Austin 3:16 says this match is the greatest of all time!
Stone Cold, who had won the Royal Rumble weeks earlier, could ill afford that lest he lose his opportunity for the WWE Championship at WrestleMania X-7. But more on that later.
Like a bothersome itch that cannot be scratched, both men struggled to adhere to the rules, desperate as they were to offload their rage. So instead of breaking the rules, they circumvented them.
Stone Cold, advocate of equal opportunities, targeted Stephanie McMahon, his opponent's wife—the only person Triple H cared about. Stone Cold Stunner!
Triple H, unable to let that stand, targeted Jim Ross, his opponent's best friend; the only person Austin cared about. Pedigree!
So intense, so astronomical was this feud, that it was decided one fall wasn't enough to end the bad blood that existed between both men. With that in mind, a 2-out-of-3 falls stipulation was introduced:
The first fall, a singles match, offered the more technically favouring Triple H a chance to outwrestle Austin.
The second fall, a street fight, offered the brawler Stone Cold a chance to annihilate the Cerebral Assassin.
The third fall, a steel cage, offered one thing: nowhere to run; nowhere to hide; no disputes, no excuses.
This match, without doubt, would suffice in ending the enmity between both men.
The Match
Austin, entering the arena second, rushed into the ring and eviscerated Triple H in the opening slugfest; again, perfect psychology. Stone Cold, the babyface, is rightly presented as the superior fighter.
How then, will the villainous Triple H respond?
At first, he doesn't. The key to a successful match, it has been said, is in giving the people what they want. In this case, the people wanted to see Triple H get hurt. They wanted to see him get hurt by Stone Cold. And that is what they were given.
Indeed, Austin's rage is such that he becomes overzealous in attempting his usual Lou Thesz press, which allows Triple H to gain an advantage by dropping him painfully onto the ropes.
Crucially, Austin responds instantly by converting an attempted Pedigree into an Armbreaker, which undermines the Game throughout the entirety of the fall. Stone Cold, who will go down in history as a severely underrated technical wrestler, works over the arm tirelessly.
Small details, such as the way in which Austin pressurises the arm during a pinfall, only add to this match. Again though, the Rattlesnake is thwarted by an overzealous strategy, jumping from the turnbuckle into the extended boot of the game.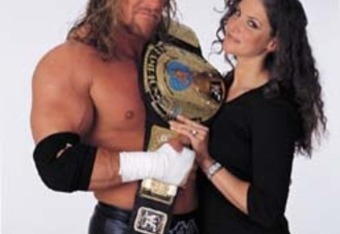 Triple H was perhaps the most despised heel of his time.
Finally, this allows Triple H to assert some authority, working on Austin's neck in reference to his notorious injuries there, then the leg with a chop block and eventual Figure-Four Leg Lock, in homage to his hero.
Much like at WrestleMania 13, Austin's spirit will not be broken; indeed, this is exactly what Triple H claimed he would do in the first fall leading up to the match. As WWE fans know, many have tried, all have failed.
Austin cannot be broken.
This fighting spirit asserts itself again when Austin fights like a caged animal to avoid more of Triple H's strategic punishment. When the King of Kings ascends to the top rope in the desperate hope of felling Austin, he jumps into a kick, which as all know can only lead to one thing.
Stunner!
And with that, the first fall goes to Stone Cold Steve Austin.
What transpires next can be summarised with two words: sheer brutality.
With street fight rules sanctioning anything and everything, that is exactly what happens. They fight on the ramp, with Austin delivering vertical suplexes onto the steel. Heel nature kicking in, Triple H flees for all he is worth, wanting no part of his vengeful adversary.
Through the crowd they brawl, and when finally they re-enter the ring Austin delivers retribution with countless steel chair shots that whip the crowd into frenzy.
They're not half done, yet.
Clearly Mick Foley was wishing Austin well in his mission to decimate Triple H, because he left a helpful 2x4 wrapped in barbed wire for the Rattlesnake to use; as Triple H generally does though, he turned the tables on Austin and lacerated him with the weapon.
Next, Triple H gets back dropped through the Spanish announce table. Carnage defined.
The ferocity, the viciousness, the unrelenting callousness of this match continues onwards and onwards; unlike a similarly brutal bout, last year's WrestleMania match between Triple H and Undertaker, these constant bumps don't slow the match down to a halt.
On the one hand, some would argue this is unrealistic; on the other, it can be seen as a reflection of what these two are. Phenomenal athletes, and tough S.O.B.'s.
Back in the ring, Austin is hit with a ring bell, and Triple H improvises a neckbreaker onto a prone chair. When he tries a repeat only this time with a Pedigree, he is back dropped again, this time out of the ring.
Now, any brawl involving Triple H would obviously be incomplete without the presence of a sledgehammer, and the weapon's omission is soon rectified; in the ring, he clobbers Austin with it, and for good measure hits a Pedigree, winning for himself the second fall and tying them both at one fall apiece.
The second fall goes to Triple H. And the cage lowers ominously.
By this point the match has slowed down, after half an hour of mutilation. Rather than lowering the quality of the content involved though, it merely adds to the tension of the match. Soon, a victor will be declared; who has enough left in the tank?
Since Triple H is the only man standing by the beginning of the fall, he dominates early on, using the barbed wire again to further disfigure Austin, who by this point is bleeding profusely. Ever resourceful, Austin grabs a chair and in desperation smashes it into the face of Triple H.
Triple H delivers a DDT to Austin, onto a chair.
Stone Cold kicks, punches and claws Triple H in retaliation.
The Game "faceplants," Ric Flair-style, in complete and utter exhaustion. Gathering strength, he tries to escape the cage, forgetting conveniently that per the stipulations of the match only a pinfall can result in victory.
Austin eventually gets him down, and receives a Pedigree for his troubles. Then, something amazing happens.
Austin kicks out of a cover. His soul perhaps incapable of defeat to his most despised foe, he kicks out desperately, prompting Triple H to plea with referee Earl Hebner. He tries again to hit it, but is catapulted into a steel wall of the cage.
When Triple H bounces back off of the wall, he is hit with a Stunner. Then, something amazing happens.
Triple H kicks out of a cover. He too will not suffer the ignominy of defeat to his most despised foe.
Do either men have anything left? Something surely has to give. Surely?
As it happens, something does give. Something unique, as this phenomenal match requires.
Austin grabs the barbed wire two-by-four.
Triple H grabs the sledgehammer.
In a microcosm of time, a moment that can be studied, analysed and evaluated as one of the most shocking, significant moments in wrestling history, they hit each other at the same time.
Both men fall... fall... fall...and Triple H lands on Stone Cold. Earl Hebner counts the pin.
Triple H is declared the winner, and Austin loses.
Overall
This match is the greatest of all time for so many reasons. Perhaps too many to recount.
When Triple H defeated Stone Cold Steve Austin on this night, it was a circumvention of every convention in professional wrestling; it was evasion of every wrestling fan's expectations; it was a swerve, plain and simple, of the most momentous proportions imaginable.
Why does this make the match the best ever?
Alone, it doesn't. The fact is this match was absolutely phenomenal. Even ignoring the build-up, the aftermath, the significance of the result for both men, and it is still a five star match, enrapturing in its clinical brutality, emotionally draining in the incomparable story told.
But add those factors, and this match is irrefutably the best of all time.
Watch the promo video. Now, no matter how poor a feud, the production staff that create WWE promos always make it seem a once in a lifetime match. They are perhaps the most consistently outstanding employees in the company. But here, they actually outdo themselves.
The video compresses all the history, emotion and vitriol that the two wrestlers involved have, and share it with viewers in an accessible way. And their rivalry is outstanding.
But it is the aftermath that elevates this match to legendary status.
This match is a prelude to the (second) most shocking heel turn in pro wrestling history; to this day, there are sceptics who feel that Triple H winning was merely a poor booking decision; that it was an unnecessary that reflected the growing political economy of Triple H.
On this occasion, though, WWE deserve credit for something that was completely intentional. It was this match, in kayfabe, that spread the seeds of dissent in Austin's mind. He wasn't the best any more, and his defeat to Triple H proved it.
He had the resolve and desire still, but he no longer had, in his mind, the capability. So he became a villain, and sold his soul "to Satan himself," in order to maintain his status as top man.
Triple H, meanwhile, added another massive notch to his belt. It wasn't the first, and it wouldn't be the last. He, like Stone Cold, became a legend.
This match was an amalgamation of everything that defines pro wrestling, namely fighting, relatable characters, theatricality, suspense, stakes and unpredictability. By the definition of wrestling and sports entertainment, it is far and away the best of all time.
If you have a problem with that, follow me on Twitter and tell me about it.
Good luck to all the other fantastic contributors here on B/R. You're going to need it.
If I don't see you through the week, I'll see you through the web!
Like the new article format? Send us feedback!