Chicago Bulls: Derrick Rose Needs to Play More Aggressively
December 28, 2011
Derrick Rose has been playing more passively for the Chicago Bulls the opening two games of this year than he did last season, and it is significantly hurting the NBA MVP's game.
Rose, a fourth-year point guard from the University of Memphis, has been taking less shots to open up games while scoring just six fourth-quarter points in the Bulls' first two contests.
Opening up games strong and playing aggressively throughout the game were strengths of Rose's game in 2010-2011. He would drive to the basket most plays to either score a close basket or kick back to an open Bulls teammate.
Rose driving up the lane scared opponents, and they they couldn't keep up with the Bulls star; Rose averaged 25 points and 7.7 assists to help Chicago to a 62-20 regular-season mark.
But Rose has been trying to be a pass-first point guard this season, which he never was. He is really a shooter first who sets up his Bulls teammates at opportune moments. The Bulls' offense should run through Rose as their first scoring option.
But so far this year, Rose has been extremely passive—especially in the first and fourth quarters.
Against the Los Angeles Lakers, Rose had a driving layup for a miss in the opening seconds and did not shoot the ball again in the first quarter. He also had an assist and a turnover.
The Golden State Warriors game was not much better, as Rose was 2-of-4 for four points, two assists and a bad turnover in the opening quarter. 
With Rose not taking his shots in the first, his lack of offensive activity has injured his offensive rhythm quite a bit. Rose is looking first for his teammates to score points, but he is sacrificing his efficient offensive productivity.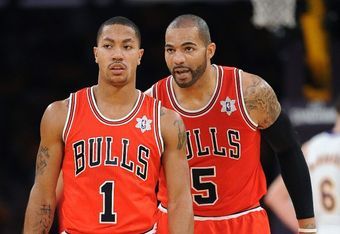 While Bulls players Carlos Boozer and Richard Hamilton can each collect points, both athletes have not gotten the job done well. Boozer is averaging 10.5 points a night while Hamilton is tallying eight points.
Luol Deng is scoring 21.5 points a game and appears to have added toughness to his game, as he was the leader for Great Britain's national team during the summer.
However, the Bulls are not going to succeed if Deng is their leading scorer. 
The team is built around Rose and will live or die by his play. 
The fourth quarter hasn't been Rose's time either, as the superstar point guard from Chicago's Englewood neighborhood is being outscored by his teammates.
Rose has six points on 2-of-8 shooting with four assists and a turnover. He did drain the game-winning shot against the Lakers, but overall Deng has 15 points, C.J. Watson has 11 and Kyle Korver has seven.
With the Bulls losing late in both games, Chicago fans don't want to see Watson, Korver or even Boozer with the ball. That ball should be in Rose's capable hands.
Rose subbed in for Omer Asik at the 9:07 mark in the Lakers game. The Bulls were trailing 76-68, but Rose let his teammates miss three straight shots before he attempted a failed layup.
Rose clanked a three at the 7:24 mark, then made a basket with 3:34 remaining after not shooting for four minutes. This bucket came after a stretch where the Bulls bricked eight consecutive shots following Rose's last attempt. 
If Rose did not make that athletic right hook shot to seal the deal against the Lakers, he would've been criticized for a poorly played fourth quarter—and the Warriors game was even worse for him in the fourth quarter.
Rose came in for Ronnie Brewer at the 8:27 point in the fourth. The Bulls needed Rose to get them back in a game where the Warriors led 84-66.
How Rose responded was extremely disappointing, as the Bulls star failed on all five of his shots. He did have three assists, but that was too little too late to beat the Warriors.
Overall, Rose has struggled in protecting the basketball, with eight turnovers against his 13 assists. It seems Rose is not concentrating on the defender when he is on the dribble, allowing his opponent to make a move and steal the ball away.
Rose could not get his game going at all, while Stephen Curry and Monta Ellis slowed him down to 13 points on 4-of-17 shooting—and Curry and Ellis are below-average defenders at that.
For the Bulls to be a top NBA team, Rose needs to have that killer mentality he developed last year. He has to go back to his drive-and-dish out game that led to his MVP-caliber season.
Rose is not a pass-first point guard, so playing outside of his element might make his game regress this year instead of improving.
Bob Bajek is a Featured Columnist for the Chicago Bulls. He is also a freelance reporter, and can be followed on Patch.com and Twitter.