Northwestern an Underdog in the Houston Bowl: Why They Will Beat Texas A&M
December 27, 2011
Sure Northwestern is a 10-point underdog in this weekend's Houston Bowl versus Texas A&M.
Sure they have not won a bowl game since 1949, which includes a current eight-game losing streak.
Sure the Cats are 0-6 in games in which they give up two or more sacks in a game and are facing the number one defense in the nation for getting after the quarterback.
All of these things put together would put the smart money on the Aggies, in their home state, to prevail on Saturday. But what you cannot measure is the heart of the team, and that heart may be bigger than the entire state of Texas this Saturday.
In April of 2006, then Northwestern athletic director Mark Murphy signed head coach Randy Walker to a contract extension that took him through the 2011 season. Walker had stated that his time in Evanston was going to be the end of his coaching career, marking this Saturday as being the final hurrah for the man that led Northwestern to three bowl games and a conference title in 2000.
A big part of the pulse of the Wildcats is QB Dan Persa. After suffering a season ending achilles injury in November of last year, Persa battled back to get back on the field for the Big Ten opener against the Illini in September. Persa was able to help lead the Cats in winning four of their final five games to earn this New Year's Eve Bowl appearance.
Dan Persa was Randy Walker's last recruit.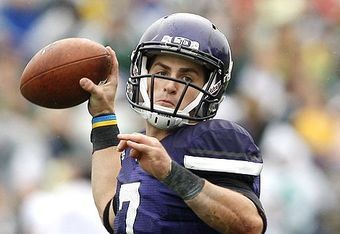 So this Saturday marks an end of many things for the Cats. It is the last game for Dan Persa, the final Randy Walker recruited player. It is also the last time you see Northwestern in their Addidas uniforms. But most importantly it is what should have been a last for Randy Walker, currently Norhtwestern's third all time winningest coach, and the last time Pat Fitzgerald had the "assistant" tag to his position.
So how do you measure heart?
Some say it is measured in how much you want something. If you want something bad enough, no matter how out-matched you are you find a way to win.
This being said, and with the man in head coach Pat Fitzgerald leading the way, you can believe the pre-game speech will be one that he, and everyone else remembers.
It would be a fitting triumph for a program that should have been celebrating a last by winning their first bowl game in over 60 years, but we shall see if fate plays a role in Saturday's game as the Cats try to "Win for Walk" one final time.