Cleveland Browns Should Keep Peyton Hillis and Not Draft a Running Back
December 27, 2011
Rob Carr/Getty Images
The other day I "accidentally" read Todd McShay's first mock draft on ESPN.com. He has the Cleveland Browns taking running back Trent Richardson out of Alabama with the fourth pick.
I am fully against this choice and will continue to be leading up to the draft.
First of all, the NFL is a passing league. You no longer need a top running back to be an elite team.
Of the top 10 rushers in the NFL this season, only four of them are going to the playoffs. And I don't think I'm alone in thinking that Houston and Atlanta will be quick outs once they get there.
If you ask just about anyone who the best running back in the league is they will tell you that it's Adrian Peterson (pre-torn ACL and MCL of course). Well, how much good has he done that team this season? They'll probably be drafting just ahead of Cleveland.
The best offenses are all built on the passing game and rushing is merely a complement.
The top teams with great offenses heading into the playoffs are the Green Bay Packers, New Orleans Saints, and New England Patriots. Their top rushers rank 35th, 36th and 27th in the NFL, respectively.
I know I'm not saying anything that if you watch football you don't already know.
For that fact alone, I'm against taking any running back that high in the draft.
And besides, good running games are more about the line than they are about the back. Peterson is only 17th in the league in rushing this year because his line isn't opening anything up.
The top six running backs in the league were not even selected in the first round of the draft. So the idea that just picking a running back high will guarantee you a good running game is flawed.
But the real reason that the Browns should not waste the fourth pick of a very important draft on Richardson is because they already have a back who is more than capable of getting the job done.
I'm speaking of course about Peyton Hillis.
Put aside all the drama that went on earlier in the season. It is clear now that most of that was blown way out of proportion by the national media and that Hillis was actually suffering from injuries that were keeping him off the field.
In nine games this year, Hillis has three touchdowns, 557 yards and is averaging 3.7 yards per carry. That is well off of his 11 TD, 1,177 yard, 4.4 average from a year ago.
The dip in stats can be easily attributed to his injuries and a line that can't pass or run-block.
But let's look at the last two games. Hillis went for 99 and 112 yards on 3.8 and 4.7 averages. The second of those performances coming against division rival and No. 2 rushing defense in the league, the Baltimore Ravens.
If you haven't checked out on the Browns yet and watched the last two games then it is clear to you that Hillis still has what he had in 2010. He can be the lead back of a playoff team without a doubt.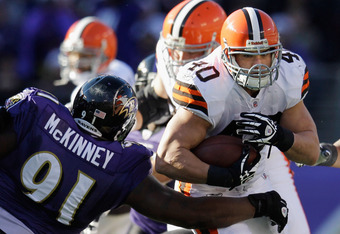 Rob Carr/Getty Images
He is going to be a free agent and should come at a fairly cheap price considering his down year.
Why waste a top pick on a running back when you can simply sign one you have who you know can get the job done?
This team has way more important holes to fill before they get to the running back position.
And I didn't even get in to the fact that I believe Chris Ogbonnaya is a very good running back as well and hasn't gotten the reps he deserves since Hillis came back. But that's a discussion for another time.
Re-sign Peyton Hillis. Do not bother drafting a running back, especially not in the first round.
You can follow Benjamin Flack on Twitter @ClevelandFlack.