Notre Dame Football 2011-2012: Most Underrated Players for the Fighting Irish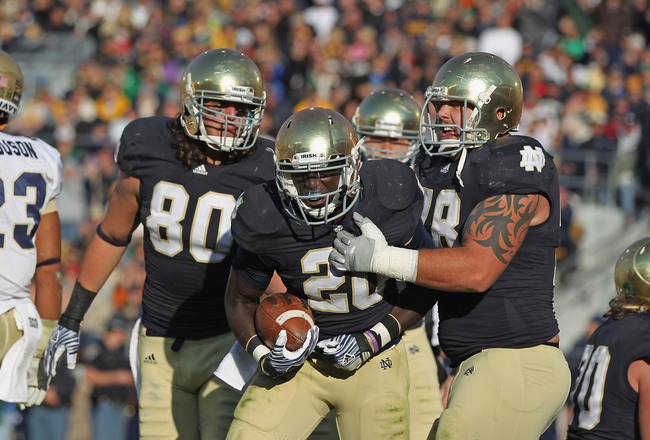 Jonathan Daniel/Getty Images
With the immense amount of talent on college football teams today, it isn't difficult for a guy who has played well all season to fly under the radar.
Notre Dame is no different. Some players haven't received much acknowledgement for their effort game in and game out.
From guys who started every contest to players who came in and did exactly what was asked of them, here are five of the most underrated players on the Fighting Irish football team.
Chris Watt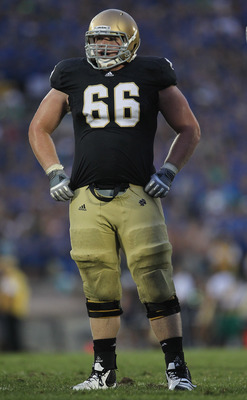 Jonathan Daniel/Getty Images
Chris Watt is a part of an offensive line that has kept Tommy Rees on his feet for the vast majority of the season. It has opened holes for nearly 2,000 yards rushing between Jonas Gray and Cierre Wood as well.
The Irish offensive line is 18th in sacks allowed and 21st in tackles for loss allowed. Rees has only been put down nine times all season.
Watt is in his first season as a starter on the offensive line (left guard), but he has fit right in.
With most of the accolades going to who many recognize as Notre Dame's best offensive lineman, Zack Martin, Watt hasn't received much attention.
For playing as well as Watt has in his first year as a starter, he deserves some notice.
Robby Toma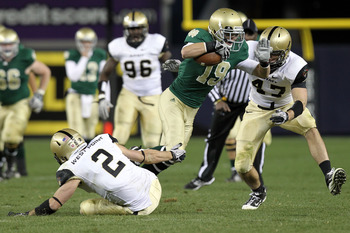 Nick Laham/Getty Images
Theo Riddick will be backing up Cierre Wood for the second time in as many games, and that has given Robby Toma a chance to start in the slot receiver position.
Toma's scholarship was once considered a throw in deal for his best friend, Manti Te'o, coming to play for the Irish.
Even if it was, Toma has proven his worth on the field and shot up the depth chart.
On the season, Toma has 15 catches for 173 yards and a touchdown.
If Riddick remains in the backfield with Wood for next season, then Toma could become of favorite target of whoever ends up playing quarterback.
Kapron Lewis-Moore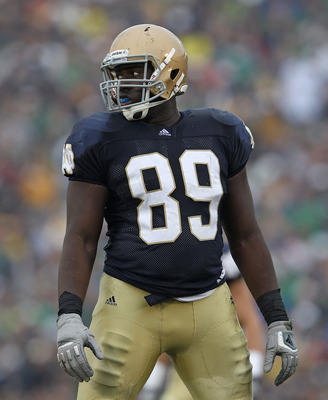 Jonathan Daniel/Getty Images
Before Kapron Lewis-Moore's knee injury he was the most consistent defensive lineman for the Fighting Irish.
Moore played in seven games and was injured during the USC game in South Bend.
In just over half a season, Moore had 1.5 sacks, 32 total tackles, four tackles for loss, a pass breakup and a forced fumble.
Moore has the option to return next season for a fifth year, and after his season ended the way it did, fans should expect his return.
Jamoris Slaughter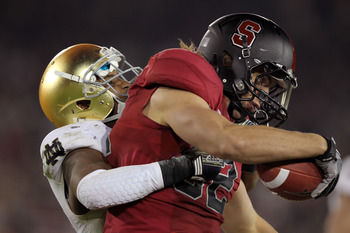 Ezra Shaw/Getty Images
No one knew if Jamoris Slaughter would reclaim his starting job after his injuries opened the door for Zeke Motta last season.
In 2011, Slaughter has shared time at safety with Motta, but his versatility has been a vital component to many of Notre Dame's victories.
Early in his career, Slaughter played a little bit at cornerback before settling in at safety. This season, he has been used as a linebacker, a nickelback and at safety.
Slaughter has accumulated one interception, two passes defended, one forced fumble, 20 assisted and 20 solo tackles on the year.
Like Kapron Lewis-Moore, Slaughter has the option to return to Notre Dame for another year, and experience is a dire at secondary where there will be at least two new starters.
Cierre Wood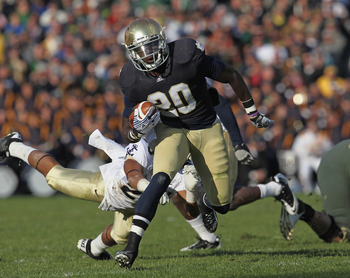 Jonathan Daniel/Getty Images
Cierre Wood has had a really great season for the Fighting Irish thus far, but I have heard the complaints.
The dissatisfaction with Wood often revolves around how he dances too much, or that Jonas Gray was much better and deserved more carries.
I can't argue that Gray wasn't a fantastic back (he was averaging a eye-popping 6.9 yards per carry, yet his average steadily decreased after getting more carries), but Wood is as well.
Wood has a certain style. He isn't quite the north-south runner that Gray was, but he has progressed immensely since his first season with Notre Dame.
It wasn't until midway through last season when Wood really found his stride. An injury to Armando Allen increased Wood's role in the offense.
In the first six games of last season, Wood had just 24 carries and severely struggled in pass protection. In the final seven games of last season, he had 95 carries and showed a noticeable improvement in his blocking.
In just his second season on the field (he redshirted his freshman year), Wood is a threat catching balls out of the backfield, he has big play ability and has evolved into a dependable blocker.
What else could you ask for in a running back?
Keep Reading

Notre Dame Football: Like this team?