UFC 141: Why Jon Fitch Can Not Overlook Johny Hendricks
December 28, 2011
When Jon Fitch and Johny Hendricks square off, fans will get to see an underrated wrestler who is unfairly ignored in the UFC and has lost only one fight in the company.
Now, which fighter is the sentence above talking about?
Truthfully, the sentence can be applied to both Hendricks and Fitch. Both are phenomenal wrestlers who have used their skills on the mat to get wins. The only difference is that Fitch has beaten several higher-caliber fighters and Hendricks has more knockouts.
Up until now, Hendricks hasn't faced anyone on Fitch's level and the closest he has ever come is against Rick Story, who at the time was on a four-fight win streak.
Hendricks lost.
Since that fight, he has won two straight, but nothing in his record suggests that he is ready for Fitch.
After all, Fitch has been able to take out almost every opponent he has had in the past with his impressive wrestling skills. Every match has played out the exact same way.
And that is Fitch's danger coming into this match. Hendricks knows exactly what Fitch is planning to do. He doesn't need to prepare for a striking war. Hendricks just needs to prepare for a wrestler and it's something that he has more than enough experience with.
Hendricks may just be the best wrestler that Fitch has ever faced in his career.  If Hendricks can stop Fitch on the ground, what is plan B?
Fitch has been in the MMA business long enough that it doesn't seem likely that he has ignored his standup, but with the knockouts that Hendricks has already registered in the UFC, he may be behind his opponent in terms of striking.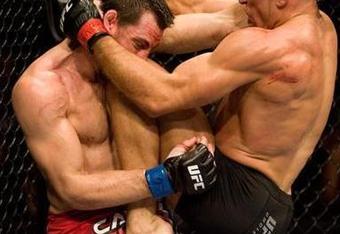 Fitch is a smart fighter. He wouldn't have won so many fights in the UFC if he wasn't. If he takes Hendricks seriously, he should be all right.
But all he seems to talk about these days is how he is being passed over for title opportunities. His focus seems to be on a rematch with welterweight champion Georges St-Pierre. Focusing on a match he wants but isn't in may have cost him the win against BJ Penn.
When a fighter splits his focus between an upcoming match and campaigning for another one after it, he looks past the opponent in front of him.
It's easy to see why Fitch might have become this way. Other than a loss to GSP, he has never been beaten in the Octagon. The only problem is that it may come back to haunt him.
Fitch obviously isn't the most loved fighter by the UFC brass. If he was, they would have already granted him a second fight with the champion. If he loses his fight with Hendricks, there won't be an argument that he should get it. He needs to focus on Hendricks and getting a dominant win.
That will change peoples' minds.
Nevertheless, he is adamant about trying to shine a spotlight on it instead of his upcoming match. So when the bright lights shine down on the Octagon at UFC 141, Fitch may find that he was thinking about a different fight in a different cage as he loses the one in front of him.