USA Soccer: What Will Landon Donovan's Role Be in 2012?
December 30, 2011
Phil Cole/Getty Images
Throughout the past decade, Landon Donovan has been the undoubted face of American soccer. Donovan has starred in multiple World Cups, MLS and numerous internationals for the Yanks.
It was Donovan who set up some of the biggest goals in American history, and of course Donovan who scored the winning goal against Algeria back in the group stage of the 2010 World Cup.
In 2011, Donovan started off the year looking to continue to play an important role for the national team and looking to help the Americans win their first Gold Cup since 2007.
However, Donovan found himself benched while playing on the national team for the first time since June of 2007 in the Yanks' quarterfinal clash with Jamaica.
In the second half, Donovan did come in as a substitute and helped the offensive play increase in what was a 2-0 win.
Against Panama in the semifinal, Donovan once again started on the bench and came in to help set up a winning goal in the second half.
Donovan scored his only goal of 2011 for the national team in the Yanks' 4-2 loss to Mexico in the Gold Cup final.
Under Jurgen Klinsmann, Donovan went on to miss every match after the Americans' friendly with Costa Rica. However, the last two of those were due to the MLS Cup final (which Donovan and his Los Angeles Galaxy side won) and an injury to his right quadriceps cost him matches against Honduras and Ecuador.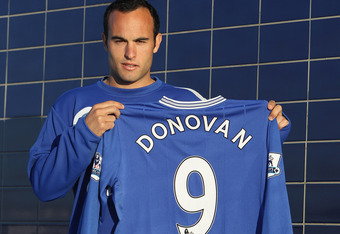 Alex Livesey/Getty Images
However, going into 2012, it will be interesting to see what sort of a role that Donovan will play for the American national team.
Donovan starts off next year by playing for two months in the Premier League for Everton, similar to what he did two years ago for the Merseyside club.
However, playing in England right before playing for the Galaxy and the U.S national team's World Cup qualifiers will certainly put a strain on Donovan.
Already Donovan has started to tire with the Galaxy; he was substituted off of four MLS matches last season, the same total as over the past three seasons.
Considering how difficult it can be in the Premier League (even though he did succeed there two years ago), it should be expected that Donovan's stats and appearances will probably go down.
This is not to say that this is the start of a downward spiral for the American; instead, his stats should increase in 2013 assuming he does not go out on loan to Europe again.
Considering how weak the opposition will be for the Americans in the first round of CONCACAF qualifying (Antigua and Barbuda, Jamaica and Guatemala) and Klinsmann's large amount of young players that are coming through the ranks, Donovan should expect a smaller role in 2012.
Even if Donovan is coming off the bench, he is bringing with him a strong presence. He is one of the top players in CONCACAF and will bring with him a strong offensive flair.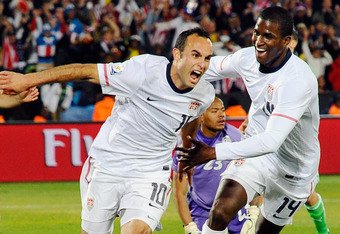 Kevork Djansezian/Getty Images
Of course, that would be a huge swing in momentum if Donovan were to be the first man off the bench. If the U.S. is ever down (which they should not be, at least against these opponents), they have a man who can score the big goal and has the creativity to take them far.
If Donovan continues to start (which is what most people are thinking), he will continue to destroy these opponents and will persist these opponents just like he has always done.
Just don't be surprised if Donovan finds himself getting substituted more often. With many young players in their ranks (including a returning Stuart Holden), Klinsmann could replace Donovan in these matches in order to allow him to keep up his fitness.
With Donovan being 32 years old once the 2014 World Cup begins, this could turn out to be the start of a strategy for the national team in Brazil three years from now.
Who knows. Maybe if it's used, it could be a strong and positive strategy for the Americans.
Follow me on Twitter @Andrew_Jordan