James Franklin and the Best Performances so Far in the 2011-2012 Bowl Season
Jamie Squire/Getty Images
We are not even into January yet, and the college bowl season has already turned in some great games. Five of the bowls have been decided by 10 or less points, and two were decided in the final minute.
But some players have really stood out from the crowd already with stellar performances.
Here are the six best performances of the 2011-2012 bowl season.
Michael Smith, Utah State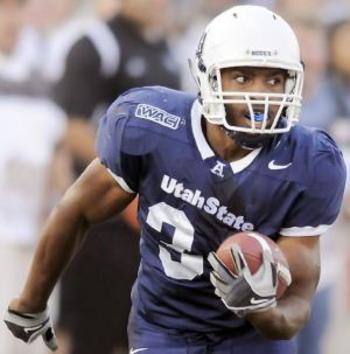 When people talk about Utah State, there isn't much to talk about outside of running back Robert Turbin, who has over 1500 yards on the season. His partner in crime, senior Michael Smith, made sure people remembered his name as well.
He rushed for 157 yards, but did so on just 12 carries for a staggering 13.1 yards per carry. Two of those runs went for touchdowns. The Aggies lost in the final minute to Ohio, but the best performance was turned in by Smith.
Blaine Gautier, Louisiana Lafayette
Chris Graythen/Getty Images
Gautier staked his claim to be one of the best dual-threat quarterbacks in a non-BCS school with his stellar play in the R+L Carriers New Orleans Bowl. He threw for 470 yards with three touchdowns and just one interception while rushing for 22 yards as well.
But what was most impressive was his final drive of the game. With 35 seconds left at his own 18-yard line, he went 3-of-3 passing to give just enough room to his kicker to make a 50-yard field goal. This was the most exciting bowl so far, and Gautier was the MVP.
Gerrell Robinson, Arizona State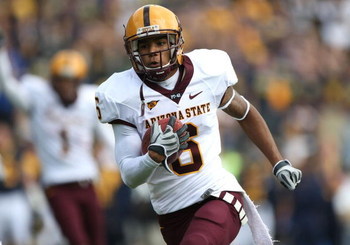 As a relatively unknown receiver in a deep draft class, Robinson needed a big performance to step out of his competitors' shadow. He did that in a big way against Boise State, racking up a whopping 241 yards on 13 catches, which gives him 1,397 on the season.
At 6'4" 222 pounds, NFL scouts who came to see Kellen Moore, Doug Martin and Nate Potter started to take notice.
Lampford Mark, Nevada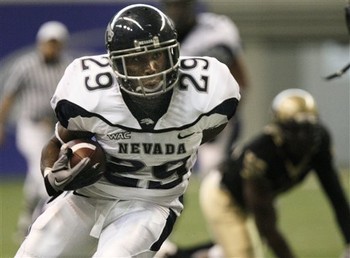 When leading rusher Mike Ball was kicked off the team, many people thought Nevada would be completely blown out by a ranked Southern Miss squad. They couldn't have been more wrong, and it is all because of Lampford Mark.
With 183 yards and two touchdowns on the ground, this was his sixth consecutive 100-yard game. His 12 points were the only points not scored by the kicker. Unfortunately, we won't get to see him play next year because Mark is a senior.
James Franklin, Missouri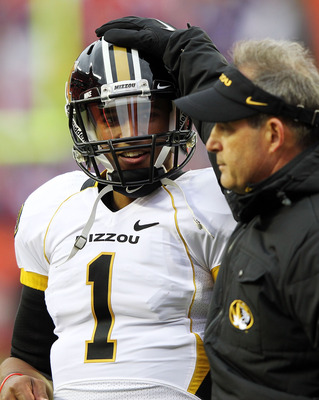 Jamie Squire/Getty Images
Franklin is one of the up-and-coming quarterbacks in the country, and he showed why against North Carolina. The Tigers had a flawless game plan, and their signal caller executed it perfectly. He was 15-of-23 passing for 132 yards, a touchdown and an interception, but he also ran for 142 yards and two touchdowns.
Oddly enough, his runs netted more yards per play than his passes. But he's also had two 300-plus yard passing games in his first year as a starter. Big things are on the way for Franklin in the very near future.
Keep Reading