SEC Football Schedule 2012: Release Date, Rumors and More
December 27, 2011
Kevin C. Cox/Getty Images
Update: Dec. 28 at 10:30 a.m. 
The 2012 Southeastern Conference football schedule has officially been released. Below you find the whole list of games and their date.
Aug. 30
South Carolina at Vanderbilt

Sept. 8
Auburn at Mississippi State
Florida at Texas A&M
Georgia at Missouri

Sept. 15
Alabama at Arkansas
Florida at Tennessee

Sept. 22
LSU at Auburn
Kentucky at Florida
Vanderbilt at Georgia
Missouri at South Carolina

Sept. 29
Ole Miss at Alabama
Arkansas vs. Texas A&M
Tennessee at Georgia
South Carolina at Kentucky

Oct. 6
Mississippi State at Kentucky
Arkansas at Auburn
LSU at Florida
Georgia at South Carolina
Texas A&M at Ole Miss
Vanderbilt at Missouri

Oct. 13
Alabama at Missouri
Kentucky at Arkansas
Auburn at Ole Miss
Florida at Vanderbilt
South Carolina at LSU
Tennessee at Mississippi State

Oct. 20
Alabama at Tennessee
Auburn at Vanderbilt
South Carolina at Florida
Georgia at Kentucky
LSU at Texas A&M

Oct. 27
Ole Miss at Arkansas
Texas A&M at Auburn
Florida vs. Georgia (Jacksonville)
Kentucky at Missouri
Tennessee at South Carolina
Mississippi State at Alabama

Nov. 3
Alabama at LSU
Missouri at Florida
Ole Miss at Georgia
Vanderbilt at Kentucky
Texas A&M at Mississippi State

Nov. 10
Texas A&M at Alabama
Arkansas at South Carolina
Georgia at Auburn
Mississippi State at LSU
Vanderbilt at Ole Miss
Missouri at Tennessee

Nov. 17
Arkansas at Mississippi State
Ole Miss at LSU
Tennessee at Vanderbilt

Nov. 24
Auburn at Alabama
LSU at Arkansas
Kentucky at Tennessee
Mississippi State at Ole Miss
Missouri at Texas A&M 
Original Post
The 2012 Southeastern Conference football schedule was to be released on Monday, but unfortunately it wasn't. Still, though, we do know a few things, so let's get right to it. 
With conference realignment, the SEC was forced to shake up it's scheduling. This means a number of teams lost out on cross-division matchups, but do not fear because the big rivalries will remain in tact. 
The SEC is smart enough to know that holding on to top rivalries keeps the conference strong. There will also be new rivalries formed thanks to the new teams coming in.
Update
According to the Ledger-Enquirer, the Georgia Bulldogs 2012 schedule is set. The paper claims "it is all but official," meaning nothing is likely to change.
The delay of the release was caused by something, but it apparently had nothing to do with the Bulldogs. Here's the likely Georgia 2012 schedule.  
Sept. 1: Buffalo
Sept. 8: at Missouri
Sept. 15: Florida Atlantic
Sept. 22: Vanderbilt
Sept. 29: Tennessee
Oct. 6: at South Carolina
Oct. 13: at Kentucky
Oct. 20: Open
Oct. 27: vs. Florida in Jacksonville
Nov. 3: Ole Miss
Nov. 10: at Auburn
Nov. 17: Georgia Southern
Nov. 24: Georgia Tech
Format
According to MrSEC.com, the "SEC will attempt to keep the schedule format for each team as follows: three home games inside the division, three road games inside the division, one home game outside the division and one road game outside the division." 
The popular site also claims that the SEC may move to a nine-game conference schedule in the future.
Of course, there is no evidence of this, just mere speculation. But since the SEC expanded, it's something that many have pondered. 
Newcomers 
The Missouri Tigers and the Texas A&M Aggies are strengthening the best conference in college football, and both will be welcomed to the SEC with grueling schedules. 
Texas A&M will have the daunting task of playing in the SEC West and Missouri will join the SEC East, which is good because having three "Tigers" in the SEC West would just be too much. 
MrSEC.com also lays out what he believes will be the schedule. No dates are listed, only who will play who. 
He has the Aggies traveling to Alabama, Auburn, Ole Miss, Missouri, and hosting Arkansas(which may be at Cowboys Stadium), LSU, Mississippi State and Florida. 
He has Missouri traveling to Florida, South Carolina, Tennessee, Alabama, and hosting Georgia, Kentucky, Vanderbilt and Texas A&M. 
Of course, this is not official, but the actual schedule shouldn't be much different.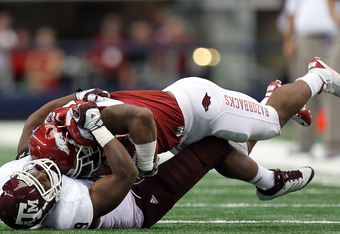 Ronald Martinez/Getty Images
Other Reports
One thing that has been officially reported about the Aggies is that they will in fact host the Florida Gators. 
The Gainesville Sun writes that the Gators will hit the road to take on the Aggies on September 8, and that LSU will remain Florida's permanent opponent from the SEC West. Will Muschamp certainly has his hands full in the near future. 
TheEagle.com reports that Texas A&M vs. Arkansas may not be taking place at Cowboys Stadium anymore due to low revenue. 
They'll still play one another because they're SEC West foes now, but it would've been nice to have the game be on a neutral site at an NFL field. 
It's unclear when exactly the schedule will be released, but one thing's for sure: it will definitely get fans pumped for next season. The hope is that the official schedule will be announced sometime this week. 
Be sure to stay tuned right here because once we know the schedule, we'll let you know.