SEC Football Schedule 2012 Projections: Early Details on the Rumored Schedule
December 27, 2011
Sarah Glenn/Getty Images
While the 2012 SEC schedule hasn't been officially released yet, minor leaks from programs and the 2011 schedule give us a clue as to how next season's schedule will play out.
Obviously the somewhat delayed release has made it so we don't know everything about the schedule by any means, but here are a few details we've gathered thus far.
Update: Tuesday, December 27th at 5:16 p.m. EST
SECSportsUpdate says that the conference schedule will be released tomorrow at 10 a.m. EST.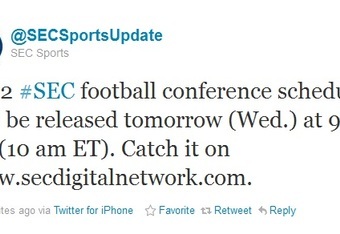 Pat Dooley of the Gainesville Sun says that newcomer Texas A&M will play host to Florida on September 8th.
The report also indicates that Ole Miss won't be breaking into the Gators schedule because of the entrance of new teams.
We still get to see Florida vs. LSU, and even get to see the Gators take on South Carolina.
According to MrSEC.com, Texas A&M may be squaring off against Arkansas as planned, but in College Station instead of Cowboys Stadium, with A&M being designated the home team.
While College Station would be gaining a game here, the site suggests that Alabama vs. Texas A&M is being moved to Tuscaloosa.
The ripple effect has created a lot of wild speculation about how the schedule will handle the rivalry between Kentucky and MSU. While they obviously want to keep it intact, it might not be a realistic possibility this season.
MrSEC.com has released a complete projection as to what the schedule will be, based upon small leaks like this and speculation as to how they'll go about handling the bumps in the road the new teams entering the mix will create.
It's unclear what the holdup is, as the schedule was expected to be released after Christmas, but it's safe to say we should have the official schedule in front of us very soon.