Every NHL Team's 2012 New Year's Resolution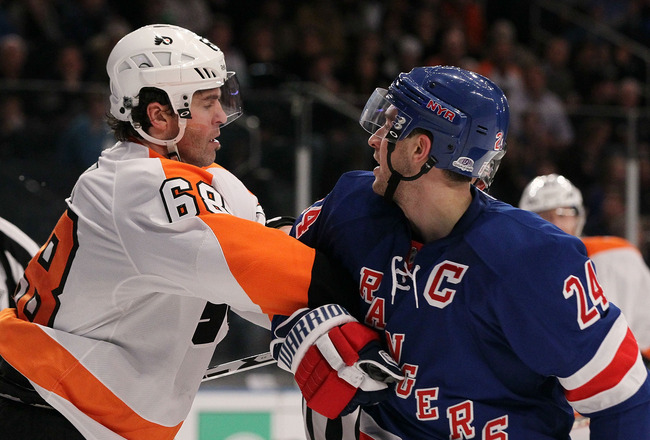 Jim McIsaac/Getty Images
Yes, it's that time of year again. Right after you eat two pounds of meat on Christmas Day, you begin to realize what you've done to yourself and you make the resolution to never eat like that again.
You buy a gym membership in January, which you likely will cancel in February and then return next year to repeat the process.
NHL teams have New Year's resolutions too, but seeing as how the players aren't really overweight (except Dustin Byfuglien), their resolutions are different.
Whether it be scoring more goals or stopping the penalties, each team has its resolution, and here they are.
Anaheim Ducks: Penalties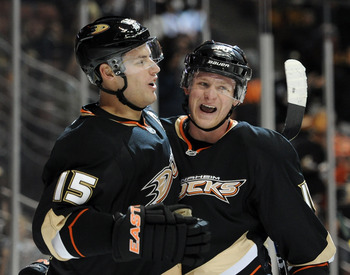 Harry How/Getty Images
Maybe it's just me, but every time I watch a game where the Ducks are losing, I'm almost sure to find Ryan Getzlaf or Corey Perry hacking away at somebody on the opposing team.
Getzlaf and Perry combined have a staggering 104 penalty minutes. Compare that to Toews and Kane, who have 40; or Giroux and Jagr, who have 28; or Gaborik and Richards, who have 24; or Datsyuk and Zetterberg, who have 16.
You start to get a clear picture. Getzlaf and Perry have just four fewer penalty minutes than those eight players combined.
When your best players aren't on the ice, that's not a good thing.
The Ducks are the most penalized team in the Western Conference, giving up 149 power plays to their opponents. For those of you keeping score at home, that's 4.25 penalty kills per game.
They've got a decent enough power play, which is ranked 12th in the NHL, but still, giving up fewer opportunities is never a bad idea for any team, and the Ducks need to do it the most.
Boston Bruins: Nothing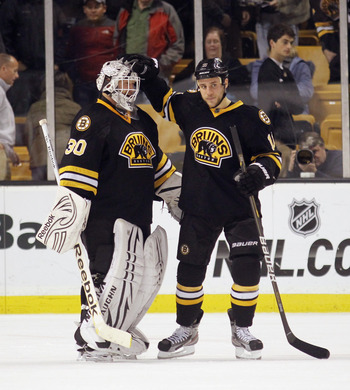 Bruce Bennett/Getty Images
When you're the reigning Stanley Cup champion, the best point-per-game team in the league and have the best ranked offense and defense, you don't change a thing.
Sure, the Bruins power play could use work, but when you're doing what they're doing, you don't want to change anything.
The only suggestion would be to hold on to Tuukka Rask. Tim Thomas is playing great, but he's not getting any younger.
Buffalo Sabres: Defense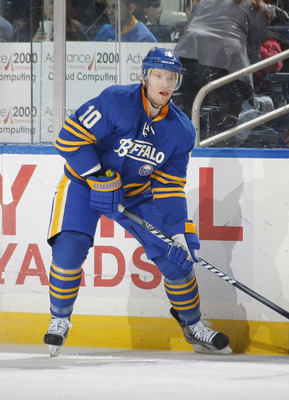 Dave Sandford/Getty Images
For a team that added Christian Ehrhoff and Robyn Regehr during the offseason, you'd think that Buffalo's defense would've gotten better.
While the Sabres offense would be good enough to land them a playoff spot, their defense is ranked 20th overall in the league while allowing nearly three goals a game.
Another suggestion would be to build a time machine and take back the Ville Leino contract. Leino is on pace to finish the season with 26 points, meaning he gets paid about $173,000 per point.
It's not really in the league of a Scott Gomez contract, but compare it to Claude Giroux, who makes $33,000 per point, and you start to see where the Sabres went wrong.
Calgary Flames: Scoring
Mike Ridewood/Getty Images
Calgary's defense is decent enough, being 13th in the league and only allowing 2.7 goals per game. That's not great, but it's good.
The Flames offense, however, is not so good. They're 24th overall, only scoring 2.5 goals per game.
While the Flames have four players with 10 or more goals, their scoring takes a plunge after that.
A trade for some depth scorers may not be a bad idea for the Flames, and could push them up into a playoff bubble team.
To their credit, the Flames have been outstanding against their division, posting a 10-3-0 record in the Northwest.
Carolina Hurricanes: Everything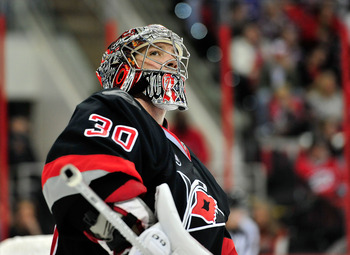 Grant Halverson/Getty Images
Top to bottom, this team is bad.
The Hurricanes' offense, defense, penalty kill and power play are all ranked in the bottom 10 in the league. They may be able to make small improvements, but they're all but done this year.
The best advice would be to draft well and hope to make some good signings during the offseason.
It wont get any easier next year when they're in a conference where only four teams make the playoffs and the other teams include the Penguins, Flyers, Rangers and Capitals.
On a positive note, they lead the league in goaltender scoring.
Chicago Blackhawks: Goaltending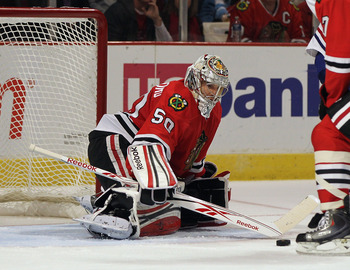 Jonathan Daniel/Getty Images
Although it's a problem that hasn't been present recently, over the season, the Blackhawks have had goaltending that's been nothing short of awful.
Corey Crawford currently has a 2.8 GAA with a .902 save percentage, while Ray Emery has a 2.5 GAA with a .908 save percentage.
While those numbers may not be bad for an average team, for a team that's supposed to be in the Cup hunt, they aren't promising. While Chicago is a very good scoring team, if those numbers keep up, they'll be brought down easily.
However, over the last few games, their goaltending issues haven't been too noticeable, so they may be correcting the problem already.
Colorado Avalanche: Trading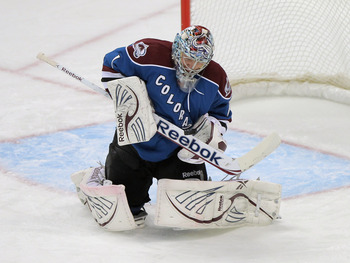 Doug Pensinger/Getty Images
When I say trading, I don't mean they need to do it; I mean they need to take away the GM's phone so he'll stop doing it.
The Avs have made some awful trades. It started last season when they moved Craig Anderson for a late-round draft pick, and swapped Chris Stewart and Kevin Shattenkirk for Erik Johnson.
It gets worse, if you thought Ray Emery and Corey Crawford had average stats, Semyon Varlamov's 3.1 GAA and .896 save percentage makes them Vezina contenders.
Varlamov was acquired by the Avs during the offseason...for a first-round pick.
In the Avs' current placement, that pick would go around the top-10 area.
Needless to say, trading isn't their forte.
Columbus Blue Jackets: Scouting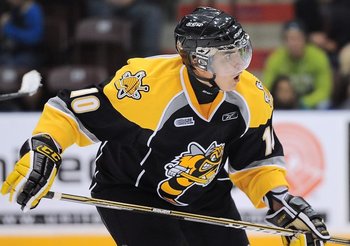 Not that it's that difficult to make the No. 1 pick, but if the Blue Jackets can find a way to screw it up, they will.
That's Nail Yakupov in the picture above, and he's slated to go first overall in the 2012 NHL Entry Draft.
Columbus is last in the league and is on pace to finish the season with just 51 points. While the first pick goes by lottery, the Blue Jackets would have the best chance at getting it if they finish the season at their current pace.
Dallas Stars: Penalties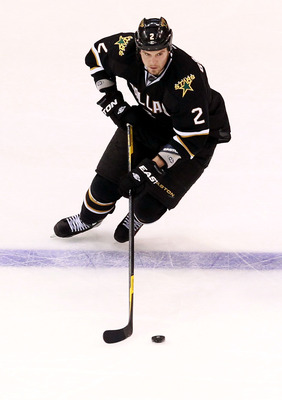 Ronald Martinez/Getty Images
Despite what some believe, the Dallas Stars really aren't that great of a team.
They're 15th or lower in the league in offense, defense, power play and penalty kill. Despite a hot start to the season, they're finally beginning to slow down.
What stands out the most, though, is their penalties, which is tied for the third most in the West.
Although that may not sound bad, when you consider the other three teams in that group are Los Angeles, Edmonton and Anaheim, you need to take a step back and look at what you can correct.
Detroit Red Wings: Road Games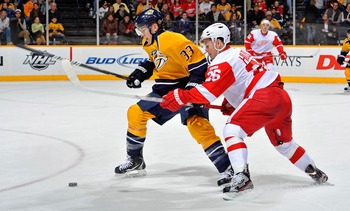 Frederick Breedon/Getty Images
For the average NHL team, a 9-10-0 road record wouldn't be that bad of a thing. For the Detroit Red Wings, it's not good.
As a Cup contender, you have to be able to perform away from home, especially considering you'll be playing in other arenas during the playoffs.
If you're the lower-seeded team with that road record, things don't look good for you.
To their credit, the Wings are 12-3-1 at home.
Edmonton Oilers: Veteran Leadership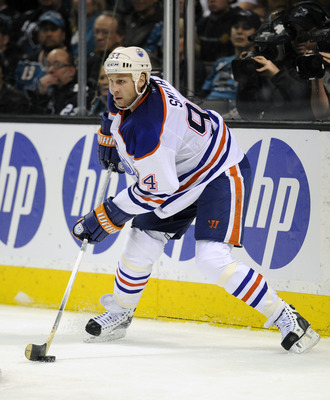 Thearon W. Henderson/Getty Images
The Oilers are a team that is chocked full of prospects. Between Taylor Hall, Ryan Nugent-Hopkins and Jordan Eberle, the future looks good in Edmonton.
That said, they seem to lack the veteran leadership that can help those players mature in their skill.
Sure, Ryan Smyth has been phenomenal since joining the Oil, but one player isn't enough.
With one or two other veteran players, the Oilers could be a playoff team, and that could be vital to the maturation of their top prospects.
Florida Panthers: Scoring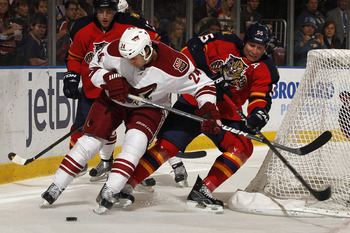 Joel Auerbach/Getty Images
The Florida Panthers are a surprise to some NHL fans, but by looking at all the signings they made over the offseason, it's easy to see why they improved so much.
Granted, Washington has been awful to date, but the Panthers are still No. 1 in the Southeast Division and have played well thus far.
Still, Florida needs to work on its offense. The Panthers are ranked 21st overall offensively and average 2.6 goals per game. If they can boost their offense, they'll make the playoffs and may hold the division.
Los Angeles Kings: Scoring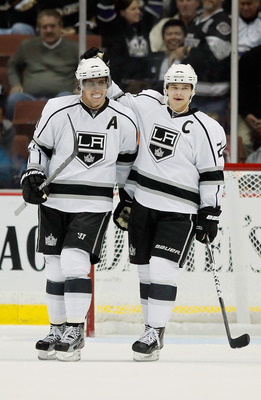 Jeff Gross/Getty Images
Having an offense that includes Anze Kopitar, Dustin Brown and Mike Richards as well as Simon Gagne and Justin Williams should easily get you some goals right?
Wrong.
The LA Kings are the worst offensive team in the league. They barely put up two goals a game.
Their defense and goaltending are certainly good enough to get them into the playoffs, but their offense is supposed to be their strong suit. With that being the exact opposite, they currently sit outside the playoff picture.
Fact is, the Kings need to get some more scoring from their players, whether it be from the depth or from the stars.
Minnesota Wild: Scoring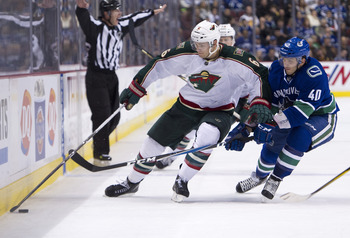 Rich Lam/Getty Images
Scoring again? Maybe I sound repetitive, but the Wild are awful at scoring goals.
They're not as bad as the Kings, but being 28th in the league with 2.3 goals per game is nothing worth bragging about.
It's also not playoff worthy. While Minnesota's defense is great, if the Wild make the playoffs, their current offense would get them crushed and knocked out of the playoffs quickly.
It's something that needs to be fixed, and with star prospect Mikael Granlund likely to not make his debut until next season, they'll likely need to find another way to fix the offense.
Montreal Canadiens: Complaining
Marianne Helm/Getty Images
Seriously though. About the only time I read about the Canadiens is when they're complaining about something.
Most notably was when Montreal police conducted a criminal investigation on Zdeno Chara for a hit (that was most likely accidental) on Max Pacioretty.
However, police were never mentioned when Pacioretty concussed star Penguins defender Kris Letang...
Now, Montreal officials are complaining that their new coaching hire doesn't speak French...yeah...
Just stop, please.
Nashville Predators: Manage Contracts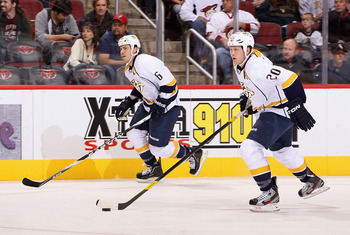 Christian Petersen/Getty Images
In case you've been living under a rock, one of the best defensive duos in the league both have their contracts expiring at the end of this season.
Shea Weber will only be a restricted free agent, but it's not exactly difficult to imagine that he may be upset with the Predators after reportedly being $4 million apart in contract talks during this past offseason.
Ryan Suter is an unrestricted free agent, and the fact that he hasn't been signed yet should be heavily looked upon.
If the Predators can't sign either player, they need to prepare to trade one or both of them in order to receive some sort of compensation.
New Jersey Devils: Goaltending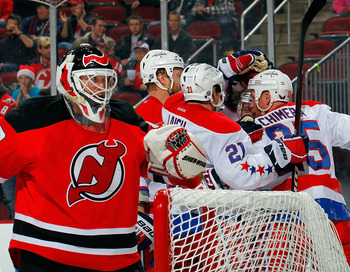 Paul Bereswill/Getty Images
Long gone are the days when the Devils were able to start Martin Brodeur 70-plus games in a season.
Brodeur is 39 years old now, and many speculate that he'll retire after the season ends.
In the 20 games he has played this season, Brodeur has a 3.06 GAA and an abysmal .884 save percentage.
Johan Hedberg is performing better, with a 2.45 GAA and a .913 save percentage in 18 games, but one has to question if Hedberg is really the starting goalie of the future for the Devils.
New York Islanders: Everything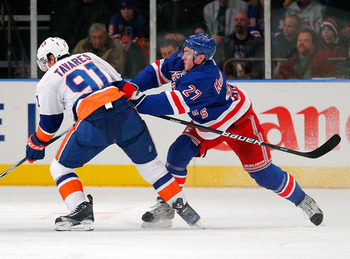 Paul Bereswill/Getty Images
The Islanders' special teams are below average, and their offensive and defensive play overall is plain awful.
They're 29th in goal scoring and 26th in goals allowed. That's not good, no matter how you look at it.
Another thing the Isles should consider is their development. They have some great prospects, and yet they don't seem to be doing a whole lot.
And for a delayed Secret Santa gift, maybe they can find somebody to take Rick DiPietro off their hands.
Yeah right...
New York Rangers: Power Play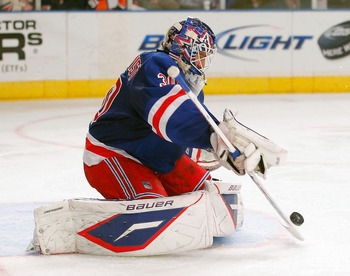 Paul Bereswill/Getty Images
There's not much for the Rangers to improve. They currently sit atop the Eastern Conference and have a defense ranked second overall in the NHL.
However, if you have to pick anything, let's go with the power play, which is currently only successful 15.9 percent of the time, ranking them 20th overall in the league.
The Rangers are in no trouble, but if they want to make their great team even better, they can take a look at the power play and make some improvements.
Ottawa Senators: Defense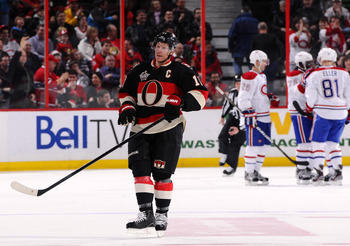 Phillip MacCallum/Getty Images
Ottawa currently holds a playoff spot, but if its defense keeps up the way it is, it won't be that way for long.
The Senators currently let in 3.3 goals per game on average. That ranks them 28th overall defensively.
Their eighth-place offense ranks well, but if they can't fix their defense, they'll find themselves watching the playoffs on TV.
Philadelphia Flyers: Discipline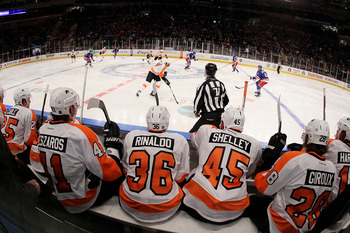 Jim McIsaac/Getty Images
When you're the most penalized team in the NHL, you should be sure better have a good PK to cover it.
The Flyers have one of the two, and unfortunately it's the wrong one.
Sure, 15th overall on the penalty kill isn't bad, but when you're the most penalized team in the league, it makes it a lot worse.
Fact is, the Flyers either need to improve the PK or make fewer appearances on the PK. Peter Laviolette's preference would probably be both.
Phoenix Coyotes: Ownership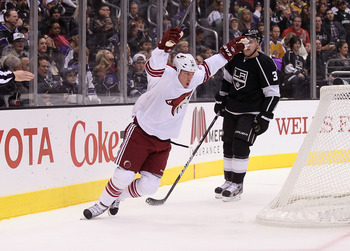 Victor Decolongon/Getty Images
Whether the Coyotes are purchased by an owner interested in keeping them in Phoenix or by an owner interested in relocating them, one thing is obvious: They need an owner.
For the good of the franchise, the Coyotes need an owner so that they can have a stable establishment and so that they can start spending some money on players they hope to acquire.
Once the Coyotes can do that, they'll be able to form themselves into a good team, no matter where they're located.
Pittsburgh Penguins: Stay Healthy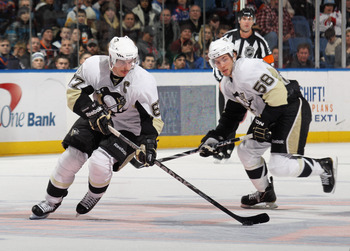 Bruce Bennett/Getty Images
Pretty obvious one here. Sidney Crosby made his long-awaited return to the NHL in early November...for eight games.
Crosby is out once again with no indication of a coming return. Star defenseman Kris Letang is also out with a concussion.
Evgeni Malkin has missed seven games this season, mostly for injury maintenance, but with his proneness to injury, Malkin is still a guy that the Penguins should be careful with.
Fact is, nobody wants to get healthy more than Pittsburgh does.
San Jose Sharks: Penalty Kill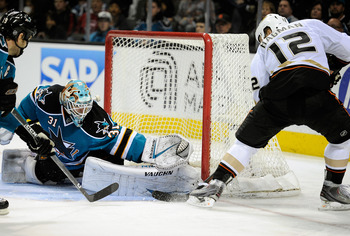 Thearon W. Henderson/Getty Images
Unlike the Flyers, the Sharks don't take a lot of penalties.
Unfortunately, they allow a goal in nearly one of every four penalty kills.
That's awful, and it's something the Sharks need to look at fixing—certainly before the playoffs come, and preferably earlier than that.
St. Louis Blues: Power Play
Christian Petersen/Getty Images
Since hiring Ken Hitchcock, the Blues have been the second-best team in the NHL, with Boston being the best.
Unfortunately, their 30th-ranked power play isn't so good. As long as they can keep winning, it's not a huge deal, but it's still something they could look to improve.
Regardless, the Hitch has done wonders in St. Louis, and if he's not the favorite for the Jack Adams Trophy, there are some seriously issues with the NHL awards.
Tampa Bay Lightning: Everything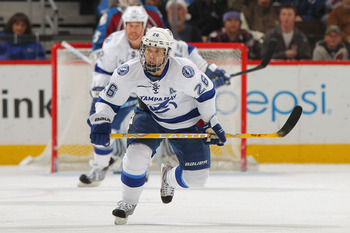 Doug Pensinger/Getty Images
Not much to say here. The Lightning score 2.6 goals per game, they allow 3.4 goals per game, they score on 14.3 percent of power plays, and they only kill off 80.9 percent of penalties.
That's the bottom 10 for everything but offense, which is ranked 18th, which can't be considered much better.
The Lightning have been one of the worst teams in the league since they played the embarrassing game against the Philadelphia Flyers in mid-November.
Toronto Maple Leafs: Defense, Defense, Defense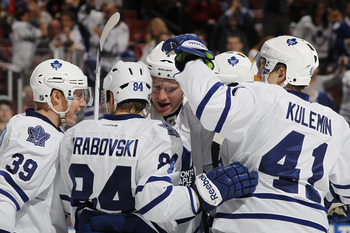 Joel Auerbach/Getty Images
Just plain awful. How they manage to still be a playoff team with their defense is unexplainable.
The Maple Leafs are 24th overall in goals against and have the worst penalty kill in the league.
Fact is, when you only kill off 73.5 percent of penalties, you've got a serious problem on your hands.
Ron Wilson will certainly have the time to fix it, seeing as how, for some strange reason, Leafs GM Brian Burke extended Wilson's contract as the Leafs coach.
Vancouver Canucks: Nothing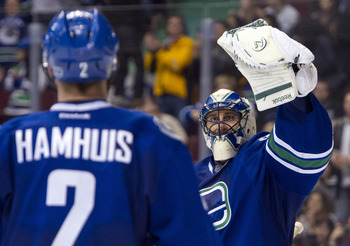 Rich Lam/Getty Images
The Canucks certainly aren't perfect in every area of the game, but they're a well-rounded team with good stats in every aspect, which is why you can't really pick on one specific thing to make improvements on.
I suppose if you want to nit pick you can make the resolution that Vancouver's goaltending will be more consistent.
Outside of that, Vancouver looks like a strong team.
Washington Capitals: Shake It Up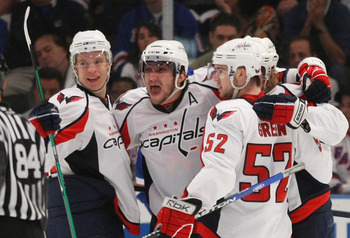 Bruce Bennett/Getty Images
At the start of the season, the Caps were widely considered to be a Cup favorite. At this point, nearly halfway through the season, the Caps currently sit at 11th place in the Eastern Conference.
No, that's not a typo.
The reality is, the Caps don't have the cap space to keep all of their free agents, and a trade was likely anyways going into the season.
Now, after a coaching change didn't seem to help at all, it's time for the Caps to shake up the team.
Also, taking the C off of Ovechkin may not hurt either. Ever since he's been awarded that honor he seems to have suffered from Patrick Marleau Syndrome.
Winnipeg Jets: Defense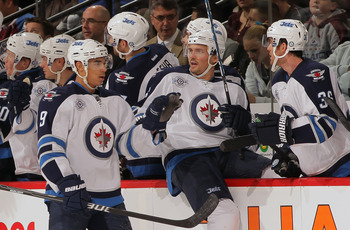 Doug Pensinger/Getty Images
The Winnipeg Jets aren't particularly awful in any aspect of the game, but they certainly aren't great in any of them either.
Their defense is ranked 20th overall, averaging 2.9 goals allowed per game.
That's definitely something they could work to improve on, and it may be just the thing that could push this bubble team into the playoffs.
Want More Coverage?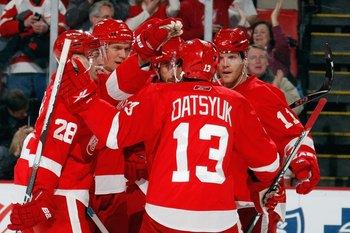 Gregory Shamus/Getty Images
Jordan Matthews is a writer for the NHL and the Detroit Red Wings. For more coverage, you can read Jordan's recent articles below:
NHL Stars and the Superheroes They Resemble
Is the NHL's Salary Cap About to Be Lowered?
Keep Reading