UFC 141 Fight Card: Jon Fitch vs. Johny Hendricks Breakdown
December 27, 2011
Jon Fitch's grinding style has not won him many fans over the course of his career in the UFC, but he may be forced to break his own mold at UFC 141, where the elite welterweight will take on two-time NCAA wrestling champion Johny Hendricks.
Heading into almost every one of his fights, Fitch is expected to quickly take his opponents to the ground, where he puts an emphasis on control instead of finishing the fight. While Fitch's top control is something to be appreciated, many fans have come to call Fitch a boring fighter.
Against Hendricks, Fitch may be forced into a more exciting fight. Fitch is an excellent wrestler in his own right, but his amateur accomplishments don't even begin to stack up next to the things Hendricks accomplished while wrestling at Oklahoma State.
Because of his experience in the sport, Fitch may have a slight edge over Hendricks in the MMA form of wrestling. However, it will still be far from easy for the former Purdue wrestler to take down one of the most decorated amateur wrestlers to ever compete in MMA.
Although much of it may have had to do with the element of surprise, Fitch was taken to the ground by B.J. Penn in his most recent appearance. Hendricks isn't going to surprise Fitch with a takedown, but taking the fight to the ground may not even be included in the former NCAA champ's game plan.
Despite his unbelievable amateur resume, Hendricks prefers to use his grappling ability to keep his bouts standing. With six of his 11 career wins coming by knockout, Hendricks also possesses some serious power in his hands.
It has been more than nine years since Fitch has suffered a knockout, though, and the fact that we haven't seen much of his striking during his time in the UFC doesn't mean he is inept in the stand-up department.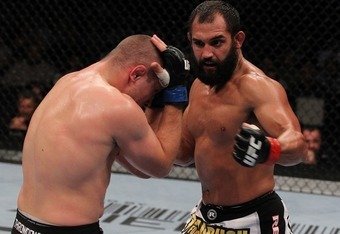 In fact, training out of American Kickboxing Academy, Fitch's biggest advantage over Hendricks may come in the form of his striking. Therefore, Hendricks' preference to engage in back-and-forth slugfests may lead to his downfall in this matchup.
Hendricks has the ability to force Fitch into a fight that will entertain fans, but at a cost. By abandoning the part of his skill set that could make him great, Hendricks may open the door for Fitch to score a takedown or two of his own between striking exchanges that will likely lean in the favor of the more experienced fighter.
For an up-and-coming fighter like Hendricks, this bout provides a win-win opportunity to gain experience along with a chance to become a contender. Unfortunately for Hendricks, stubbornness and inexperience could hurt him on Friday.
In what some may call a lose-lose situation, Fitch will take the lesser of two evils by picking up a hard-fought decision victory over an opponent who hasn't yet proven himself to be an elite welterweight.
Sean Smith is a Featured Columnist for Bleacher Report MMA. For the latest insight and updates on everything MMA, you can follow Sean on Twitter @SeanSmithMMA.