8 Takeaways from the Philadelphia 76ers' First NBA Game in 2011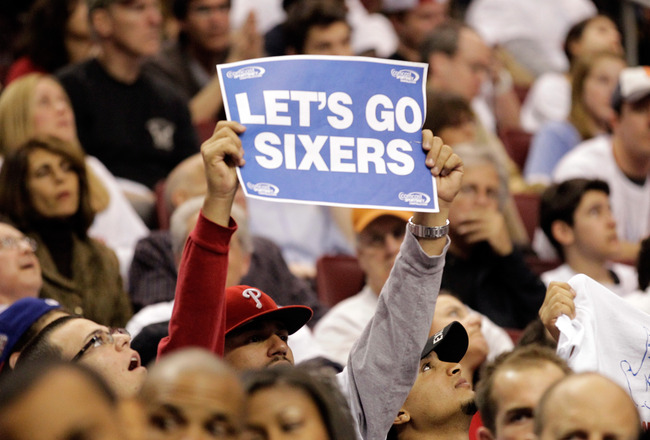 Rob Carr/Getty Images
The Philadelphia 76ers' 107-103 loss to the Portland Trail Blazers on Monday was only one game out of the 66 that they will play this season, but many of the team's strengths and weaknesses were clearly evident.
As with any game, there were some good aspects (they held Portland to 41.2 percent shooting), some bad (the Blazers finished 9-for-19 from beyond the arc), and plenty of ugly (20 turnovers).
Even with 16 fewer games than normal, the 2011-12 campaign is still more of a marathon than a sprint. So even with a compressed schedule, there is more than enough time for the 76ers to learn from their opening night loss before the season gets away from them.
So with that in mind, here is a look at eight key takeaways from the 76ers' game against the Trail Blazers.
1) Jrue Holiday Is Still a Work in Progress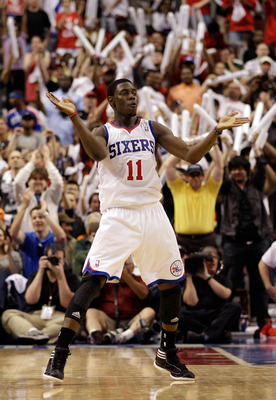 Rob Carr/Getty Images
After filling the stat sheet against the Washington Wizards in the preseason, 76ers' point guard Jrue Holiday had difficulty attacking the Portland defense on Monday. Holiday finished with 13 points, but only shot 4-for-10 from the field, and committed six turnovers.
"I had six turnovers today and those are possessions that we need," said Holiday after the game.
On the defensive end, Holiday had trouble keeping up with Blazers' combo guard Jamal Crawford, who scored 12 points in 22 minutes off of the bench.
In only his third NBA season, the 21-year-old Holiday is still a work in progress, so his opening night performance shouldn't be scrutinized all that intensely. Rest assured, the 76ers' young point guard has already put the struggles of Monday night behind him and will soon regain the form that he displayed last season.
2) Unusually Sloppy Play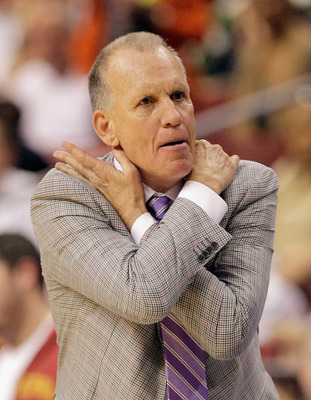 Rob Carr/Getty Images
The 76ers—who averaged the fewest turnovers per game in the NBA last season (13.0)—turned the ball over 20 times against the Trail Blazers on Monday. Those miscues led to 28 Portland points, and were the main reason why Philadelphia was unable to pull out a victory.
"They scored 28 points off of turnovers, and I told our guys that we can't win that way," said Collins in his postgame press conference.
For a team that usually takes great care of the basketball, Monday's performance was clearly an aberration. Only twice last season did the 76ers commit 20 or more turnovers in a single game.
Going forward, expect a renewed emphasis on taking care of the ball, even if it means a less aggressive approach while on the fast break. The 76ers are well aware that they can't afford to be reckless with the basketball if they have any chance on improving on last season's .500 mark.
3) Andre Iguodala's Improved Jumper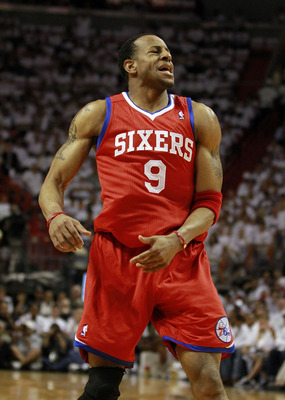 Marc Serota/Getty Images
Just as 76ers' fans were beginning to accept Andre Iguodala as a defensive specialist, the eighth-year swingman had one of his best all-around games in recent memory.
Against Portland on Monday, Iguodala finished with 22 points, eight rebounds, three assists and four blocked shots. The most impressive aspect of his performance was the unexpected barrage from beyond the arc—Iguodala was 4-for-8 from three-point range against the Blazers.
If his outside shot is now a viable weapon in his offensive arsenal—a perfect complement to his ability to attack the basket—Andre Iguodala could be in line for an All-Star caliber season in 2011-12.
4) The 76ers Continue to Spread the Wealth Offensively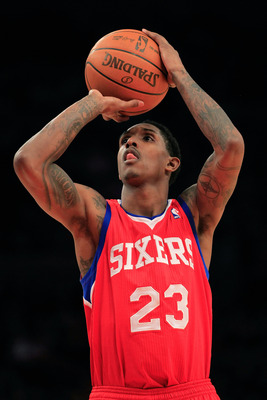 Chris Trotman/Getty Images
Balanced scoring was a hallmark of last year's 76ers team, and it appears as though the 2011-12 version is no different.
Seven players finished in double figures against the Trail Blazers, led by Lou Williams who scored 25 points off of the bench. For a team with no clear superstar, the 76ers will need consistent offensive contributions from virtually everyone if they have any chance of making the next step in the Eastern Conference Playoffs.
5) Don't Read Too Much into Doug Collins' Substitution Patterns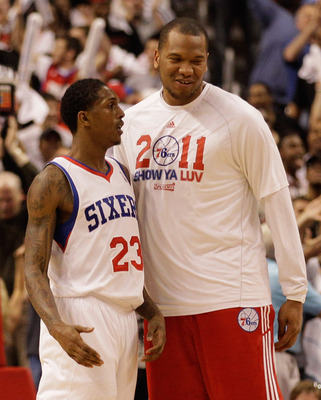 Rob Carr/Getty Images
With his team well-rested (and with an off day on Tuesday), 76ers head coach Doug Collins took every opportunity to shorten his rotation against the Trail Blazers. Lou Williams, Thaddeus Young and Evan Turner were the only reserves to see action in Portland, and all played at least 27 minutes.
The lack of substitutions was likely due in large part to the athleticism of the Blazers' front line, especially LaMarcus Aldridge and Gerald Wallace. With 66 games in 123 days—and 16 sets of back-to-backs—the 76ers won't often have the luxury of only going eight deep many times this season. So expect to see a lot more of Tony Battie, Marreese Speights and Andres Nocioni in the coming weeks and months.
6) Spencer Hawes Is Much Improved over Last Season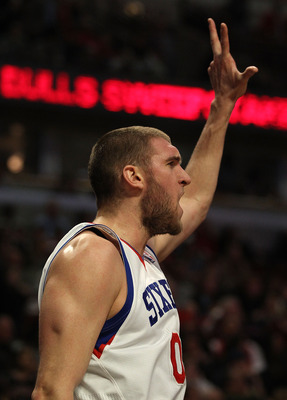 Jonathan Daniel/Getty Images
In a losing effort, Spencer Hawes was perhaps the star of the night for the 76ers against the Trail Blazers. He finished with 10 points, 14 rebounds and 9 assists in a stellar offensive performance that Sixers' fans hope is a harbinger of things to come.
To be fair, Hawes has been playing with a renewed energy that has been evident for quite some time now. In the 76ers' two preseason contests against the Washington Wizards, Hawes averaged eight points and 11 rebounds.
Not only does Hawes appear to be much quicker than he was a season ago, but he frequently initiated the offense from the top of the key versus the Blazers. Hawes was so effective on Monday that none of the 76ers' reserve big men (Tony Battie, Marreese Speights, Nikola Vucevic) saw any action.
It's no secret that the center position was the primary area of concern for the 76ers heading into the 2011-12 season. And while it's far too soon to make any definitive judgment, Hawes seems to have brought a level of intensity that was missing last year from the 5 position.
7) Elton Brand's Lack of Athleticism May Be an Issue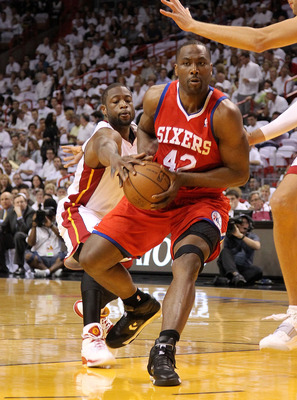 Mike Ehrmann/Getty Images
Statistically, Elton Brand put up decent numbers against Portland on Monday (10 points and eight rebounds in 28 minutes). On the defensive end, however, Brand had very few answers for the Blazers' athleticism in the low post.
With LaMarcus Aldridge, Gerald Wallace and Marcus Camby seemingly grabbing rebounds at will, Doug Collins often played Thaddeus Young at the 4 spot in an attempt to match up better defensively. Portland's work on the glass—50 total rebounds, 17 offensive—led to them taking 14 more field goal attempts than the 76ers.
As the season progresses, it'll be interesting to see what lineup the 76ers will use against teams who boast athletic, high-energy players at the 4 and 5 positions. Brand has a strength advantage over most power forwards in the NBA, but don't be surprised to see him on the bench late in games when Philadelphia faces younger, faster teams.
8) Evan Turner Began to Define His Role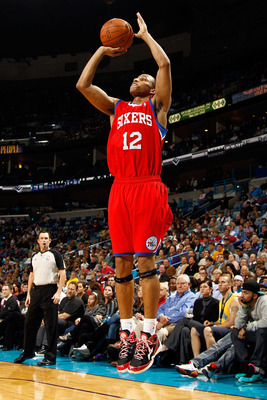 Chris Graythen/Getty Images
Former No. 2 draft pick Evan Turner had a solid game in the 76ers' season opener, scoring 10 points on 5-for-11 shooting. He showed good form on his newly re-worked jump shot, and played exceptional defense despite fouling out late in the fourth quarter.
Most importantly, Turner played nearly twice as many minutes against Portland as starting shooting guard Jodie Meeks. That will probably be the case going forward as Collins' plan is to gradually work Turner in at the 2 guard spot until he feels comfortable playing with the rest of the first team.
At some point this season, Turner should be starting alongside Jrue Holiday in the backcourt. If Turner continues to play like he did against the Blazers, that time will come sooner rather than later.
Keep Reading

Philadelphia 76ers: Like this team?