Cleveland Cavaliers: What Went Right and Wrong from Their First NBA Game
December 27, 2011
Mike Lawrie/Getty Images
High hopes may not abound in Cleveland this season, but even those with the lowest of expectations may have been disappointed with the Cavaliers 2011-2012 season opener.
For four quarters the Toronto Raptors were better than the Cavaliers in regards to offense, defense, hustle, intensity, running, tying their shoes and breathing. 
While it may not have been the start Kyrie Irving was expecting in his professional debut, there were some positives to take away from the game as well.
A few observations of what went right and wrong for the Cavaliers:
What Went Right
Anderson Varejao.  Andy enjoyed a successful return to the court with 14 points and 10 rebounds and showed the hustle and craftiness Cleveland had been lacking when he went down.  His seven offensive rebounds were huge in helping Cleveland stay moderately close, even in the fourth quarter.
Alonzo Gee provided a nice offensive spark off the bench for a starting unit that looked like no one wanted the ball.  Gee did a nice job driving the lane and putting some actual pressure on the defense, something that few Cavaliers could do.  His final stat line showed his production, collecting 14 points to go along with three rebounds, three assists and three steals.  Thankfully he wasn't hurt coming down horrifically after a called-off dunk.
Tristan Thompson was overshadowed by Kyrie Irving's debut in the game, but it was Thompson who put on the better performance.  Thompson made the most of his 17 minutes, scoring 13 points and grabbing five rebounds.  His most impressive feat?  Shooting 5-of-7 from the foul line, something he struggled mightily with in college.
Ramon Sessions, despite being demoted to a bench role, did a tremendous job leading the second team.  He showed off a newly-improved outside shot to go along with his driving abilities.  Sessions recorded a game-high 18 points to go along with four rebounds and six assists in only 21 minutes.  If his early three-point shooting isn't a fluke, Sessions could be in for a big year.
What Went Wrong
Pick and roll defense.  Simply, there was none.  The Raptors knew if they could get Varejao out of the paint then they could have their way inside.  For the game Toronto shot 53 percent from the field, many coming on open looks inside.  To the Raptor's credit, they did a good job of spreading the ball around and creating open shots for each other, but the Cavaliers defense was severely lacking.
Communication.  This can be healed with time but the talking, especially on defense, was awful.  Even in the fourth quarter guys were still getting caught in the wrong rotations which lead to easy buckets for the Raptors.  With two new starters and two other players returning from long injuries, I expect this to improve.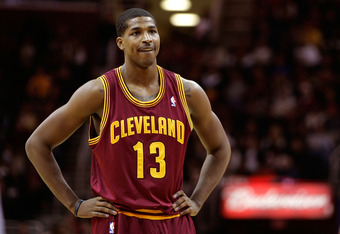 Mike Lawrie/Getty Images
Ryan Hollins still can't catch an inside pass.
Antawn Jamison still hasn't met a shot he didn't like, despite missing 14 of them.
Omri Casspi never looked comfortable, and missed all four of his shots.  The Cavaliers need him to be a source of offense this season, so hopefully he can turn it around.
The fans.  Cleveland failed to sellout the home opener for the first time since 2004.  Even the Indians still sell out the first game every year and they have to sell twice as many tickets.  This could be the start of some empty houses in Cleveland for the next few years if Cavs fans decide not to come out and support the young team.
Kyrie Irving did a lot of nice things, but Jose Calderon flat out owned him.  Irving's offensive game was essentially shut down and he couldn't get to the foul line either.  Don't give up on the rook yet, however.  One bad game won't define his career even though everyone expected more right away.  Kyrie Irving will bounce back but for now Cavs fans should focus on the positives, such as his seven assists to only one turnover.
Bottom Line
With 65 games left to go, it's important not to let one game dictate how the season will go (especially since the Cavs beat Boston on opening night last year) but to recognize what needs improving. 
Cavalier fans need to realize that just like last year there's going to be headaches and growing pains that go along with any young team, and try to be patient.  For now, enjoy watching the development of Kyrie Irving, Tristan Thompson and Omri Casspi as they hopefully secure spots as future building blocks of the Cleveland Cavaliers.