Why the Denver Nuggets' First Win Is a Sign of Things to Come
December 27, 2011
After nearly seven months of waiting for their 2011-12 season to tip off (two months late), the Nuggets came out hot and fast and never let up in Dallas on Monday night.
Denver's offense scorched, as a multitude of players shot lights-out.
At one point during the second and third periods, Dallas didn't score a field goal for 10 minutes and the Nuggets out-scored the Mavericks 27-3. Denver had won the game by then, and stretched their lead to 30 points in the third quarter, and eventually were victorious 115-93.
From a Nuggets' fan standpoint, there was a lot to like in the first game, and many things to take away from their first conquest of this shortened 66-game season.
1. Ty Lawson has arrived
Not to say he wasn't an NBA-level player before, but Lawson has developed into something special.
After Chauncey Billups was traded away late last season, Lawson became the starter with mixed results.
But it looks like he put in lots of work, both in the US and overseas, and the third-year point guard played with poise, confidence and looked as if he was ready to be the full-time starter in the Mile High City.
Lawson finished with a game-high 27 points on 10-of-15 shooting, including 3 three-pointers, 4 rebounds and 4 assists.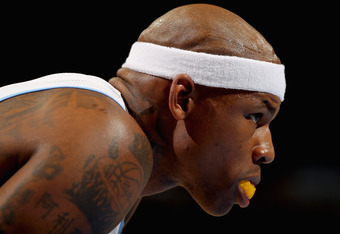 Doug Pensinger/Getty Images
He was electric from the game's tip until coming out late in the fourth and Lawson could be one of the top point guards in the West if he plays like that all year.
2. Andre Miller could be the NBA's Sixth Man of the Year
When Andre Miller came into the game in the first quarter, he was determined to show all the youngsters he could still play.
Miller had multiple quick drives, one a double spin to the hoop for a lay-in and it was apparent that the 12-year veteran hasn't lost a step.
Miller scored 18, but also stole the ball three times and dropped five dimes.
Most valuable, though, is the veteran's ability to command respect and control the offense any time he's on the floor.
Plus, Karl will be able both Miller and Lawson together, which worked quite well for most of the season-opening game.
3. Denver's depth dominated Dallas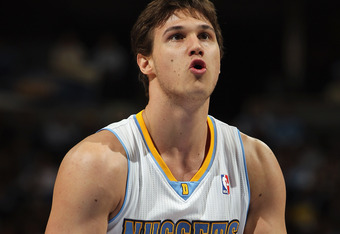 Doug Pensinger/Getty Images
Beyond just Andre Miller, the Nuggets bench production was phenomenal Monday night.
Al Harrington provided an instant punch, driving to the hoop for lay-ups and knocking down open threes as well for 18 points.
New Nuggets additions Rudy Fernandez (8) and Corey Brewer (5) added some scoring as well, and the bench racked up 53 points on the night.
The backups also grabbed 25 boards and forced nine turnovers, as they were active all night on both ends.
Being one of the deepest teams in the league, with four players coming off the bench who have started at the NBA level, the Nuggets are set up to contend on a nightly basis with seemingly better teams that are star-oriented.
4. Danilo Gallinari out-played Dirk Nowitzki
Danilo Gallinari got it going early on as his length came into play often. His playing with a reckless abandon resulted in rebounding over opponents (7 on the night) and blocking a shot.
Gallinari's athleticism gives him the ability to drive around a defender and throw down a dunk—which he did twice Monday night—or run the court with the best big men. He's fast for his 6'10" size, and he's a sweet shooter who sinks free throws and can hit threes as well.
Gallinari finished with 15 points, 7 boards, 3 assists, 1 steal and 1 block, playing an all-around game in the Nuggets' win. Dirk ended with 20, 4, 0, 0 and 0.
If Gallinari can play like he did tonight, scoring points efficiently while sharing the ball and playing hard on both ends of the court, he'll be very valuable to Denver's success this season.
5. High-energy play on both ends wins games
The Nuggets were deeper, faster and younger than the Mavericks, and it showed in all phases of the game.
On offense, Denver ran Dallas out of their own gym to the tune of 20 fast-break points. The Nuggets enjoyed easy run-outs numerous times and it will be a key to victory as the season goes on and older teams tire out.
They also penetrated the paint and dished to outside shooters well, as playing actively benefited the team by giving Denver open looks at the basket.
Defensively, the Nuggets played with a mile high energy all night, forcing 19 turnovers that led to 24 points.
Gallinari forced Dirk into some difficult shots, Nene swatted Shawn Marion emphatically on one drive and Brewer played physically when he got in late in the game.
Overall, the Nuggets' depth and youth gave them the easily-seen energy advantage over the Mavs, and if they play that way all season, Denver will win gobs of games.
Lastly, Nuggets fans can know coach Karl is hungry for even more than he saw tonight, despite Denver destroying Dallas by 22.
"For the most part, our defense was solid," Karl explained. "Once we got control in the second quarter, our defense was solid, even better than that at times.
"I was disappointed in our offense; we missed a lot of shots," he said, although they scored 115 points. "We didn't play 48 minutes of aggressive, but we played a lot."
Yes, Karl was happy to get the win, but he was cautious not to get too crazy this early in the season.
"We have a lot of room to grow, but I was very happy with what we got. We'll kind of figure out how good we are" (against good teams in this early stretch).
Karl's words are wise, and the while the Nuggets took down the remnants of the World Champions of last year—and in a dominating fashion—it's too early to be predicting a deep run into the playoffs for Denver.
Though, if they can play with high-energy—defensively and offensively—and get production from starters and the bench, the Nuggets will be one of the better teams in the Western Conference this season.
I predicted the Nuggets will go 46-20 in my season preview, and am comfortable standing by those numbers. Whether they play that well will have to be seen.
But if Denver plays anywhere close to as well as they did Monday night, they will be capable of beating any team in the NBA.
Rich Kurtzman is a freelance journalist actively seeking a career in journalism. Along with being your Denver Nuggets Featured Columnist, Rich is the Denver Broncos and CSU Rams Examiner and Kurtzman also writes for Blake Street Bulletin, Stadium Journey, and Mile High Hoops.
Follow Rich on twitter for breaking news, need-to-know retweets and interesting insight on the Rams and everything Colorado sports-related.
Follow Rich on facebook to links to all his pieces and breaking news.