Cotto-Margarito 2: Could There Be a Cotto-Margarito 3 Down the Line?
December 27, 2011
Al Bello/Getty Images
It hasn't even been three weeks since Miguel Cotto and Antonio Margarito squared off in the ring for the second time in their careers and yet their paths seem to be completely different now.
Miguel Cotto seems to have reclaimed his top boxing star status and is probably going to end up in another pay-per-view as the A side.
Antonio Margarito is 1-3 in his last four fights and seems to have been written off as a career-long cheater who would never have made it if he hadn't worn loaded wraps.  There is no proof that Margarito did such things at any point in his career, but after being caught with the wraps on before his fight with Shane Mosley, it cast doubt in fans' minds.
After the fight, Miguel Cotto stated that Margarito meant nothing to him.  In effect that should put to rest any chance of them having a third match.
And yet it is worth bearing in mind that their first two matches were great pay-per-view draws.  It might not be the best thing for boxing, but it is something that could be exploited for the fans' coin.
The question is: can an interest in this fight be exploited or drummed up?
And, quite honestly, yes, it can be.
Many fans were satisfied with the beatdown that Margarito got at the hands of Miguel Cotto and before him Manny Pacquiao.  Others won't be satisfied unless he is beaten to a pulp every time he steps in the ring until he retires.
They would certainly be among those who would pay to see a third fight.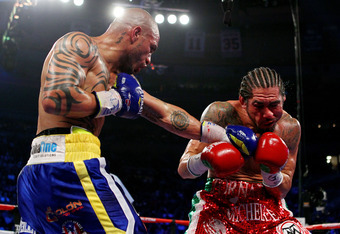 Al Bello/Getty Images
More would probably pay to see a third contest between Cotto and Margarito because the second fight didn't go as long as the first.  Some fans have voiced the opinion that if Margarito was given more time to fight, he could have made a comeback like last time.
It would be interesting to see how that fight would play out and if Margarito could make a comeback, unlike in the second fight.
The problem is that Cotto was already hesitant to make a second fight with Margarito.  He almost pulled out when it looked like Margarito wouldn't be licensed to fight in New York because he wasn't willing to fight him anywhere else.
With Cotto not wanting Margarito to make any money off of a rematch with him in the lead up to their second fight, it's hard to believe that he will allow himself to do business with the disgraced Mexican boxer in the future.
The only way that Cotto might reconsider is if enough fights dry up outside of a proposed third match because whatever Cotto might feel for Margarito, at his core, he is a businessman.
And there will always be good business in making fights like Cotto-Margarito 3.