Boxing & the New Year: What the Sport Needs to Do in 2012 to Get Back on Track
December 27, 2011
Ethan Miller/Getty Images
Boxing didn't exactly have a great year in 2011.  By the same standard it wasn't terrible either.
It was just more of the same.
That's the problem.
If boxing were still the only game in town, then it wouldn't be an issue for those that run the sport, but with MMA as an emerging force those in charge need to rethink their priorities.
It isn't even MMA.  It's YouTube, Facebook and Twitter.  It's new sports and new formats for shows which can be made over the Internet.
It's the 21st century.
Technology has evolved along with combat sports, and there are now new ways for society to obtain entertainment and do it at a fraction of the cost.  
They don't have to pay for premium cable.  They don't have to stay at home and buy a pay-per-view.  
They can go to a pub with their kids and watch it.  They can view a regional show over an Internet stream.
People, and potentially new fans, can choose an almost limitless amount of content from the Internet and the world around them and enjoy it.
Boxing could learn from this.  It could study the emerging trends and what is working for the UFC, the premier company in MMA, and fix its own flaws.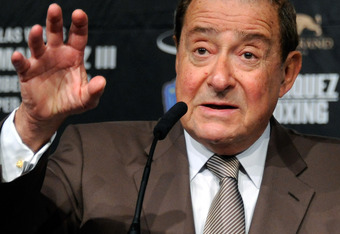 Ethan Miller/Getty Images
But they don't, and it all comes down to one thing.
Ego.
The top promoters in boxing such as Bob Arum and Gary Shaw either want to hop on the MMA bandwagon without really understanding the sport or insult it and ridicule it.  They also stand by the archaic methods they have used in the past to promote a fight.
Who cares if there is a buildup show on HBO for a pay-per-view?  It should be on YouTube going viral.
Who wants to watch a Showtime title fight in this economy?  Most would rather stick to basic cable.
Boxing has had the freedom to do what it wanted for so long that it didn't have to please the fans.  The fans would come to the sport.  The Internet started changing that, and MMA quickly jumped in to fill that void.  They came to the fans.
Now boxing and the power brokers that control it need to humble themselves and reach out to the fans and those that could become fans.
Because the sport can still be great, but it needs to change.
In the information age there are so many ways to reach people.  
E-mail, Twitter, Facebook and texting all work.  Somehow boxing promoters have learned to avoid all of that and with it the true voice of the fans.
And if they ignore it long enough, those fans will lend their voice to someone else.