Stone Cold Steve Austin vs. Brock Lesnar: Could This Match Actually Happen?
January 2, 2012
No, Stone Cold Steve Austin isn't coming back, at least not anytime soon. I don't believe we will ever see Austin compete again; he's been away from the ring too long. Ring rust and age have caught up to him by now. Then again, Austin wouldn't be the first performer to defy the odds, especially with the remarkable strides that have been made in the medical field. That and the desire to still be remembered as one of the all-time greats would be all the motivation Austin may need to come out of retirement, especially if it is just one more match. I say look no further than the man Austin has a bit of history with, Brock Lesnar.
Lesnar has officially retired from UFC after a stunning defeat at the hands of Alistair Overeem at UFC 141. By now that's nothing new, although, let's face it, it is still shocking. No one expected Lesnar to walk away from a sport that's been good to him. Then again no one expected him to walk away from The WWE at the height of his success in 2004 either.
Since leaving The WWE, his actions have been scrutinized. From his failed bid to become a professional football player with the Minnesota Vikings, to becoming IWGP Champion, to finding success in MMA and becoming UFC Heavyweight Champion, Lesnar has managed to remain in the spotlight since 2005. If he did return to wrestling he would come back bigger than when he left. Given the opportunity, I have no doubt Lesnar could step up his game for at least one more match—he's still a young man. If Lesnar did come back, he couldn't face just anyone; that's not how it should work for someone of his stature. He would need to face a challenge worthy of the hype surrounding his comeback and that he has history with.
Enter Steve Austin. 
Their feud goes all the way back to 2002, when Lesnar was making a name for himself as "The Next Big Thing." He was cutting a path of destruction through superstar after superstar. A match and victory over Austin was in the works in order to push home the point that he was a monster heel. However, Austin refused to put the younger star over fearing that it would ultimately make him look weak without the proper buildup. Lesnar would go on to have a great career despite this snag, but I'm sure Austin's refusal to put him over left a bad taste in his mouth. The hatred for Austin must be palpable. Austin is the one man Lesnar hasn't faced and cannot claim victory over. He has to live with that. Or does he?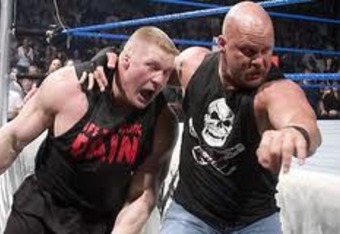 What if Austin were capable of a come back? It's been rumored if he did it would be against CM Punk. I have no doubt that match would be thrilling, but if I had a choice I would choose Lesnar. There's the history between the two to consider, all the bad feelings, all the hate. Why not settle things with Lesnar once and for all? Each man would bring out the best in each other. If done right, this match alone would be worthy of being the main event at WrestleMania 29. 
There are so many factors to consider. Where are both men emotionally as well as physically right now? Do either one of them see themselves back in a wrestling ring ever again as performers? Would this match actually deliver and live up to the hype. Who would actually get the rub from this match. There would have to be a winner. Would it really be worthwhile for either man to do this when neither one has anything left to prove?
Vince McMahon has already considered the possibilities regarding Brock. You better believe that McMahon is more than willing to let bygones be bygones and work with Lesnar, for what could be one of the biggest payoffs of all time. Hopefully both Austin and Lesnar are willing to play along.